CD: Metronomy - Metronomy Forever |

reviews, news & interviews
CD: Metronomy - Metronomy Forever
CD: Metronomy - Metronomy Forever
Double album finds band at both their most accessible and most challenging
Wednesday, 11 September 2019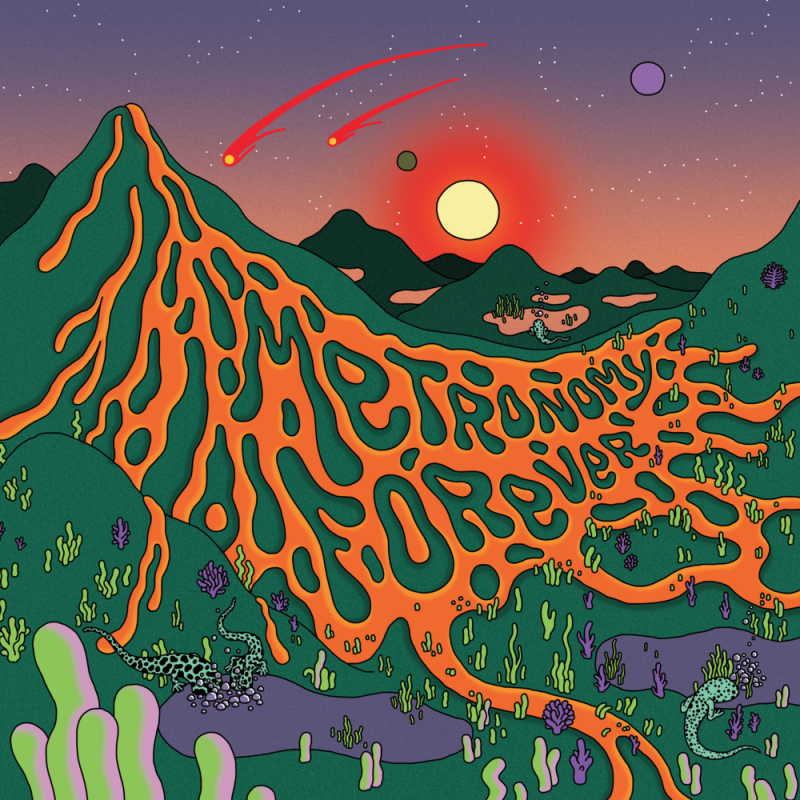 Album artwork designed by Anne Zeum
According to Metronomy maestro Joseph Mount, his first attempt of album number six was a much snappier affair. But it wasn't until he broke from his self-imposed immediacy that it started connecting with him. In its final form, Metronomy Forever clocks in at 17 tracks of singles, instrumentals and soundscapes, and though it skirts close to double-album indulgence, you're never more than one song away from a winner.
The title Metronomy Forever refers to the never-ending nature of radio, and this airwave-skipping mindset has given Mount a toy box of genres and forms to play with. The preceding singles made the album sound disjointed without context: "Lately" pairs indie with breakbeats and wobbling bass of dance, while "Walking in the Dark" offers hypnotic electronic muzak. But it works as a whole, each track gently evolving the style of the last.
In fact, the best songs sound very different from each other. "The Light" invokes the chilled electro-soul of Toro Y Moi with its funky bass and pulsating synths, while "Salted Caramel Ice Cream" runs the risk of a tax levy with its high-level sugar-pop content. You can hear Mount having fun in the studio, whether it's inverting the "Teen Spirit" riff for "Insecurity", or naming a possible single "Sex Emoji".
Though Metronomy Forever isn't a straight concept album, there are hints of stories woven through the songs. The theme of marriage and driving keeps recurring. Album titles repeat too, most interestingly between "Lately" and "Lately Going Spare": the former yearns for a friendship to turn romantic, while the latter talks about the surreal perfection of family life. They're cute touches that encourage repeat listening.
As expected, the album is a bit baggy, with some instrumentals working better than others. The pure house of "Miracle Rooftop" makes you wish for a whole side project, but the number of ambient tracks starts to drag. "Wedding" is a lush ethereal opening, but they feel superfluous after half an hour.
But that excess is what double albums are all about, and Metronomy Forever never takes itself too seriously. Has there ever been a line more mundane yet beautiful than "She's the squash in my water"? The band have maintained their high-quality/lo-fi production, but this is perhaps their most experimental step yet. It's a testament to Mount and co. that it works as well as it does.
Excess is what double albums are all about, and Metronomy Forever never takes itself too seriously
rating
Share this article