CD: Iggy Pop - Post Pop Depression |

reviews, news & interviews
CD: Iggy Pop - Post Pop Depression
CD: Iggy Pop - Post Pop Depression
The mighty Ig takes on death with his new supergroup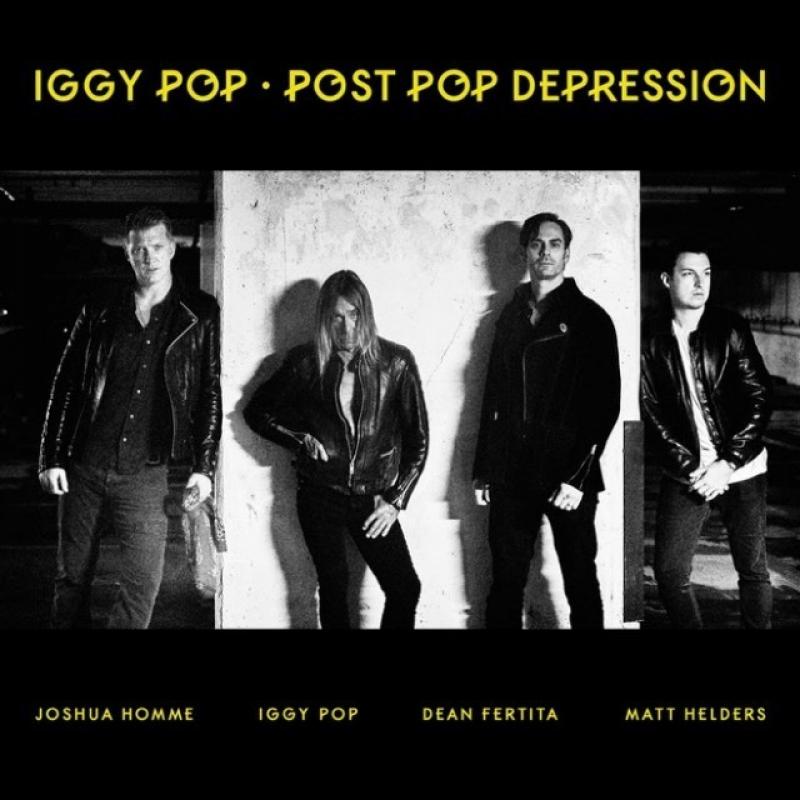 Watch out for the short guy
From the late Eighties to the early 2000s, Iggy Pop turned out a succession of sassy rock albums that ranged in quality but usually contained a greasy, dirt-ingrained gem or three. These albums appeared with a garage-punk lack of self-consciousness, doing the rock'n'roll job like a lifer born to it. More recently, however, when not in Stooges mode, the Ig has gone adventuring. He made a couple of albums themed around jazz and French chanson and his latest is also a statement album.
It's a timely one too for
Post Pop Depression
takes its cue from the two fantastic albums Pop made with David Bowie in Berlin in 1977.
From the cover art on, it's emphatically a supergroup album, in the vein of The Good, the Bad & the Queen and Atoms for Peace, made with Josh Homme (Queens of the Stone Age), Dean Fertita (Dead Weather) and Matt Helders (Arctic Monkeys). It opens with the single "Break Into Your Heart", which is a passable song but a fantastic emulation of the Seventies Berlin Bowie sound. They must have got every piece of studio kit exactly right, as it could almost be an offcut from that period. From there, though, the album settles into its own groove.
There's an underlying reflection and awareness of encroaching death in Pop's lyrics, but the music acts as a lively counterpoint. This is notable on one of the best numbers, "American Valhalla", which starts with oriental bell sounds that become a snappy guitar riff. Iggy sings that he's "looking for American Valhalla" and requests "If I have outlived my use, please drink my juice," before coming to the conclusion that "death is the pill that's hard to swallow", and finally, fearfully, asking "Is anybody in there? And can I bring a friend?"
Musically the album is very tight, a well-oiled machine, full of interest, and there are moments when it really lights up; the shronky, edgy "In The Lobby" ("I hope I'm not losing my life tonight"), the subtly funky guitar on the mournful "Sunday", the blues-go-Teutonic buzz of "German Days", with Iggy looking back (mostly at "Champagne on ice"), and especially the slow, sweet, crooning "Chocolate Drops" with its optimistic chorus, "When you get to the bottom, you're near the top, the shit turns into chocolate drops". It's not a straightforward album. It might well be a grower. So, while, I give it 3/5 on a third listen, I have a strong feeling I'll be listening to it a lot more. There's more to it that can be gauged immediately. It's one of those.
It takes its cue from the two fantastic albums Pop made with David Bowie in Berlin in 1977
rating
Explore topics
Share this article