Iggy and The Stooges, Royal Festival Hall |

reviews, news & interviews
Iggy and The Stooges, Royal Festival Hall
Iggy and The Stooges, Royal Festival Hall
The lords of Detroit rock and roll are sheer dynamite at Meltdown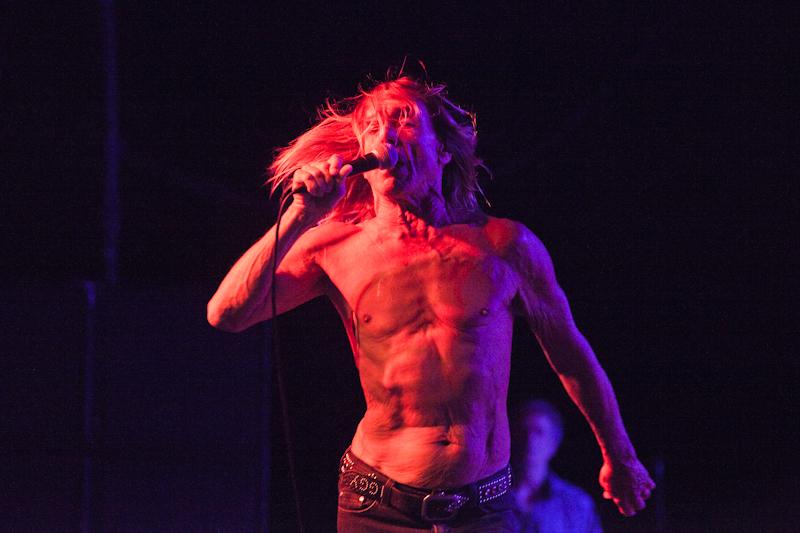 Iggy Pop: he's gotta right
Having witnessed Neil Young's shambolic O2 concert on Monday – Young treating the occasional venture into his back catalogue with listless contempt whilst serving up multiple banalities from his recent albums – I considered skipping seeing more veteran American rockers.
But one should never pass on a chance to see The Stooges and, as their last London concert was in 2010 (beyond supporting Soundgarden in Hyde Park one sodden Friday last summer – what kind of insult is that where The Stooges open for Soundgarden?), the atmosphere before their Meltdown performance was one of huge expectation.
Understand this: no one left disappointed. No one. As with their 2010 Hammersmith Apollo performance Iggy & The Stooges proved themselves the most dynamic rock band on this – or any other - planet. Right on nine p.m. Iggy rushed on stage as guitarist James Williamson punched out the opening riff to "Raw Power". Seventy-nine minutes later it ended with Iggy grinning wildly as he waved adios to the final strains of "Cock in My Pocket".
Williamson plays with a ferocity and technique that leaves pretty much every other rock guitarist alive standing
In between they trawled through those three classic Stooges albums, played several superbly felt tunes from Pop-Williamson's neglected R&B-flavoured Kill City album, dug out bootleg obscurities like "I Got A Right" and gave several tunes from underwhelming new album Ready to Die an airing. For an encore they ripped apart "Louie Louie" with Pop taking time out to instruct the audience that the ultimate garage band anthem has "a cha-cha rhythm" then going into a mini-rant on how "white people find it hard to appreciate cha-cha". Which is a fine irony of sorts considering The Stooges attract an almost entirely white audience. Not that anyone cared – Iggy had been in such fine form, both in his constant shim-sham-shimmy across the stage (with the occasional slip into the audience) and his enthusiastic embrace of the audience (he truly seemed to find joy in our adulation), the occasional lecture on how we are not very groovy is accepted.
If there was one fault in tonight's performance – beyond not playing "Down on the Street" – it is the breakneck pace The Stooges approach their material. Williamson is an extremely expressive guitarist and allowing the likes of "Gimme Danger" and "Search and Destroy" breathing space would open these superb songs up. Ageing may soon insist that The Stooges think about slowing down: how much longer Pop, forever the most physical frontman in popular music, can keep going, I wonder. At times tonight he appeared to limp while bassist Mike Watt needed help leaving the stage. And original Stooges drummer Scott Asheton was absent. His replacement did a fine job but as brother Ron (original guitarist) died in 2009 one wonders – The Stooges lost two bassists to alcohol and drugs back in the 1970s: this is a band with a very dark side.
Yet while they can deliver performances of such intensity one can only stand in awe. Or join the stage invasion – it's not every night the RFH's stage sees the audience invited up to dance with the band. Special mention must go to saxophonist Steve Mackay who has truly found his place in The Stooges Mk II, his powerful, imaginative phrasing opening ragged thrash numbers up. And, of course, we must bow before Williamson who, having left the music business after The Stooges imploded in the mid-1970s, plays with a ferocity and technique that leaves pretty much every other rock guitarist alive standing. If Neil Young had been in tonight's audience he would have felt acute embarrassment at how cack-handed his endless solos were at the O2.

These days almost every legendary rock band has reformed yet it is The Stooges, the band that achieved the least success, encountered the most mishaps and influenced so many others who went on to much greater financial reward (Soundgarden...), who have come back to claim the mighty hard rock crown. Long may King Iggy and his lords of Detroit rule.