CD: Arcade Fire – Everything Now |

reviews, news & interviews
CD: Arcade Fire – Everything Now
CD: Arcade Fire – Everything Now
A joyous pop album that depicts a world in tragic freefall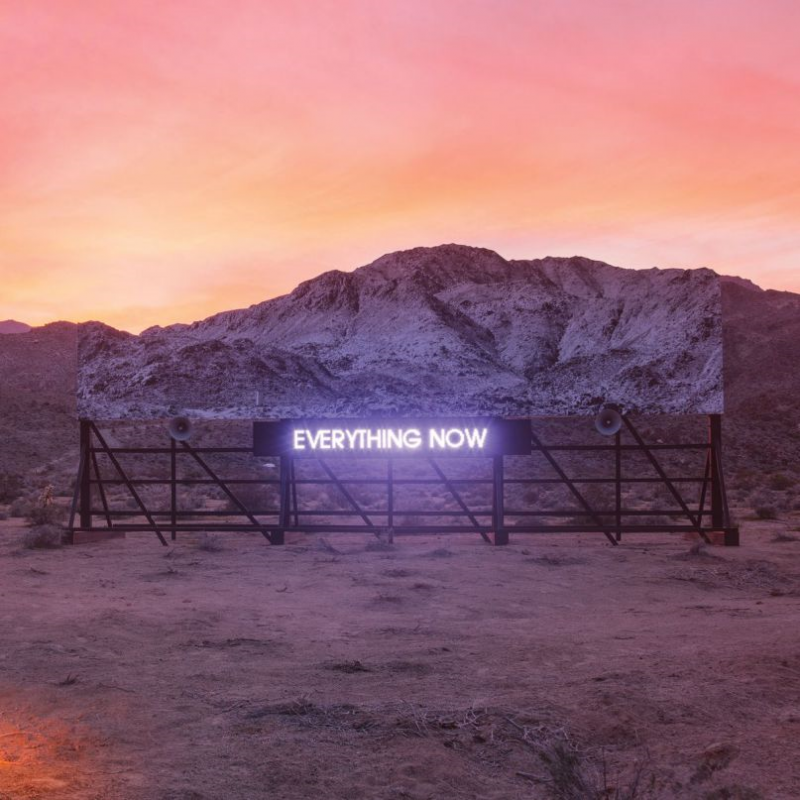 Everything now is just too much, according to Arcade Fire
If you consider the fanciful notion that Arcade Fire are a kind of Canadian art house Dexys Midnight Runners who have substituted strained angsty soul for strained angsty rock, then the title track of their new album is their "Come On Eileen".
It's got that same striving for some kind of transcendence beyond the boundaries of what is, after all, just
pop music
. Opening with a shiny, bright Abba-esque piano melody, "Everything Now" has summer anthem written all over it – sort of. Sort of, because if this rosy apple of an epic wasn't metaphorical, on turning it over you'd find it seething with maggots.
And so it is with the rest of the band's finest album to date. The delving into pop's past is frequent but always justified, renewing and ennobled the form rather than diluting it further, as most contemporary pop music does. "Signs of Life" evokes late-period Talking Heads, the bubbly electronica of "Creature Comforts" brings to mind New Order and LCD Soundsystem (whose main man, James Murphy, co-produced their previous album, 2013's Reflektor). But then, just when you think you've got your bearings, "Peter Pan" and "Chemistry" introduce a fractured reggae vibe, and "Infinite Content" blasts off as unreconstructed punk rock before morphing bizarrely into languid country halfway through. But of course it's not what you do, it's the way that you do it. And Win and Régine and their band of merry men pull off all these moves with aplomb, never giving off even a whiff of cod or cheese.
Arcade Fire have learnt the fine art of parodying while simultaneously honouring their source material, and it's a thrilling thing to experience. Boldly banal lines such as "You and me, we've got chemistry, baby, you and me" uncomfortably rub up against more resonant lyrics that touch on self-harming, self-conscious hedonism, religious belief, suicide and the tragic conclusion that even having it all can never be enough in a venal and vain society in perpetual freefall. Everything Now is unapologetic disco pop rock that also just happens to view the world through a lens darkly.
At the very end, the title track is briefly resurrected so that its winning melody can be played at a statelier pace, swathed in orchestra strings. But then just as you are settling into the warm-bath sensory pleasure of it all, the sound abruptly cuts off. It feels entirely in keeping with everything that had gone before it: the satisfying of expectations followed by the thwarting of them; too much of a good thing leading to the end of everything.