Bruce Springsteen & the E Street Band, Hard Rock Calling, Olympic Park |

reviews, news & interviews
Bruce Springsteen & the E Street Band, Hard Rock Calling, Olympic Park
Bruce Springsteen & the E Street Band, Hard Rock Calling, Olympic Park
Springsteen leads supersized E Street Band through marathon performance
Weather with you: Springsteen rocks on into idyllic sunset
"Queen Elizabeth Olympic Park" is a wonderfully grand name for the venue for this summer's Hard Rock Calling festival, but the reality doesn't quite match up. Rather than basking in the glory (and shiny new stadium architecture) of Mo and Jessica's triumphs from last summer, music fans found themselves a few hundred yards away on a drab swathe of stony wasteland, temporarily covered with artificial grass.
Still, at least the sun blazed down and they'd got the beer tent sorted, with thirsty punters bundled in and out, several banknotes lighter, at unprecedented speed.
Bruce Springsteen has played in every kind of venue known to man, and instantly set about transforming this patch of Stratford tundra into his personal magic theatre. A Springsteen show isn't just a bunch of songs by the Boss, it's like watching your life flash past you, intricately enmeshed with the entire history of rock'n'roll. From old blues and primitive rock'n'roll to Celtic music, folk-protest and bludgeoning hard rock, it all swirls through the songs and the bravura playing of the E Street Band, currently a mammoth ensemble beefed up with a five-piece horn section and a chorus of gospel singers (Springsteen with Steve Van Zandt, pictured below).
Bang on the advertised 7.10pm start time, they roared out of the blocks with a gargantuan version of "Shackled and Drawn", the chain-gang style protest song from last year's Wrecking Ball album. Its swinging beat was plastered with full-blooded brass and wailing vocals, while Springsteen's lyrics bemoaned the lot of the common man in an era of rampant greed - "it's still fat and easy on banker's hill."
Then the horns marched off and the leaner, meaner ensemble ripped into "Badlands" and "Prove It All Night", the latter making space for some fiendishly cunning guitar soloing from a top-hatted Nils Lofgren, who even played his Fender with his teeth. Then Bruce was off on a raw and rasping "Johnny 99", with the horns coming back for some massed blaring noises, after which he whipped out a harmonica for a stripped-down "Reason to Believe", sounding as if it wanted to morph into ZZ Top's "La Grange". Then it was the title track of Wrecking Ball, which sounded weightier and more stirring than the recording.
Recent Springsteen shows have found him delivering complete run-throughs of some of his classic albums, but where the Coventry crowd got Born to Run (in memory of James Gandolfini), we received the uncertain blessing of Born in the USA. It might have been his all-time bestseller but it wouldn't make it to my desert island, and though Springsteen had rearranged the songs to fit the new-look band, several of them still sound like imposters in the mostly-mighty Boss catalogue (especially "Bobby Jean" and "Darlington County"). Still, "I'm On Fire" and "My Hometown" were effectively moody and introspective, while "I'm Goin' Down" was the vehicle for one of several powerful saxophone solos by Jake Clemons, drafted in to replace his deceased uncle Clarence, the band's erstwhile "Big Man".
Clarence was hymned in the final section of the show with a rumbustious "Tenth Avenue Freeze-Out", which followed highlights from The Rising, "Born to Run" and a splendid "Jungleland". This offered a chance to mourn the long-lost operatic Springsteen, who once seemed to be hell-bent on giving Leonard Bernstein a run for his money. Roy Bittan's hauntingly eloquent piano part was a little marvel of its own, while Jake Clemons delivered his most compelling soloing of the night.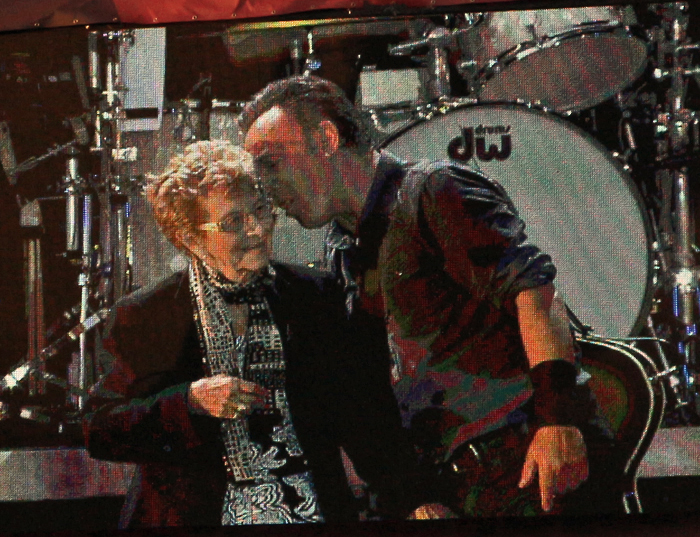 In a perfect world you'd be able to see Springsteen in a theatre, but that ain't gonna happen (Bruce introduces his mother Adele onstage, pictured right). Thanks to the venue and the Born in the USA effect, this wasn't quite an all-time great event, but at 63 Springsteen remains a once-in-a-lifetime performer who doesn't know how to let his audience down. It's also heartening to see a rejuvenated E Street Band who look good for another few million miles.