Backbeat, Duke of York's Theatre |

reviews, news & interviews
Backbeat, Duke of York's Theatre
Backbeat, Duke of York's Theatre
Woeful retelling of the story of the ill-fated early Beatle who chose art and love over pop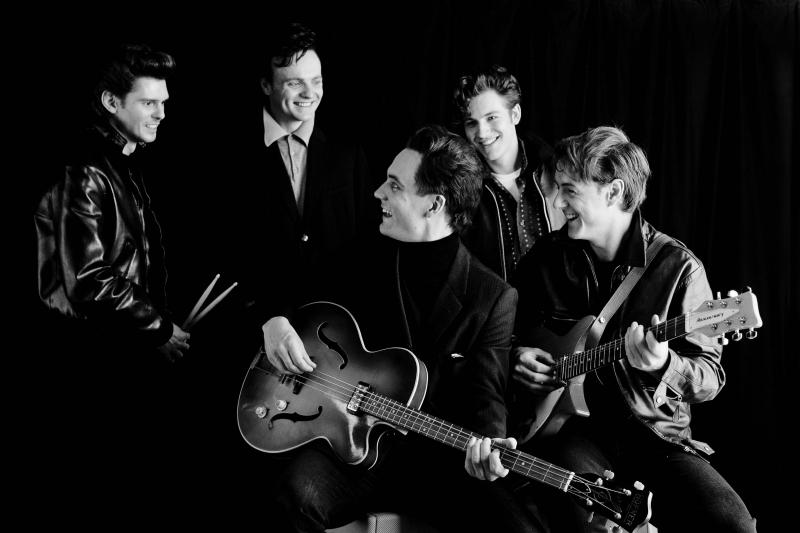 'Backbeat': Stuart Sutcliffe (Nick Blood, centre) smiles. Something he was never captured doing in real life
It's obviously a coincidence. Backbeat, the story of The Beatles' Hamburg days, their ill-fated bassist and John Lennon's art-school mate Stuart Sutcliffe hits the West End the same week that Martin Scorsese's George Harrison documentary Living in the Material World comes out. Even ignoring comparisons between the two, Backbeat is an incoherent mess.
Sutcliffe's story has become a perennial, not limited to Beatle book shelves. Granada TV's Midnight Angel covered it in 1990. The BBC's Stuart Sutcliffe - The Lost Beatle did so in 2005. The film Backbeat came out in 1994. It was directed by Iain Softley, who has worked in theatre and directed documentaries for Granada as well as music videos. Softley has returned to the James Dean-moody non-smiler that chose art over pop stardom, co-writing this stage adaptation, which got its first outing in Glasgow last year.
Stuart Sutcliffe wasn't a great musician, but he looked incredible and shaped The Beatles' image
Although Sutcliffe's musical legacy is tiny, the music doesn't matter. Barely audible on three murky tracks compiled for the first Beatles' Anthology, he wasn't a great musician and was gone from the band by 1960's end. But he looked incredible, was a credible abstract artist, named the band and he and his Hamburg friends shaped the band's image. He was the first Beatle to comb his hair forwards. The others followed. But he died in 1962, before the band issued "Love Me Do".
Listen to Stuart Sutcliffe playing on The Beatles' 1960 recording of "You'll Be Mine"
It's a straightforward, linear narrative. A group of young men with a common aim initially share a path. One chooses a different direction after falling in love, returning to what he'd been doing before they all hooked up. This, though, is The Beatles, and it's a story that's been told, retold, and nailed down. Yet Backbeat's programme sneaks this in just below the cast list: "Backbeat sticks quite closely to the historical facts but we have occasionally shifted events and personalities around for dramatic effect." This undersells the monkeying and is just not good enough. Backbeat is so fast and loose it begs to be taken apart.
Act I ends with all five Beatles – Pete Best, George Harrison, John Lennon, Paul McCartney and Sutcliffe - awaiting deportation from Germany. Together. At the same time. The programme says, "After their first season in Hamburg The Beatles returned to Liverpool separately, George first, Stuart last." This rewriting of history misses the drama inherent in their piecemeal return to Liverpool.
George Harrison was deported from Germany on 21 November 1960 for being underage. Paul McCartney and Pete Best arrived back at London Airport on 1 December, after a collar feeling by Hamburg's police. The band had kept playing shows without Harrison. John Lennon, on his own, took a train back to England on 10 December. Sutcliffe stayed in Hamburg, hiding out with his lover Astrid Kirchherr. He came back to Liverpool in late February 1961, and returned to Hamburg and Astrid on 15 March, art and his heart ruling him. He would die on 10 April 1962, the day before the band returned to Hamburg to prepare for a residency at The Star Club.
Sutcliffe was no longer in The Beatles' live line-up from the end of November 1960, when McCartney and Best returned to England. He occasionally sat in for old times' sake in 1961, but there was no need for Lennon, or anyone else, to challenge him about choosing between the band, Astrid and art in 1961. A central tenet of Act II, post-deportation, is fabricated. The show's creators "occasionally shifted events and personalities around for dramatic effect".
Further dissections are easily possible, but unnecessary. Why rewrite one of the 20th century's great cultural stories? It's dramatic enough already.
The cut-and-paste chronology overshadows and undermines Backbeat. All that's left is surface. But Backbeat is hampered elsewhere. The narrative is constantly interrupted by the band of actors performing songs – there's no flow. Characterisations are broad-brush – probably due to the constant interruptions.
As John Lennon, Andrew Knott is always shouting. How could anyone stand being around this boor?
As angry Lennon, Andrew Knott is always shouting. How could anyone stand being around this boor? He's The Royle Family's Ricky Tomlinson as a rocker, a surprise disappointment from a former alumnus of Alan Bennett's The History Boys. It doesn't matter that no one looks like a Beatle (although the George Martin is way, way off), but the show ending with George Harrison under a 1967-era David Bowie "Love You Til Tuesday" barnet is bizarre. There's no spark between Nick Blood's Sutcliffe and Ruta Gedmintas's Kirchherr (whose German accent vanishes halfway through). Their scenes of intimacy are toe-curling. Hinting, suggesting would have been enough. Clunky dialogue - "You're the best student I've had in 20 years at Liverpool Art College," Sutcliffe is told - does no one any favours. Yep, we knew it was Liverpool. And we knew he was at art college. Hack off the words after "had".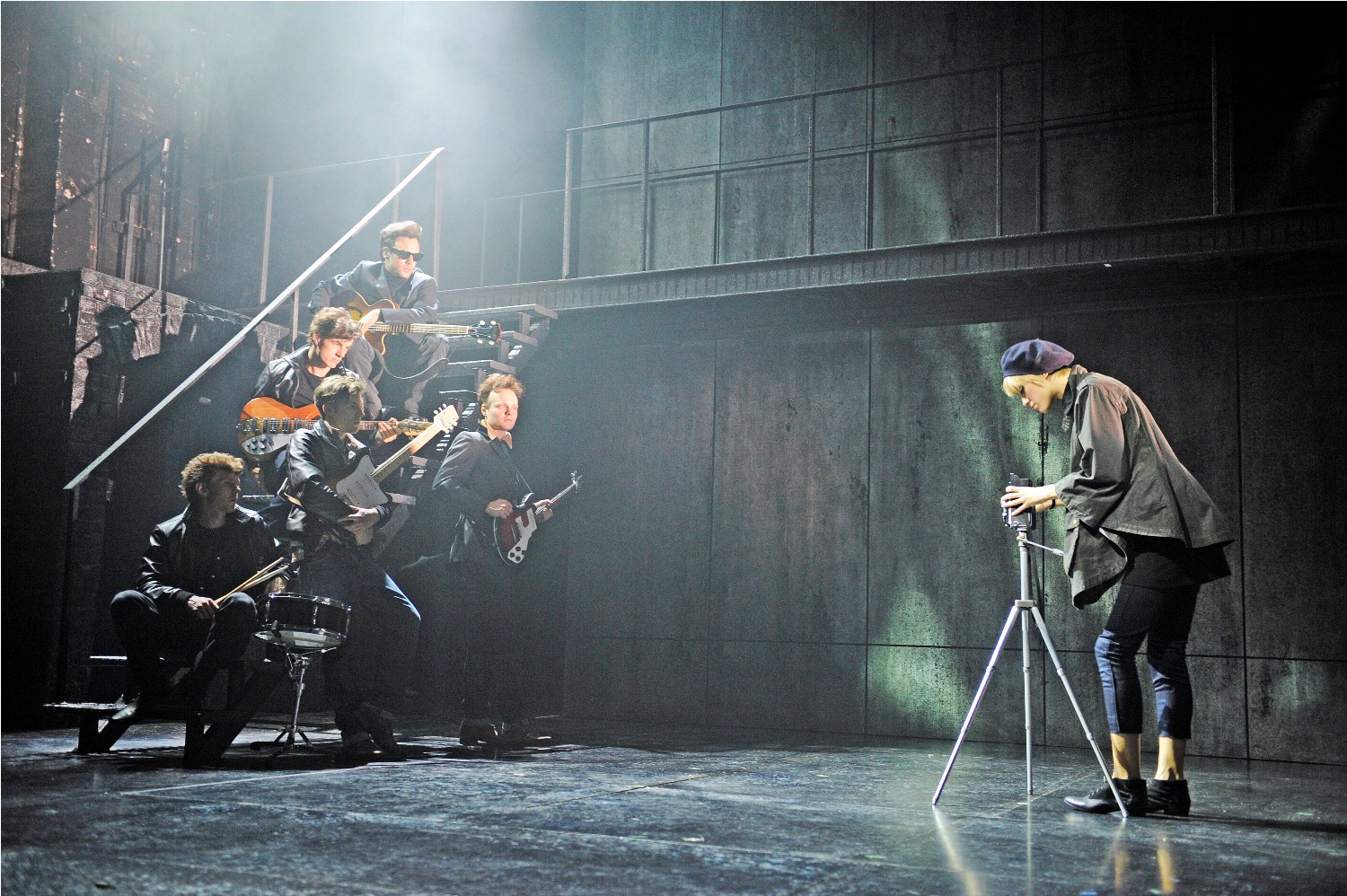 The specially composed music accompanying Kirchherr's first Beatles' photo session is deeply interesting though (pictured by Nobby Clark). Its rhythms are obviously a wink-and-nod lift from Seventies Krautrockers Neu. And the actor-Beatles combo are terrific, motoring through "Good Golly Miss Molly", "Road Runner," "Rock'n'Roll Music" and "Twenty Flight Rock" with ragged abandon. They'd fit snugly on a garage rock bill. But the music isn't enough to rescue this hodge-podge.
After the bows, the band of actors - featuring both Best and his successor Ringo Starr – tear through four numbers, exorcising recent memories of Sutcliffe's tragic end. Cast members clamber off the stage exhorting the audience, holiday-camp style, to get up and dance. All I felt like doing was sinking further into my seat.
Backbeat is at the Duke of York's Theatre until 24 March, 2012
Watch the trailer for the 1994 film Backbeat
The cut-and-paste chronology overshadows and undermines Backbeat. All that's left is surface
rating
Share this article