Album of the Year: Morrissey – World Peace Is None Of Your Business |

reviews, news & interviews
Album of the Year: Morrissey – World Peace Is None Of Your Business
Album of the Year: Morrissey – World Peace Is None Of Your Business
Pop's top curmudgeon goes global
Thursday, 01 January 2015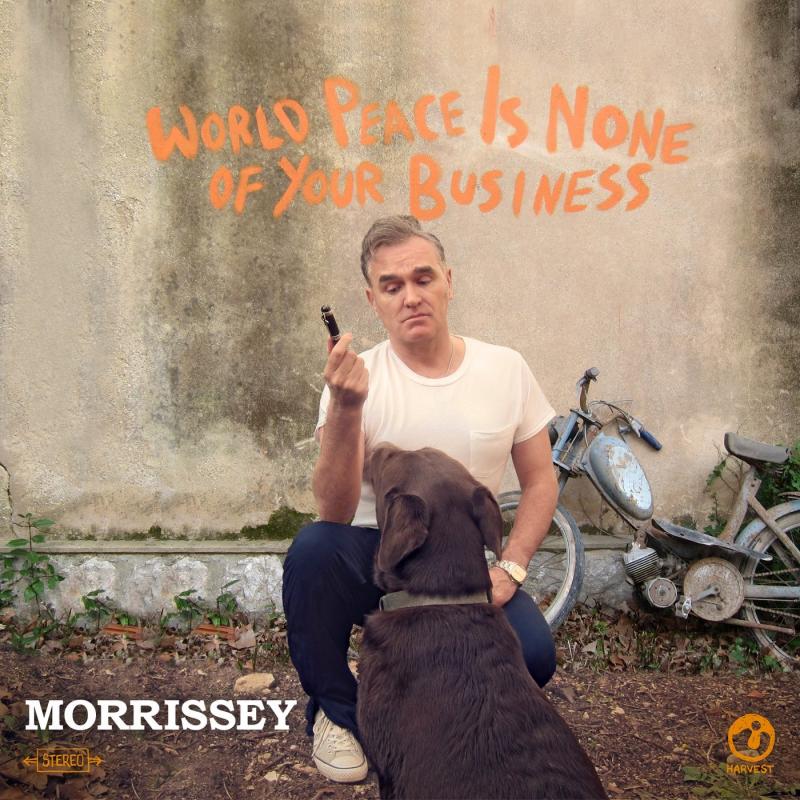 Morrissey: Never one to mind his own business
Morrissey went beyond parody years ago. Titles on his 10th solo album such as "Kick The Bride Down The Aisle" or "Earth is the Loneliest Planet" could easily come from a Buzzfeed spot-the-send-up list. But barge your way past this initial obstacle and World Peace Is None Of Your Business is one of the venerable pop poet's best albums in years.
It is also one of his most stylistically eclectic. A change in band personnel seems to have prompted a broadening of his musical canvas. For someone frequently accused of Little Englander tendencies there are exotic trumpet solos and flashes of flamenco alongside the usual whiffs of Bowie, glam and 1980s indie.
Despite stories of health problems it's that powerful barrel-chested croon that makes the album so persuasive. And while the lyrics teeter on the cusp of pastiche they are both comical and effective. On the subversive title track our Mozza comes over all Russell Brand, arguing that "Each time you vote you support the process". Don't fret about the lines that make you wince, like "Oh Egypt, Ukraine, so many people in pain"; there is invariably another corker around the corner.
Numerous tracks are educational too. "Neal Cassady Drops Dead" will have you rushing to your local library if it has not closed down yet to mug up on the Beat Generation. Though sometimes references can be misleading. I'd assumed "Mountjoy" concerned chunky Welsh snooker veteran Doug Mountjoy, but its namecheck of Brendan Behan suggests it is more likely to be about Mountjoy Prison in Dublin.
World Peace Is None Of Your Business confirms that Morrissey can still knock out a couplet to go with a bracing, infectious melody. This is an intriguing album full of contradictions that, like the man himself, one can love and hate at the same time. As he sings on the Roxy-ish finale "Oboe Concerto", "there's a song I can't stand and it's stuck in my head". He could be talking about most of the songs here.
This is an album that, like the man himself, one can love and hate at the same time
rating
Share this article