10 Questions for Musician Jamie Cullum |

reviews, news & interviews
10 Questions for Musician Jamie Cullum
10 Questions for Musician Jamie Cullum
The best-selling jazz artist on following his instinct and being part of the most exciting scene in the world
Wednesday, 08 October 2014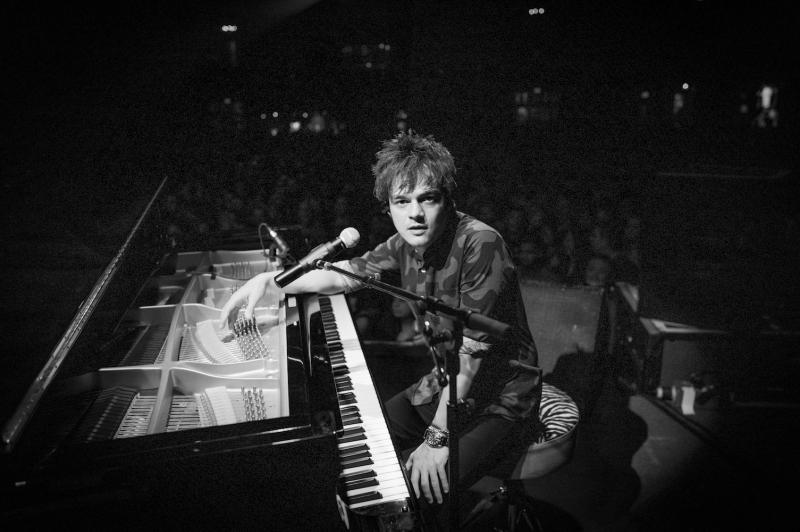 Always searching and practising: Jamie Cullum
Since self-releasing his debut album Heard It All Before in 1999, Jamie Cullum has gone on to become the UK's biggest selling jazz artist of all time. Since April 2010, he has also presented a weekly jazz show on BBC Radio 2, for which he won a Sony Gold award this year.
Following the pop stylings of Momentum, Cullum's seventh studio album, Interlude, sees him return to the jazz repertoire. Available in both standard and deluxe versions, the latter includes a DVD of Cullum's performance at Jazz à Vienne plus an exclusive photo booklet containing tour and studio pictures, for which Cullum contributed some of the images. The sound of the album is very much the result of working with a kindred spirit, as he explains to theartsdesk.
PETER QUINN: You've said that your new album Interlude is your first proper jazz record. Is that because of the material, the approach, or both?
JAMIE CULLUM: Absolutely both. The material was lovingly selected over many conversations between myself and Ben Lamdin, the producer. We both met whilst doing my radio show and made a connection over the similar ways we discovered jazz: hip hop, record collecting and Gilles Peterson being three main areas. So we both have a strain of the record nerd going through us!
It was a great process tossing ideas back and forth, referencing stuff that we both loved, but choosing to keep it in the jazz repertoire. Even the modern covers, of which there are two, are approached with the jazz repertoire in mind. The approach too - all the musicians in one room, single takes, no editing or overdubs, a more classic mic technique, using the sound of the room, analogue tape - it's all referencing a period we love.
You've described producer Ben Lamdin (aka Nostalgia 77) and his team as having a "punk" attitude to the recording process. Could you paint the picture of the recording session?
I love the way Nostalgia 77 have created their own scene. They write and record their records in the same studio, make hand screen printed vinyls, do their own thing and concentrate on making their bubble they've created truly great. They've been doing that for some time with little bother about the outside world. In the recording session we were capturing moments and enjoying the sound of the freshness of things rather than something over-polished. Enjoying the first flirtations with these songs where you perhaps make statements that you would lose if they were played again and again.
Your take on Sufjan Stevens' "The Seers Tower" incorporates a riff from Nina Simone's "The Ballad of Hollis Brown". Is that kind of stylistic mash-up something you instinctively like to do?
It is definitely instinctive. I reckon it all comes from listening to The Beastie Boys and DJ Shadow. Ben brought "Hollis Brown" to the table, I brought "Seers Tower", and we just decided to put them together. I never even listened to it after we recorded it. We just moved on. That was part of the joy of the whole session. Not getting tied up in the overthinking process and just moving on after things felt good.
Having the flexibility to not have to rely on the same old tricks is the most freeing thing on stage
Your live shows are known for their energy. How do you approach the pacing of a gig?
To use that same word, it's totally instinctive and something that I have gotten better at over the years. The room, the people, how I'm feeling, how the audience is reacting. Having the flexibility to not have to rely on the same old tricks is the most freeing thing on stage. Not relying on a hard drive playing all the string parts and BVs. Having a band that can go with the flow and not being obsessed with everything sounding like the record. They all mean you can approach the night differently every time. That is what people often interpret as energy half the time, it's just because it's free-flowing.
Jamie Cullum and the Heritage Orchestra at the BBC Proms

You've travelled all over the world with your music. Are there any places you've been which has a great jazz scene or musician we may not have heard of?
Belgium is stuffed full of great musicians. Jeff Neve is an incredible piano player, and the singer-songwriter Melanie Di Biasio is one of my picks of the year.
Through your BBC Radio 2 show you've met legends such as Dave Brubeck and Wynton Marsalis. What's the most important thing you've learnt from talking to these masters?
If you are a true musician, the journey is never over. You're always searching and practising, particularly in jazz. It's a unique combination of serious application and education combined with a sense of true abandon and freedom. It's an elusive art which even the best in the world are working at all the time.
Having travelled the world listening to music that comes under the umbrella of jazz, I am convinced that the newest, most interesting stuff is happening here
What's the most surprising thing a guest has ever told you?
Clint Eastwood's stories of cruising around New York City with Miles Davis in his Ferrari after hours from filming Rawhide were pretty amazing.
Within the UK jazz scene there are lots of incredible, under-the-radar musicians. Who has particularly impressed you lately?
I think that the Mercury Music Prize this year is an interesting one, with two, even three acts that have very much been on my radar with my radio show: Polar Bear, Gogo Penguin and, to some extent, Nick Mulvey. Having travelled the world listening to music that comes under the umbrella of jazz, I am convinced that the newest, most interesting stuff is happening here. Bands that sound like no-one else with the history of jazz in their rear view mirrors whilst investigating new worlds. It's a truly exciting place right now.
You've reimagined tracks by Radiohead, Björk, Jimi Hendrix, Jeff Buckley and more. What makes a great song for you?
I think songs that lend themselves well to interpretation tend to be "great" songs. If it can be sung by many different people who can impress their personality and their story on it, it's normally a true great.
Jamie Cullum performs Radiohead's "High and Dry"

The new album also showcases your skills behind the lens. When did you first get into photography and how did you hook up with Michael Agel of Leica?
Skills! I am a passionate amateur! I did a film degree and as part of that I took some courses in photography. The photographs and iconography of the Beat poets and the great men and women of jazz is also inextricably linked to the music in my mind. I did think about cinematography as a career for a bit. As I became a musician it always felt natural to reach for the camera as I was often in interesting places with interesting people. I wanted to document that. My uncle had a vintage Leica and got me interested in the craftsmanship of these extraordinary machines, built to last like tanks. I bought a vintage M3 Leica and some cheap Voigtlander lenses and started taking pictures. Leica saw me over 10 years ago holding it in a German magazine and got in touch. We've been friends ever since.
Interlude is out now

See Jamie Cullum's website for album launch dates
Watch the album trailer for Interlude

If you are a true musician, the journey is never over.
Explore topics
Share this article