Wreck-It Ralph |

reviews, news & interviews
Wreck-It Ralph
Wreck-It Ralph
Disney's latest elevates video games past and present to the big screen with winning results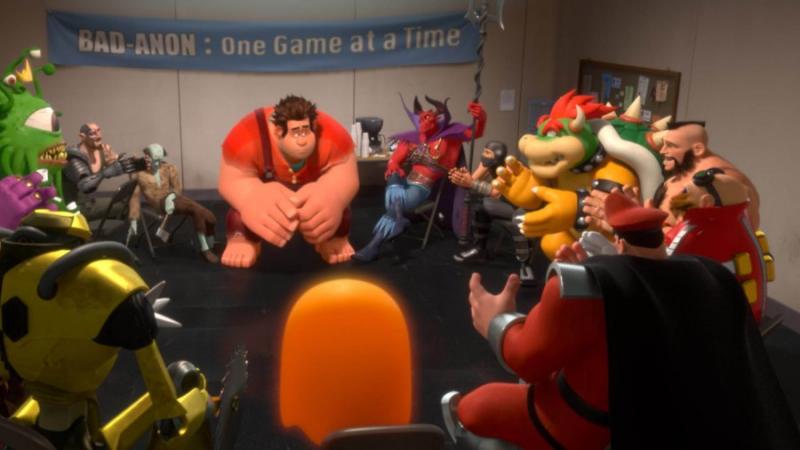 I get by with a little help from my (evil) friends: Ralph leans on his bad guy buddies in 'Wreck-It Ralph'
A colourful confection which is certain to satisfy both the young and young at heart - and above all, gamers - Wreck-It Ralph is the conceptually fabulous, aesthetically various tale of a brick-brandishing brute who longs to be a hero. The cinematic debut of TV director Rich Moore (Futurama/The Simpsons), it features the voice talent of John C Reilly and Sarah Silverman and boasts not just a third dimension but a meticulously constructed universe.
Continuing US animation's recent trend of aligning us with evildoers (see Megamind and Despicable Me - the latter is returning for a sequel this year), Moore's film focuses in on a lovable bad guy, the titular wrecker Ralph (Reilly). He's the "big bad" of 30-year-old arcade platform game Fix-It Felix Jr., persistently out to thwart the heroic Felix (Jack McBrayer, best known as 30 Rock's indomitable ray of sunshine Kenneth) as he ascends an apartment block, cheerfully repairing Ralph's destruction.
He might be cast in the cloak of the villain but, like Of Mice and Men's lumbering Lennie, Ralph is a gentle (if utterly accident-prone) giant. Wreck-It Ralph takes us into an arcade after closing time, when the doors are locked and characters are free to flit between games. Despite a far from despicable out-of-hours persona, Ralph cuts a lonely figure, bedding down on a pile of rubble overlooking the celebrated Felix's penthouse apartment, complete with its wall of heroes' medals. In desperation we see Ralph join villains' support group Bad-Anon (motto: "One game at a time") swapping stories with Streetfighter's Zangief and M. Bison, and Super Mario Bros.' Bowser. He also patronises the bar from real-life Eighties arcade game Tapper.
Ralph becomes obsessed with earning a medal of his own and infiltrates sci-fi shoot 'em up "Hero's Duty" to do just that. Unfortunately, during his hapless exit, he manages to release a deadly Cybug into rainbow-bright racing game "Sugar Rush" (think Mario Kart but even cuter), which is presided over by buffoonish aristocrat King Candy (Dodgeball's Alan Tudyk). There Ralph encounters Vanellope von Schweetz (pictured above right), voiced by Silverman, a little girl who has been banned from racing due to her tendency to glitch and their spluttering and stalling but ultimately heartening friendship forms the film's emotional core.
Meanwhile Ralph's absence from his own game has not gone unnoticed and its future is thrown into turmoil when it's condemned as "out of order". In hot pursuit, trying to right Ralph's wrongs are Hero's Duty bad-ass Sergeant Calhoun (pictured below left), voiced by Glee's Jane Lynch and programmed with "the most tragic back-story ever", and Felix.
With its exuberant animation, Wreck-It Ralph has ideas spilling from every frame. The substantial story rattles along in a road movie fashion, as loveable goon Ralph journeys through imaginatively constructed worlds, from his own 8-bit arcade game (fleshed out after hours) and the similarly old-school Tapper, to the high-definition dystopia of Hero's Duty and the dazzling anime-esque Sugar Rush - games which are all linked together by Game Central Station (based on NY's Grand Central Station).
The use of 3D here is (as ever) a mixed bag but, to give Wreck-It Ralph credit, what it loses in the unavoidable discoloration it gains in its ability to be meaningfully immersive; it's a genuine treat to be taken into these games. The supporting players (particularly Lynch) are exceptionally well cast and, regarding the mismatched misfits, the ever marvellous Reilly is a shrewd choice as our troubled protagonist, although Silverman's occasionally grating, helium-voiced tot is likely to appeal more to kids than to adults.
Wreck-It Ralph is a credible contender for Best Animated Feature Film at this year's Oscars and while only Frankenweenie comes close to rivalling it for consistency, Moore's film is out on its own when it comes to ingenuity and ideas. Alongside the detail and variety of landscapes on offer, what's most impressive is how well judged it is; this is a true family film, pitching itself perfectly at the place where kids and adults collide.
Follow @EmmaSimmonds on Twitter
Watch the trailer for Wreck-It Ralph