The Three Stooges |

reviews, news & interviews
The Three Stooges
The Three Stooges
A modern take on the world's funniest and the most violent high jinx comedy players will delight those who dreaded it the most: its fans
Wednesday, 22 August 2012
Super Stooges: Chris Diamantopoulos as Moe, Will Sasso as Curly and Sean Hayes as Larry
There are two kinds of people in this world: those who think The Three Stooges are funny and those who just don't get it. People in the first category are much better people.
In real life, The Three Stooges were three vaudevillians - Moe Howard, Curly Howard, Larry Fine and latterly Shemp Howard, Joe Besser and Curly Joe DeRita - famous for what is now called "extreme slapstick". Their career ran from approximately 1930 to, in various incarnations, the 1970s and their short films have not been off American TV since they first were broadcast in 1958. So, for the generations who grew up with The Three Stooges, there was no label for what they did - the violent, cruel, hapless, stupid capers were just The Three Stooges. They accidentally eat pancakes that are feather-filled powder puffs. They pull out a rotten tooth by tying it to a moving doorknob. They hit each other with hammers and ladders, yank out hair by the handful and poke each other in the eye. There are pie fights and cake fights. Funny then. Funny now.
Even those who dislike their comedy cannot argue the fact that The Three Stooges set a pace as yet unmatched for action and non-intellectual silliness. They were, week after week, giving The Marx Brothers a run for the money.
It is a kind of seance for what is repeated on the airwaves and yet long gone
Like football or religion, The Three Stooges can divide families. Watching them is enough in some cases to start or finish friendships. This is a pivotal point because those loyal to The Three Stooges are the core audience for this film - and it is these die-hard fans who will see just how loving and masterful this modern take by the gross-out kings of cinema, the Farrelly Brothers (Dumb and Dumber, Kingpin) really is. In a weird inversion of what normally happens, the more you know The Three Stooges, the more you'll love this homage. It also answers the big What If: what would happen if Moe, Larry and Curly were around today?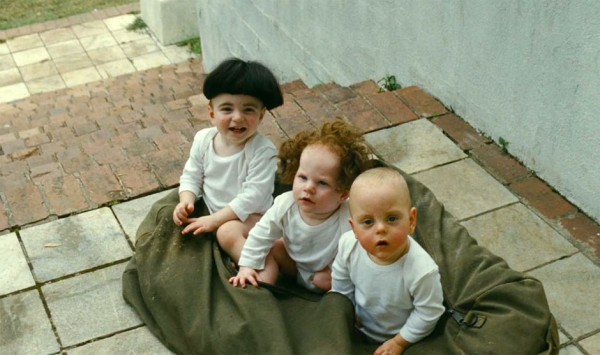 The hapless trio are thrown as babies (pictured right) from a moving car to the stoop of an orphanage run by Mother Superior (Jane Lynch), Sister Rosemary (Jennifer Hudson) and Sister Mary-Mengele (Larry David). The good-hearted sisters immediately learn to avoid all contact with the boys who are profoundly, balletically accident-prone. Growing to manhood, Moe, Larry and Curly vow to save the cash-strapped orphanage, in debt because no one will insure it, by finding $830,000 in a month from somewhere. They leave the emotional safety of tormenting the nuns and sally forth into the real world, where their eager naivete gets sucked into something sordid: they are lured by a sleazy boyfriend (Craig Bierko) into killing the husband (Kirby Heyborne) of the hardened and dangerously curvy Lydia (Sofia Vergara) who promises to pay them exactly $830,000. The sub-plot gives both Heyborne and Bierko blink-and-miss-it comedic turns, proof that there are no small parts: they make memorable moments with perfectly pitched snippets of dialogue and a glance.
Originally planned to star Jim Carrey, Sean Penn and Benicio Del Toro as Curly, Larry and Moe (a doubt-ridden if talented line-up), the directors cast instead seasoned comedic actors who embody the iconic Stooges with an eerie accuracy. Sean Hayes as Larry, Will Sasso as Curly and Chris Diamantopoulos as Moe are dazzling in set piece after set piece of violent comedy scenarios, executed with the assured precision and unflagging energy of an Olympic high dive. Add the famous supporting players and this heady comedy clicks into place like the Zucker Brothers' best works. Of course, it's not a brilliant plot, but it doesn't need a brilliant plot to show how Moe gets the money or who that nun in the revealing swimsuit is. (Do sit through to the end to see a jaw-dropping safety message from 'the directors' as well as a truly wonderful music video with the sensational Jennifer Hudson and a few surprises.)
The Three Stooges is not a popular comedy. It is an otherworldly Stooge festival for the deeply loyal - a kind of seance for what is repeated on the airwaves and yet long gone. What those who don't laugh at The Three Stooges (TV) won't understand about The Three Stooges (movie 2012) is what a fitting paen it is to the long, tough career of the real Moe, Larry and Curly. The Farrelly Brothers have captured lightning in a bottle. It may be unnecessary, dumb lightning but, boy, it sure is fun.
Watch the trailer for The Three Stooges