White Bird in a Blizzard |

reviews, news & interviews
White Bird in a Blizzard
White Bird in a Blizzard
Rising star Shailene Woodley is at the centre of a disappointing teen drama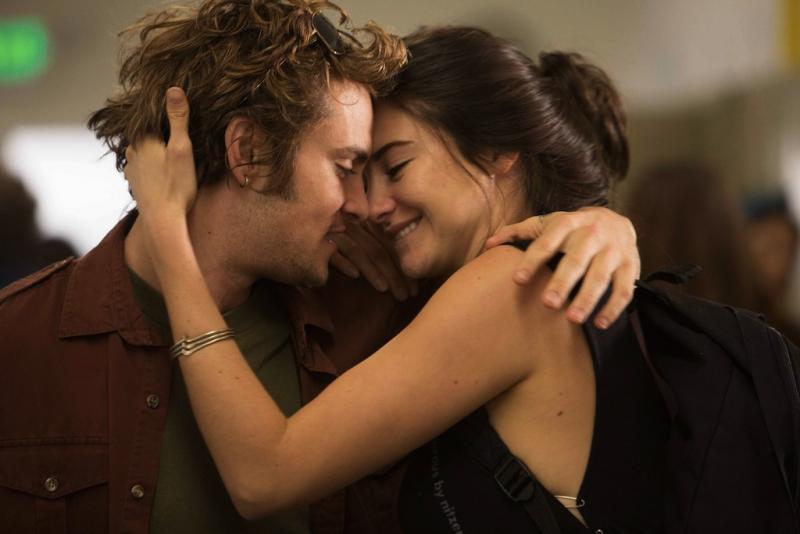 Lovers before the storm: Shailene Woodley and Shiloh Fernandez, in White Bird in a Blizzard
Adolescence, youth culture and rebellion – often luridly and violently expressed – are the stocks in trade of American director Gregg Araki, who has one of the most distinctive voices in US cinema. But while Araki's work has tended to exist on the fringe, White Bird In a Blizzard feels like a tiptoe into the mainstream – and the journey seems to have seriously neutered that voice.
Based on the novel by Laura Kasischke and set in the late Eighties, it centres on Kat Conners (Shailene Woodley), a suburban 17-year-old whose teenage growing pains are exacerbated by the sudden and unexplained disappearance of her mother, Eve (Eva Green, pictured below).
Marriage to dull, pot-bellied Brock (Christopher Meloni) and a dreary life of housewifery had driven the once exuberant Eve to become an eccentric harridan, jealous of her daughter's blossoming adulthood and with eyes for Kat's boyfriend; when she vanishes, Kat simply assumes that she and her dad have been deserted, casually shrugs off the event and moves on.
But of course the absence of a parent, even an abusive one, can throw a child into a tailspin. And Kat's strange dreams, involving her mother as a phantom amid swirling snow, are a reminder both of the mystery of Eve's disappearance, and the child's distress.
Unfortunately, Araki takes this intriguing scenario and squanders it. While intent on infusing the film with his usual tropes – lashings of aggressive teen attitude, a hip soundtrack, a tone that veers between flip and sardonic – the result is surprisingly bland. The mismatch of style and material alienates us from the meat of the drama, namely the girl's psychological state. And a potentially interesting story goes nowhere fast.
After her cancer victim in The Fault in Our Stars and squeaky-clean action heroine of Divergent, rising star Woodley is adding some raunchiness to her image; but her failure to make foul-mouthed, overly sex-obsessed Kat particularly likeable is symptomatic of the film's own weakness for posture over substance.
In her flashback scenes, Green does convey a certain poignancy to her character's descent into near-madness, but there's an over-familiarity to this actress's chewing and scratching over dialogue, and if she isn't tired of playing gothic weirdos, she ought to be.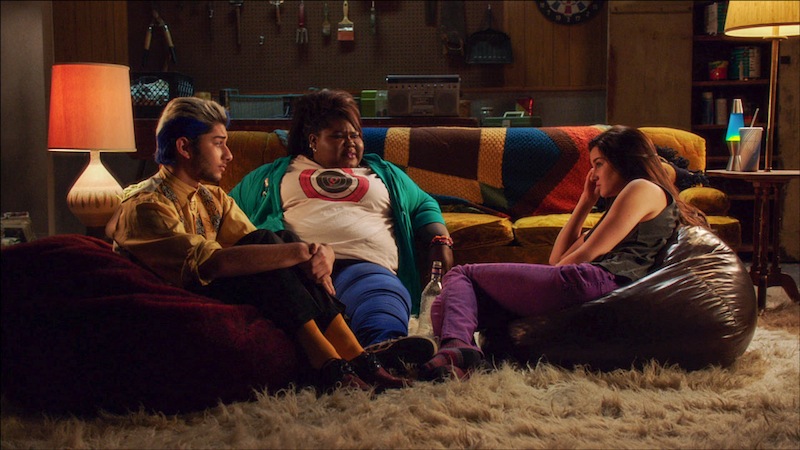 Meloni is totally miscast as dad, Thomas Jane's detective – sleeping with the girl while investigating mum's disappearance – belongs in another movie, and these days making the heroine's friends social outcasts feels remarkably reductive (Gabourey Sidibe and Mark Indelicato, pictured above with Woodley) . A soundtrack that includes The Cocteau Twins, Psychedelic Furs, New Order, Echo and the Bunnymen and The Jesus and Mary Chain is a terrific jaunt down memory lane, but wholly distracting.
Araki's best film, Mysterious Skin in 2004, was a troubling, provocative and impeccably made study of child abuse, which stayed with you for a very long time afterwards. By the time his new film has delivered its predictable denouement, we've already given up caring.
Overleaf: watch the trailer for White Bird in a Blizzard