Penny Dreadful, Sky Atlantic |

reviews, news & interviews
Penny Dreadful, Sky Atlantic
Penny Dreadful, Sky Atlantic
All the Gothic horror you'll ever need assembled in one place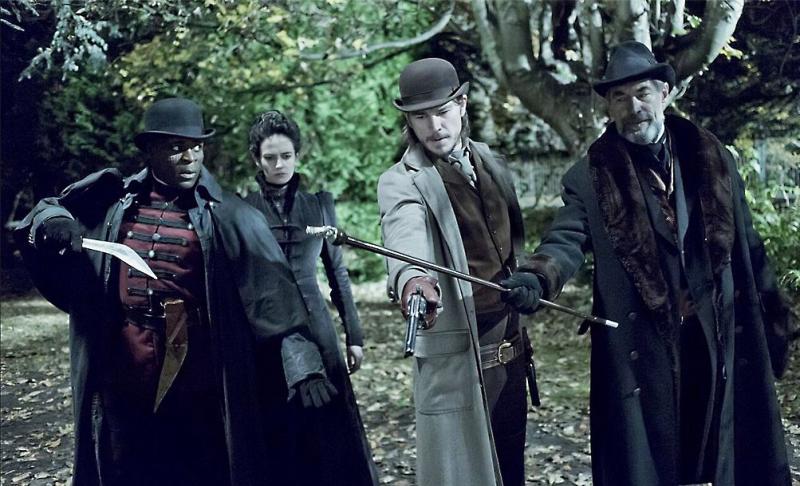 Who ya gonna call? Eva Green with (from left) Danny Sapani, Josh Hartnett and Timothy Dalton
We've had endless waves of vampires, zombies and Frankenstein's monsters, so why not bundle them all together under the same doomily Gothic roof? Welcome to Penny Dreadful, created by writer John Logan and producer Sam Mendes (who previously worked together on the Bond movie Skyfall), in which we descend into a "demi-monde" of monsters and necromancy in Victorian London.
Though the series is named after the lurid serial publications popular in the 19th century, which featured the likes of Sweeney Todd and Sexton Blake, the trickiest part here is picking your way through the reverberations from various movies and TV series. There's a suspicious amount of Jonathan Rhys Meyers' Dracula, along with smatterings of Ripper Street, American Horror Story and Guy Ritchie's Sherlock Holmes, plus the entire collected history of vampires and the Frankenstein legend. So what sets this apart?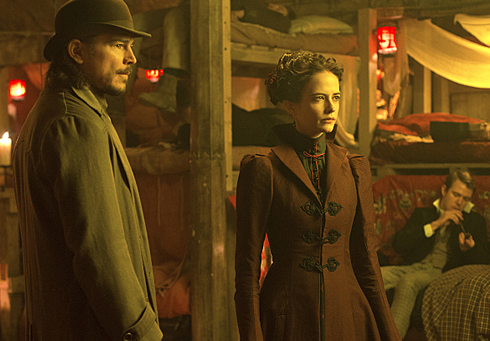 For one thing, the production is plushly upholstered and full of period detail, and having been created by the American Showtime network it relishes cable TV's freedom to provoke and titillate. But mainly it's the cast. Up front we have a mysterious pair of ghoul-hunters, commandingly played by Vanessa Ives (Eva Green) and Sir Malcolm Murray (Timothy Dalton). They're joined by the laconic and laid-back American Ethan Chandler (Josh Hartnett), recruited by the deadly-cool Vanessa after she'd seen him thrilling the crowds at his Wild West Show, where he claimed to be the sole survivor of the Battle of the Little Big Horn. She needed a man accustomed to using firearms for some "night work", as she put it. "Is it murder?" asked Chandler. "Would it matter?" retorted Vanessa (Green and Hartnett pictured above).
At any rate it proved to be a night to remember, as Chandler followed Vanessa and the terse, lordly Sir Malcolm through squalid opium dens and into ghastly dungeons peopled by undead drones who could barely be stopped even with copious amounts of gunfire. In one loathsome scene which tested to destruction the adjective "sick", they picked through piles of blood-drenched dismembered corpses and dead babies in search of Sir Malcolm's kidnapped daughter. All they could come up with was a particularly noxious vampire, seemingly descended from the Alien rather than the traditional bloke in a cloak with a couple of protruding fangs. Deflatingly, it succumbed in a lacklustre manner to a single thrust from Sir Malcolm's sword.
What else was there for it but a visit to that stygian vault where "the resurrection men ply their trade," as Sir Malcolm sonorously put it. Down among the city's nocturnal corpse-gatherers, they found an intense young anatomist who deftly slit open the vampire, marvelling at the way it had grown a "tensile exoskeleton" like an insect or crustacean. And once he peeled that open, he found Egyptian hieroglyphics tattooed underneath. This was excellent news, since it prompted a trip to the Egyptologist Mr Lyle at the British Museum. He was played by Simon Russell Beale (pictured above) with barely-suppressed hilarity, sporting riotous facial hair, fastidiously fussy clothing and a thespy guttural lisp.
It's not easy to know quite what's going on here - one had to sympathise with Chandler's heartfelt exclamation,"Who the fuck are you people?" - but the anatomist turned out to be Victor Frankenstein, and Dorian Gray is going to pop up in future episodes. Vanessa, meanwhile, is prone to lapsing into orgasmic spiritual trances, and apparently labours under the heavy burden of some unspecified "transgression". It's going to be a dark and messy business.
Down among the city's nocturnal corpse-gatherers, they found an intense young anatomist who deftly slit open the vampire
rating
Explore topics
Share this article