We Were Here |

reviews, news & interviews
We Were Here
We Were Here
As a new documentary is released, a writer who was also there remembers San Francisco at the advent of AIDS
Tuesday, 22 November 2011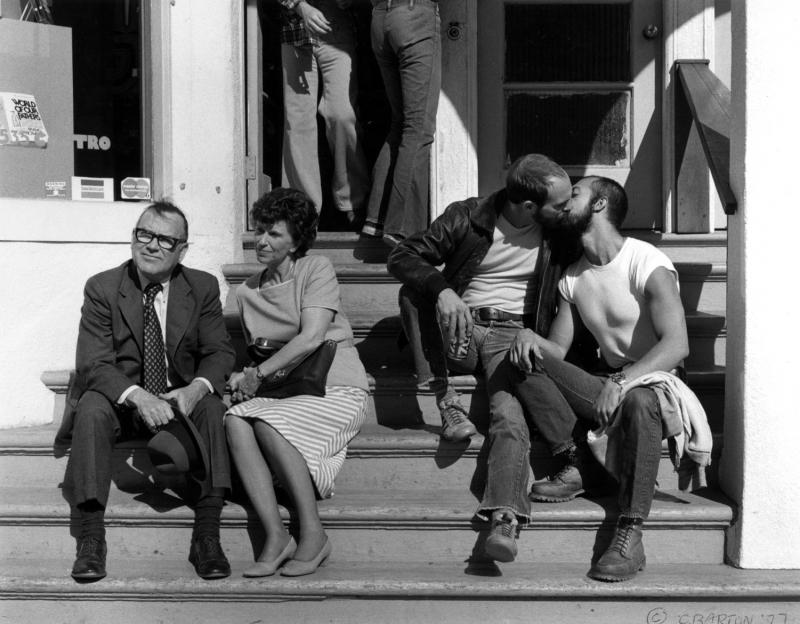 1970s San Francisco sizzled with the energy of thousands of boys and men roaring out of the closet
The advent of AIDS tore through San Francisco's Castro district, the heart of the city's gay community, with the same ferocity as Hurricane Katrina hitting New Orleans's Ninth Ward.
Obviously there were differences - buildings and infrastructure remained intact and this was a slow-motion disaster that unfolded over years as opposed to days - but a devastated community reeling from loss was similarly left abandoned by indifferent authorities and so forced to fall back on its own resources to cope and rebuild. The other difference, of course, was that everyone knew what a hurricane entailed while the disease that was striking down so many healthy young men was all the more terrifying for being so mysterious.
Now a new documentary, We Were Here: Voices from the AIDS Years in San Francisco, conveys the impact of the advent of the "gay plague" through archival footage and the testimony of five eyewitnesses: Eileen, a nurse with seemingly bottomless reserves of compassion and practicality, who volunteered to work on SF General's AIDS ward in the early days when patients were virtually quarantined and who later set up early clinical trials; Paul, a hard partier who became a political organiser campaigning for spending on treatment and research; Daniel, a successful artist who, HIV-positive himself, overcame crippling personal grief to organise benefit art shows; Guy, whose vantage point from his flower stall in the Castro allowed him to observe the impact on the community on street level; and Ed, whose aversion to casual sex and ineptitude at cruising probably saved his life, while his sensitivity and empathy made him an ideal counsellor to the sick and dying.
By 1980 the snake was in gay paradise
Grounding the story in these individual experiences saves the film from being all gloom and doom; instead, rather like The Secret Millionaire, it leaves one awed and inspired by the quiet heroism of ordinary people responding to a desperate situation with extraordinary selflessness and positivity. And if this sounds like it might all be a bit po-faced, this is the San Francisco gay community we're talking about, so there's lots of earthy humour and anger.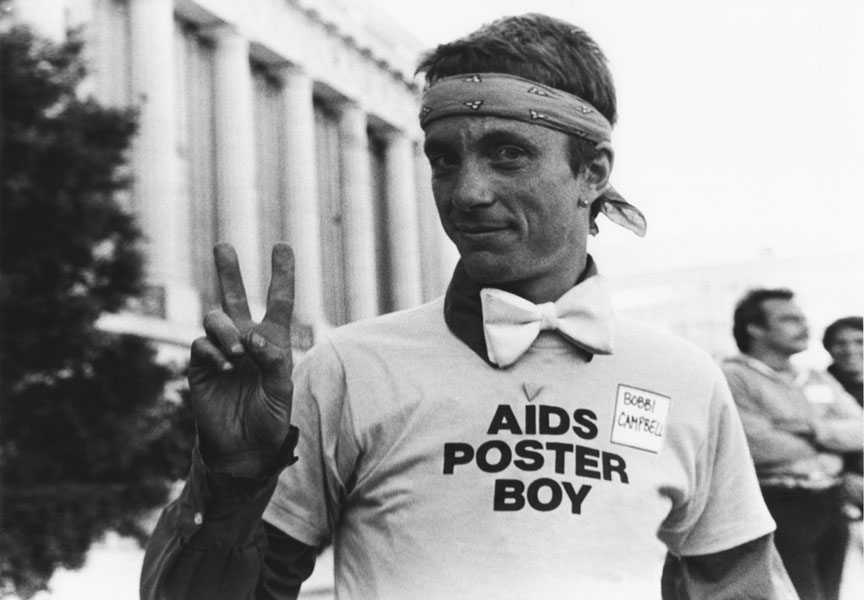 Directors David Weissman and Bill Weber wisely avoid any editorialising and let the personal stories speak for themselves. And what stories they are: men days away from death dragging themselves to Washington to demonstrate for more research funding though barely able to walk; the father who told Ed that finding out his son was gay was worse than the news of the son's imminent death; Eileen asking patients to whom she'd grown close to donate their eyes for research into an aspect of the disease that causes blindness (CMV retinitis) and then having to collect their eyes from the morgue; Daniel signing up for a trial of an early experimental treatment his boyfriend, an immunologist, knew about, quitting because the drug made him so nauseous, and then losing his boyfriend (who died along with all the other 80 patients on the trial), followed by his closest friend two weeks later; and Guy seeing a passer-by the picture of health on a bicycle, then walking with a cane, then in a wheelchair, and finally, after combination therapy had been developed, back on a bicycle.
These recollections, all the more moving for their lack of sentimentality or self-dramatisation, bring to mind Steve Humphries' BBC oral history of the last surviving veterans of the First World War. Indeed, I remember walking down Castro Street in 1986 and thinking this was what Paris in 1919 must have been like - lots of wan young men tottering down the street leaning on canes, while even the physically untouched had the stunned look of those who had seen too much death. The ghosts were practically palpable.
Ten years before the street had been sizzling with the energy of thousands of boys and men who had fled small towns across America to come roaring out of the closet with a vengeance, creating an atmosphere of exuberance and cultural energy (captured in Weissman and Weber's previous film on The Cockettes, a 1970s SF theatrical collective that specialised in what is best described as spectacular pantos). However, liberation soon shaded over into libertinism. As Paul says in the film, "The feeling was if gay sex is good, lots of gay sex is better," and an aspect of the gay scene became characterised by nameless, and occasionally faceless (with participants on opposite sides of a wall), encounters in bathhouses and clubs. (At the time it occurred to me that this was what many straight men would like the heterosexual scene to be like if they weren't hampered by women asking, in the words of the song, "But will you love me tomorrow?")
But by 1980 the snake was in gay paradise. Paul recalls a homemade poster in the window of a Castro pharmacy, illustrated with disturbing photos of the writer's own lesions, warning others to watch out for them. Within months, men who looked like famine victims were a common sight. Given the overlap between friendship and sex in gay circles, many, like Daniel, lost almost all their close friends, leaving the survivors emotionally numb. I was perplexed when a friend of mine showed almost no response after someone I knew he had cared about died. "I've crossed out almost all the names in my address book," he said. "After you've been to 50 funerals in a year, one more doesn't matter that much."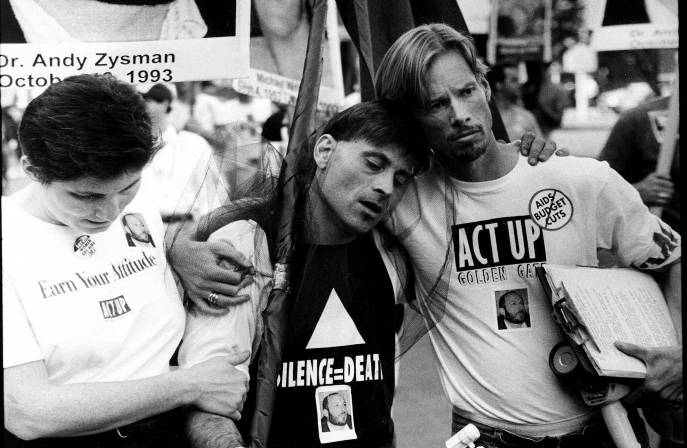 The obituary page of the Bay Area Reporter, a weekly aimed at the gay readership, grew and grew. One of the most powerful images in the film is an assemblage of the BAR's obituary photos. With the search for a cure a low priority and some religious denominations suggesting the victims had brought it on themselves, voluntary support organisations proliferated, buying groceries for house-bound invalids, taking care of pets while owners were hospitalised, lobbying for partners to be considered next of kin, or, like the organisation that trained Ed, simply providing people to listen. As the film points out, a community that a year before had been characterised by hedonism and a superficial worship of the body beautiful was now devoting itself to giving sponge baths, cleaning up sick, and generally providing a family for those who had been abandoned by their own.
From 1980 to the mid-1990s, when a workable combination therapy finally brought the virus under control, more than 15,000 gay men died. But eventually the BAR was able to run the huge headline "No Obits" and, although the time-bomb of HIV continued to take a toll, the storm had largely passed, at least in San Francisco and the developed world. Meanwhile, the same deadly mixture of prejudice and the silence it encourages, underfunded medical care, and inadequate access to drugs means that it still rages through parts of Africa. Even in the West, as the devastating impact of AIDS recedes into the past, younger people are becoming more casual about safe sex. This powerful, affecting film should help ensure that by remembering the past we will not be condemned to repeat it.
We Were Here opens on Friday at the ICA
Ellin Stein's That's Not Funny, That's Sick: The National Lampoon and the Comedy Insurgents Who Captured the Mainstream will be published by Norton in 2012
Watch the trailer to We Were Here
This was what Paris in 1919 must have been like - lots of wan young men tottering down the street leaning on canes
Explore topics
Share this article