Verdict review - social realism and court procedural combine in powerful Manila drama |

reviews, news & interviews
Verdict review - social realism and court procedural combine in powerful Manila drama
Verdict review - social realism and court procedural combine in powerful Manila drama
Domestic abuse and legal turmoil in Raymund Ribay Gutierrez's Venice prize-winning debut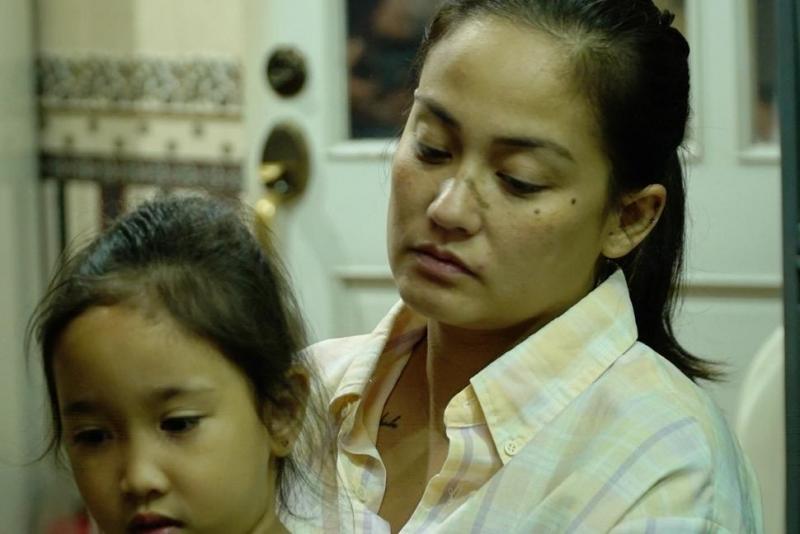 Max Eigenmann: 'Her face speaks powerfully in its silent pain, one nevertheless coupled with a sense of endurance'
There's something of an anomaly in Filipino director Raymund Ribay Gutierrez's debut feature between its fast-moving dramatic opening, defined by an agile hand-held camera, and the much slower, more static scenes that follow.
That early material, charting the moment when recurring
domestic abuse
finally pushes a wife to break from her violent husband, has an impressive immediacy that seems largely dissipated when, about a third of the way into this two-hour film, Gutierrez's focus moves into the protracted
courtroom
procedure that, as its title suggests, comes to dominate
Verdict
.
That beginning immerses us in the everyday life of a poor district of the Manila suburb of Mandaluyong, its atmosphere powerfully conveyed by the fluid work of cinematographer Joshua A Reyles (Reyles worked on the director's earlier shorts, as well as with Brillante Mendoza, a leading figure of the Filipino film world who has been a clear influence on Gutierrez and is a producer and "creative consultant" on Verdict). Favourite Mendoza actor Kristoffer King (pictured below) plays the abusive male lead Dante, whose drunken violence has finally pushed his longsuffering partner, Joy (Max Eigenmann), into action. This fact that this time he has also left their six-year-old daughter, Angel, with a bloody head wound appears to have decided things for Joy, giving her new determination: how depressing that the first response she meets with at the local police station where she reports what has happened is the officer's monosllyabic acknowledgement, "Again".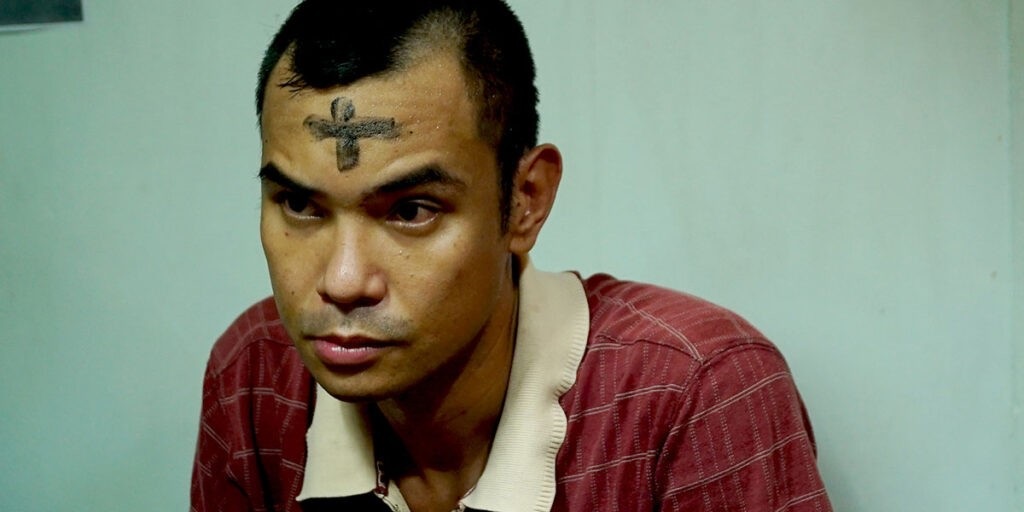 Gutierrez and his DP play out the scenes that follow with a quasi-documentary vérité that evokes a real sense of street life in this crowded, low-rise barrio which never seems to sleep. There's real accomplishment in the way that Reyles's images turn the bleached late-night colours into an unfriendly dawn as Joy and her daughter are taken from police station first to hospital, and then directly to the courts where she initiates the prosecution process. With an interest that surely approaches visual anthropology, we watch how the generally, and genuinely sympathetic way in which she is treated – she's in the hands of the dedicated VAWC (Violence Against Women and Children) unit – is qualified by the close proximity of the crowded corridors in which proceedings take place, one in which the couple repeatedly encounter one another with their different escorting officers.
The closeness of that geographical world is mirrored in the web of family relationships that support both parties, the parents who live streets away, and the network of friends and acquaintances who are potential witnesses for either side (though the male hierarchy certainly influences whose version gets heard). Dante may be a small-time criminal who dabbles in drugs, but has an uncle who is a ranking law enforcement officer – he evidently knows his nephew too well, refusing to support him as a character witness, though other subordinates are happy to oblige – as well as a dominant mother who, though she displays little but disdain for her son, will scrape together the funds to hire him a swanky lawyer (the contrast between the worlds of the street and the latter's sharp office is nicely caught). Joy, meanwhile, is supported by a public prosecutor (a redoubtable cameo from Lourdes Javelosa-Indunan), who is as forceful as her case load is stretched.
The standoff between those two legal protagonists dominates much of the narrative development, but our procedural engagement in the process doesn't greatly develop the human interest (though the scene in which daughter Angel is questioned before the judge, her understanding of what is happening as limited as her loyalties between her parents are divided, is heartbreaking). There's a swearing-in introduction to each court scene with an oath that includes the words "Guide us in the path of righteousness", but justice – let alone righteousness – is relative in a world of corruption, bureaucracy and apparent official indifference. For western viewers, the linguistic hubbub of the whole procedure may appear anomalous: even in the demotic Tagalog of everyday life, plentiful official terms – like "hearing" or "probable cause" – are interspersed in English, which is the preferred language of the court in any case. The effect is almost as if characters are talking at cross purposes, the only certainty being that their words and case details are "blottered", recorded in official written form in the piles of documents that become an almost Dickensian living presence here, the weight of a bureaucratic system that has come to dominate over the best (or worst) of human intentions.
Gutierrez is clearly angry at the social reality, the status quo, that he is depicting: one of the film's most powerful moments comes in Dante's court questioning when he is pushed into an admission that, for him, love means the "right to hurt". The director achieves a dramatic resolution for Verdict that is both satisfying and depressingly inevitable, with a feeling that almost evokes that immortal Polanski closing line, "Forget it, Jake. It's Chinatown." The enduring presence in the film, which won the Horizons Special Jury Prize at Venice last year, is Eigenmann, her face speaking powerfully in its silent pain, one nevertheless coupled with a sense of endurance.
Gutierrez is clearly angry at the social reality, the status quo, that he is depicting
rating
Share this article