Toy Story 3 |

reviews, news & interviews
Toy Story 3
Toy Story 3
To infinity and no further: the gang (sob) go on their final mission
Toy Story returns after 11 years: Woody, Buzz and the gang will not go gently into that good night
The 15 years since Disney released the original Toy Story have seen a seismic boom in the computer animation field that has prompted every major movie studio to get in on the act. Relatively cheap to make, accessible to both adults and children and easily converted to 3D, these digital cash cows have become as much a part of a Hollywood balance sheet as the action-packed thriller, low-brow comedy or all-star contemporary reboot.
Yet while its chief rival DreamWorks has shown few qualms in turning their animated hits (Shrek, Madagascar, Kung Fu Panda) into serial franchises, pack leader Pixar has preferred to concentrate on finely crafted one-offs with screenplays as literate as their visuals are impressive. Rather than squeeze the lifeblood out of its cartoon properties it has opted to nurture directorial careers, enabling the likes of Andrew Stanton, Pete Docter and Lee Unkrich to progress through the ranks under the kindly guidance of company supremo John Lasseter.
The chief exception to this is, of course, Toy Story itself, a title whose large ensemble cast and engaging central conceit has made it the Pixar film most likely to spawn one or more sequels. That it did, though it came more by accident than design, Toy Story 2 being originally intended as a straight-to-video release before someone decided it was worthy of a big-screen upgrade. The fact that it has taken more than a decade for the trilogy to be completed, meanwhile, suggests there is less of an economic imperative at work than an authentic artistic impulse – the X factor, one could argue, that divides Pixar's product from its more adolescent and generic competitors.
That Toy Story 3 will be a commercial success is a given, given the affection in which its characters are held and the guarantee of quality that – the occasional misstep aside (Cars, Ratatouille) – has always been Pixar's USP. Yet one suspects Lasseter and co would not have risked imperilling the rock on which their company was built unless they had both a story they wanted to tell and the means to do it justice. It would be naïve to think commercial considerations did not play into their thinking. For once, though, one genuinely senses they were not uppermost in the filmmakers' minds.
Belated sequels tend to feel like cynical afterthoughts or redundant irrelevancies. If anything, though, the 11 years between Toy Story 2 and 3 have lent a richness and, yes, maturity to a series that always had one foot steeped in baby-boomer nostalgia. One expects the playful comedy, the knockabout farce and the sly verbal wit. What takes one by surprise is the daring of an animated feature that may be the first since The Lion King to tackle the grim subject of mortality head on.
Admittedly such considerations are merely figurative for Woody the Cowboy, Buzz Lightyear the Space Ranger and the rest of their playroom friends at the beginning of the story. The death they face at this stage is obsolescence, an inevitable consequence of their human owner Andy having outgrown them. Faced with a future of perpetual incarceration in a dusty attic, it is hardly surprising that the toys – Woody excepted – jump at the chance to be donated to a local day centre. Once there, though, they find themselves at the mercy of hyperactive tots who run them ragged – part of a sadistic hazing ritual imposed on all new arrivals by a ruthless despot who hilariously hides his true nature beneath the fluffy exterior of a strawberry-scented teddy bear (pictured above right).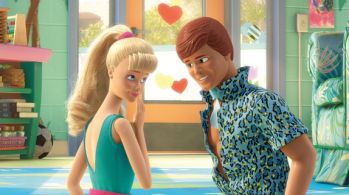 What follows is essentially a reprise of The Great Escape, The Colditz Story and any number of prison-break capers, zestily played with all the invention and ingenuity we anticipate from the acknowledged masters of the genre. Yet as entertaining as this is, it is but a prelude to where Unkrich really wants to take us: a harrowing confrontation with imminent annihilation in the fiery maw of a rubbish heap incinerator, followed by an emotive coda in which Andy finally bids farewell to his childhood compadres.
It will take a hard heart not to shed tears at one or both of these episodes, playing as they do both on the existential dread of death and the poignant acceptance of time's inexorable passing. Interestingly, though, it is likely adults will cry even harder than their kids, Pixar tapping into generational concerns about empty nests just as keenly as they do more general anxieties. That Toy Story 3 is a splendid entertainment is a delight in itself. It takes a special team of talents, though, to make it one that is also profoundly and movingly cathartic – words one would never imagine applying to a 3D picture populated by the likes of Barbie and Ken (pictured above left), a plastic dinosaur and Mr and Mrs Potato Head.
TO THE RESCUE: TOM HANKS SAVES THE WORLD (AND SOME IFFY MOVIES)
A Hologram for the King. Tom Hanks is the reason to see Dave Eggers's sentimental Saudi comedy
Bridge of Spies. Spielberg's warm-hearted Cold War thriller is lit up by Tom Hanks (pictured below) and Mark Rylance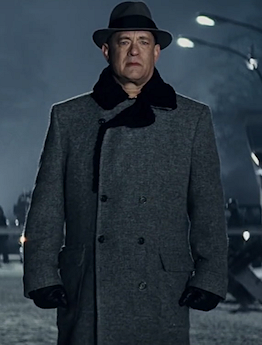 Captain Phillips. Piracy drama prompts bravura all-action display from director Paul Greengrass and captain Hanks
Cloud Atlas. Star company assumes various guises as David Mitchell's time-travelling masterpiece is lovingly told in under three hours
Extremely Loud and Incredibly Close. Oscar-nominated adaptation of Jonathan Safran Foer's novel is lacking in magic
Saving Mr Banks. Emma Thompson as PL Travers and Tom Hanks as Walt Disney track the journey of Mary Poppins from page to screen
Sully: Miracle On The Hudson. Eastwood and Hanks are the right men for an epic of understated heroism
PLUS ONE TURKEY
Inferno. In Dan Brown's dumbed-down Florence, Tom Hanks saves the world. But not the movie