Swallows and Amazons |

reviews, news & interviews
Swallows and Amazons
Swallows and Amazons
Reassuringly cosy adaptation of Arthur Ransome's 1930 children's novel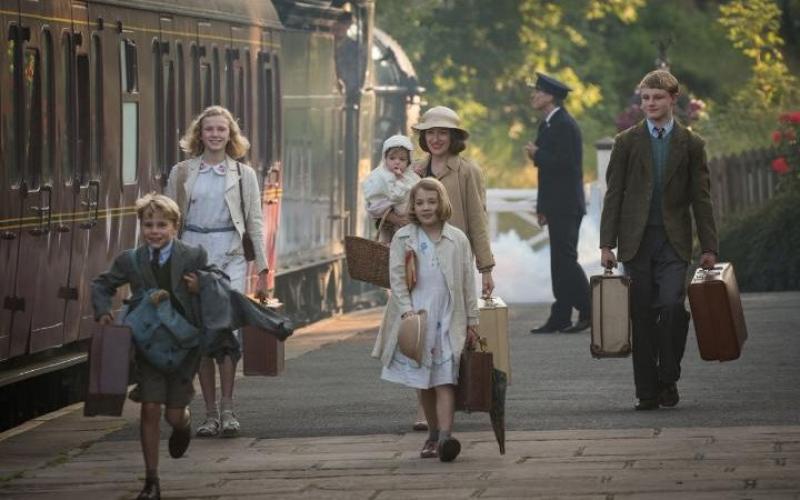 Steamy nostalgia: arriving in the Lakes
If one was going to write the recipe for a classic British children's film, it would probably include the following: adapt much-loved novel; hire fresh-faced young actors and well-worn comedians; budget for steam trains chugging over viaducts; ensure messing around in boats; add lashings of pop and sprinkle with a faint whiff of jeopardy.
Swallows and Amazons
has all of the above, and watching it is a bit like being transported back in time, not just to the 1930s when the story is set, but to a childhood Sunday evening when settling down to watch a BBC serial was a bittersweet pleasure, knowing that it marked the end of the weekend.
Essentially Swallows and Amazons is the tale of the Walkers from Portsmouth, who have come to the Lake District for the summer holidays while their naval commander father is away at sea. They're paying guests at a lakeside farmhouse run by Harry Enfield and Jessica Hynes – playing painfully parodic "simple" Cumbrian folk. Their mother (Kelly Macdonald) has to mind the baby, enabling the first rule of children's fiction: get the parents out of the way first. The four older children go off in search of countryside adventures. Once aboard the sailing boat Swallow they plan to camp out on an island in the middle of the lake. But they encounter a rival crew, the Amazons, who have also claimed the island – and they have a mysterious writer uncle (Rafe Spall) who lives on a houseboat nearby.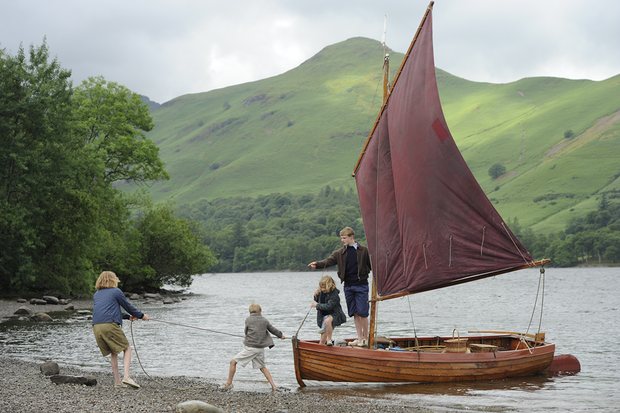 This isn't a wholly faithful adaptation of Arthur Ransome's 1930 novel. An additional plot element has been introduced which brings with it a menacing adult (Andrew Scott in Moriarty mode), a clumsy Hitchcockian chase on a train, and an action sequence involving a seaplane. Scriptwriter Andrea Gibb was doubtless inspired by the 2009 biography of Arthur Ransome which revealed that he had been not only the Russia correspondent for the Daily News but also a double agent before retiring to write children's books. My 12-year-old boy companion found the new plot twists involving plans of secret weapons confusing rather than intriguing and was happier when the story concentrated on the rivalry between the two sets of children.
The film's pleasures lie in its stunning landscapes (with Yorkshire often standing in for Cumbria) which will doubtless inspire Downton Abbey-style location tourism. It's all beautifully art-directed – from the shabby farmhouse to the mysterious island, and a grocery shop filled with canned beef. The costume department has also sourced a fine collection of patterned knitwear and wholesomely baggy shorts. If it all smacks of made-for-export quality film-making, it's saved by the focus on the girls who get to be fierce sailors, not just handmaidens to their bigger brother and moody uncle. Director Phillipa Lowthorpe brings the same subtle feminism with which she imbued Call the Midwife, and gets competent performances out of most (if not all) of the child actors. For those weary of CGI, cynical super heroes and hyperkinetic 3D cartoons, Swallows and Amazons is an old-fashioned treat, if not exactly ground-breaking cinema.
Overleaf: watch the trailer for Swallows and Amazons
It all smacks of made-for-export quality film-making
rating
Share this article