Stoker |

reviews, news & interviews
Stoker
Stoker
Park Chan-wook's English-language debut is a gothic thriller that scorches the skin and freezes the blood
If looks could kill: Nicole Kidman and Matthew Goode in 'Stoker'
It's about time the world got to know South Korean director Park Chan-wook. His "vengeance" trilogy (and its middle segment Oldboy in particular) made an indelible impression on many but Stoker, Park's frighteningly meticulous English-language debut starring Nicole Kidman, Mia Wasikowska and Matthew Goode, will considerably broaden his reach.
This master of the macabre may have toned it down a tad for his ninth film but the majestic violence and taboo infatuations are pleasingly present and correct.
Channelling Winona Ryder's seminally surly teen Lydia Deetz from Beetlejuice, Wasikowska (pictured right) plays India Stoker, a pale, isolated 18-year-old, alien to her peers and intimidating to her mother Evelyn (Kidman). The film begins with the death of India's father Richard (Dermot Mulroney) in a car accident - an event communicated through Evelyn's bloodcurdling scream. Despite initial appearances, grief ultimately seems to agree with Evelyn and, refreshed, she shamelessly sets her sights on Richard's younger brother Charlie (Goode), a disarmingly handsome yet not-entirely-all-there figure who first materialises on the day of the funeral. However Charlie seems more interested in India to the alarm of her mother and visiting aunt, Gwendolyn (Jacki Weaver, pictured below left).
Stoker's screenplay was penned primarily by Wentworth Miller (yes it is, bizarrely - he of Prison Break fame). Miller took Hitchcock's Shadow of a Doubt as a starting point, a film which has its own sinister Uncle Charlie (played by Joseph Cotten), a murderous man who eventually ends up terrorising his own niece. However things here are more complicated - and even more inappropriate. The evocative title refers not just to the family surname but to Charlie's incendiary presence in the household, fanning the flames of desire in both India and her mother. Furthermore its literary allusion fits with Stoker's blood lust and gothic atmosphere, and reminds us of the supernatural subject matter of Park's previous picture Thirst.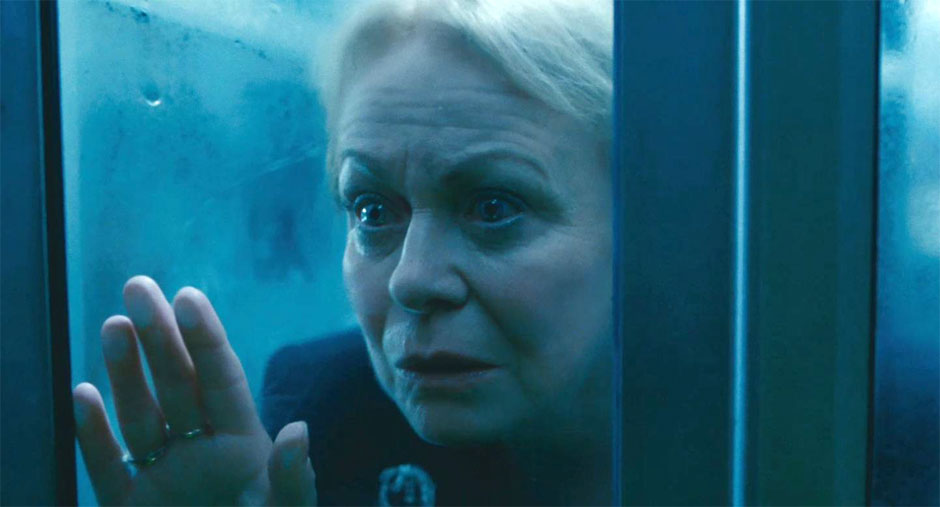 Stoker is both hugely malevolent and delightfully playful - a film where we're ever aware of its director's mischievous hand. As the opening credits unfurl, the wind whips at the teenage India's skirt and Matthew Goode's name emerges cheekily from its folds. When India swings a light in the darkness of a basement, it illuminates not just what is before her but the faces of those still upstairs, prompting us to question who we are really looking at. Park takes pleasure from subverting our expectations, from sinister sights to heightened sounds: an egg that mutates into an eye, smooth hair that becomes rough grass, the guilty slap of feet on tiles, the crack of an eggshell under a palm, the snap of a breaking neck.
The casting could hardly be bettered. Kidman with her pale, increasingly fragile beauty is on formidable form as she struggles to mask middle-aged insecurity and sexual desperation. Goode is the very definition of a handsome devil, with quite the penetrating gaze. Wasikowska makes for a spooky teen, simultaneously younger, older and stranger than her years, and sporting a violent potential to rival even Lady Vengeance. It may not be the most unpredictable of thrillers but Park wrings every drop of tenebrous potential from the material. Bold if you don't know its director, reassuringly renegade if you do, Stoker will stay with you, like it or not.
Follow @EmmaSimmonds on Twitter
Watch the trailer for Stoker
Park takes pleasure from subverting our expectations, from sinister sights to heightened sounds
rating
Explore topics
Share this article