Sicario |

reviews, news & interviews
Sicario
Sicario
Denis Villeneuve is at the helm and Emily Blunt at the fore of a brutal narco-war thriller
Thursday, 08 October 2015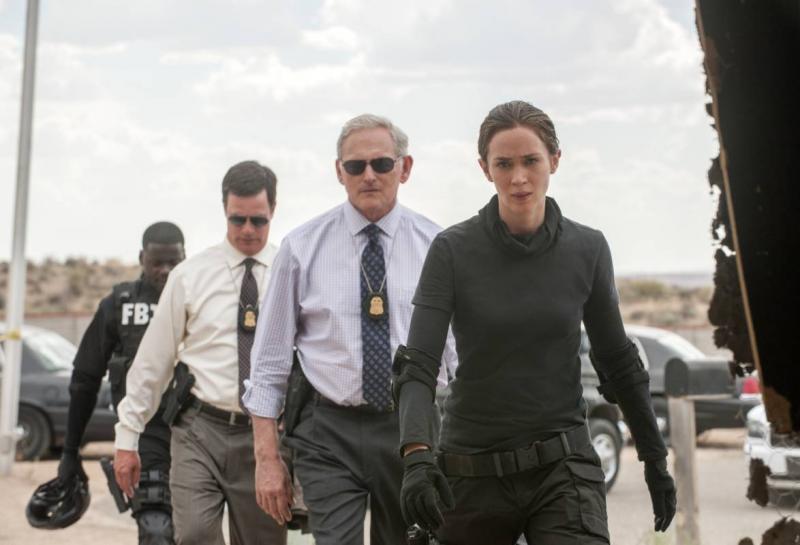 'Down the rabbit hole she goes': Emily Blunt is a bewildered pawn in a dangerous game in 'Sicario'
"I just wanna know what I'm getting into," states FBI agent Kate Macer (Emily Blunt), not unreasonably, as she heads blindly down the rabbit hole. She emerges into a lawless land where bad guys rule, police fearfully follow and her own side's principles have become unrecognisably warped, with their tactics questionable and objectives increasingly hard to grasp.
Sicario
is a nail-bitingly tense, precision-crafted and ferociously critical look at the US war on drugs from French-Canadian director Denis Villeneuve (
Enemy
,
Prisoners
).
After a disastrous raid on a cartel horror house in Chandler, Arizona, tactical team leader Kate is determined to find the men responsible. And so she's sucked into the fight against the Mexican drug trade, a society-ravaging situation fuelled by American demand, whose violent fallout is creeping onto American soil. She agrees to join an interagency narco-war taskforce led by smirking CIA guy Matt Graver (Josh Brolin, as chilling as he is charming), assisted by shady adviser Alejandro (a mesmerically mysterious Benicio Del Toro, pictured below) and the support of a ragtag team.
Although she's a hands-on operative who's been "kicking doors since day one", the ominously secretive nature of the work strips Kate of her capability and the authority of her rank. She becomes a powerless participant in an operation of dubious morality which aims to take out a narcotics kingpin and which quickly transports her into the densely populated, hugely dangerous Mexican border city Juárez, where mutilated bodies are hung as warnings from bridges and the team draw fire despite their beefy convoy, in a brilliantly staged set-piece.
The fact that our bewildered, by-the-book protagonist is kept in the dark renders the audience journey all the more frightening. If Kate represents the FBI that we would like to believe in – professional, conscientious, careful – then her reckless cohorts inspire far less confidence, as this group of decidedly dodgy geezers look to "shake the tree and create chaos."
Jóhann Jóhannsson lays his oppressive (and aggressive) score on suitably thick, while the legendary, 12 times Oscar-nominated DP Roger Deakins captures the relentless threat with exquisite clarity. Blunt is sensational in a challenging role which primarily requires her to react, displaying enough courage and defiance to make Kate admirable and well worth rooting for; the fact that she's on the outside of an all-male conspiracy adds an interesting dimension which very nearly didn't come to pass, as Villeneuve has revealed that first-time screenwriter Taylor Sheridan was under pressure to change the gender of the lead.
Although it's less frenetic, Sicario – Mexican slang for hitman – bears comparison to the similarly excellent, immersive and female-led Miss Bala which also confronted the US-Mexico drug problem, but through the terrified eyes of a woman from the other side of the border. Employing his by-now-well-established discomfort by holding us in moments of horror and threat longer than we might like, Villeneuve ratchets up the fear factor and courageously lifts the veil on political corruption and questionable compromise. The result is an impressively ballsy thriller which, in its meticulous execution, represents the pinnacle of genre cinema.