Escape at Dannemora, Sky Atlantic review - Ben Stiller's breakout drama impresses |

reviews, news & interviews
Escape at Dannemora, Sky Atlantic review - Ben Stiller's breakout drama impresses
Escape at Dannemora, Sky Atlantic review - Ben Stiller's breakout drama impresses
Benicio del Toro, Paul Dano and Patricia Arquette glitter in grim prison drama
Wednesday, 02 January 2019
Escape artists: Paul Dano and Benicio del Toro in 'Escape at Dannemora'
The facts of Escape at Dannemora (Sky Atlantic) are notorious in America. Convicted murderers Richard Matt and David Sweat escaped from Clinton Correctional Facility in upstate New York. Indeed a less enquiring version of the story might have been called Escape from Dannemora. But the preposition is key.
This is about what happened inside the prison: the two escapees' grooming of their female supervisor Joyce "Tilly" Mitchell (Patricia Arquette,
pictured below
).
That this was her story as much as theirs was established in the opening scene. It was shot from behind Mitchell with the lens trained on the enquiring face of the state Inspector General Catherine Lee Scott (Bonnie Hunt). After dumbly protesting her innocence and fretting about her job, Mitchell was confronted with the question of whether she'd had sex with a convict. Slowly the camera crept around from the back of her head to look her full in the face, blinking and confused behind glasses.
The portrait that emerged of Mitchell was of a woman in a dead-end marriage to Lyle (Eric Lange), another prison worker with a sedating passion for American history. Her only outlet for any kind of feeling was through a pair of pet mutts and, at the back of the prison tailor shop, brutal but enlivening couplings with Sweat (Paul Dano).
Sweat may be a convicted murderer and an animalistic lover but he revealed a sensitive side as a student artist taking tips from fellow murderer and accomplished painter Richard Matt (Benicio del Toro). His sketch of two small cute dogs was missing an essential element. "Where's the light coming from?" asked Matt. "Might be kind of interesting having no shadows," reckoned Sweat. "Learn the basics," said Matt. "Then if you want to go disco, fuck it, go disco."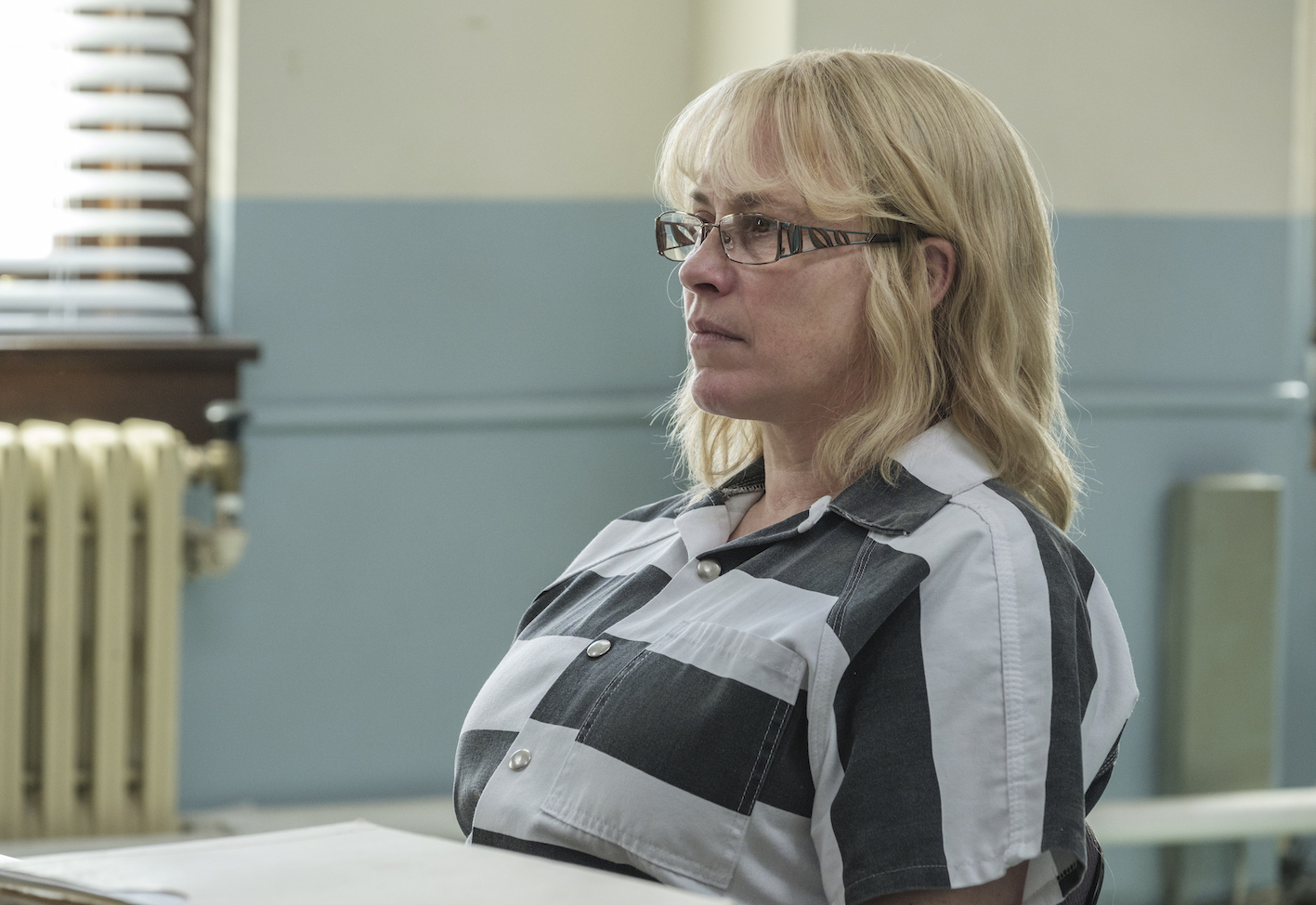 The search for light and shade, for disco strobes in the darkness, is the job Ben Stiller has given himself as director and producer of Escape at Dannemora. He has been directing comedies off and on for 25 years, but he is in alien territory at the helm of a seven-part prison escape drama which is determinedly light on levity. Cells are behind sliding bars, from which contraband possessions are frequently confiscated, the place is bitterly cold in winter, and life on the outside doesn't look like much fun either: every morning the Mitchells have to break out of their snowbound home. The only truly free creature was the bird of prey seen wheeling over the summer skies in the very opening image as the turbines turn in the wind.
Stiller is fond of such editorialising commentary. To illustrate the faultlines in the Mitchells' marriage, the script (by Brett Johnson and Michael Tolkin) had them squabbling over the car radio's on-off switch: Lyle didn't like the poppy pulse of "Chains" by Nick Jonas. Stiller cut back to Tilly's interview, where it was revealed that her ankles were chained and her black-and-white outfit was a prison-issue uniform. (Lyle would probably prefer other songs on Stiller's playlist: the episode was topped and tailed by Dylan's "Girl from the North Country" and Emerson, Lake and Palmer's "From the Beginning".)
Arquette's portrayal of a biddable woman with a low IQ and unfulfilled yearnings, compellingly real and startlingly without vanity, has earned a Golden Globe nomination. As ever, Dano is as Dano does, wiry and beady with extra muscle bulked on for the role. The show-pony performance is from del Toro, who plays Matt as a powerful silverback, a manipulative prison capo with laser-beam blue eyes. "I don't have a personality, man," he challengingly informed the prison guard (David Morse) whom he has under his thumb. In this charisma blast of a performance, del Toro gives him nothing but. It feels a little too much like the turn of a consummate escape artist. But this is an impressively grim peak inside a complex hierarchy.