Shirley review - hothouse art film about American horror writer |

reviews, news & interviews
Shirley review - hothouse art film about American horror writer
Shirley review - hothouse art film about American horror writer
Overly artful portrayal of the domestic travails of gothic novelist Shirley Jackson
Thursday, 29 October 2020
Pillow talk: Michael Stuhlbarg as Stanley Hyman, controlling husband to writer Shirley Jackson (Elisabeth Moss)
Shirley is one of those films that the mood you're in when you watch it will dictate whether you think it's a great psychological horror movie or overheated and pretentious.
Go to the cinema wanting to be plunged into a fever dream of gothic
Americana
, replete with glaucous close ups of Elisabeth Moss as a writer wreaking revenge on her unfaithful husband, and you'll be more than satisfied. But if you're hoping for a linear narrative that adheres to the actual biography of Shirley Jackson, the artful elliptical editing which blurs elements from her fiction with cherry-picked aspects of her life may sorely disappoint you.
Directed by Josephine Decker, whose previous experimental films (Madeline's Madeline, Butter on the Latch) have seen her heralded as a rising star of indie cinema, Shirley is the first time Decker's worked with a big budget and another writer. Adapted from Susan Scarf Merrell's eponymous novel (rather than Ruth Franklin's excellent biography of Jackson, A Rather Haunted Life), Shirley discards the author's real-life children from the narrative and invents a different household set-up altogether. Merrell's novel portrays the famous writer (who described raising her family in numerous articles and a memoir) as a childless psychological wreck, dependent on her lascivious husband Stanley (Michael Stuhlbarg), a literature professor in Vermont.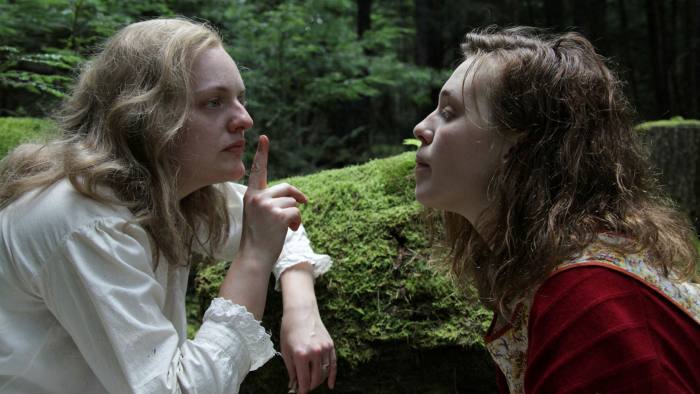 The film opens with a young woman, Rose (Odessa Young above right) reading Jackson's notoriously macabre short story, The Lottery in The New Yorker. It so excites her that she takes her new husband Fred (Logan Lerman) off to the train toilet for sex. (It's the most spacious toilet I've ever seen on a train, but maybe I needed to be alive and sexually active in 1948, when the film is set.) Credibility continues to be strained as Fred, an aspiring academic, accepts his new boss Stanley's invitation to move in to his home so that his pregnant wife Rose can keep house for the reclusive Shirley. Spectacularly rude from the offset, the author makes it clear that she despises domesticity; "a clean house is evidence of mental inferiority" and asks pregnant Rose if the baby is her husband's child. Clearly sharing this house will be no picnic, unless you want to re-enact Who's Afraid of Virginia Woolf?
But Rose is fascinated, she's heard the rumours that Shirley practices witchcraft and seems more than happy to become her familiar. The two women bond and college dropout Rose helps the writer research her next novel, Hangsaman, based on the real-life disappearance of a young student from Stanley's Bennington campus two years before. Meanwhile Stanley disparages his wife's writing and openly cheats on her with both his students and the Dean's wife, while expecting Shirley to attend their social soirées despite her agoraphobia. Stanley doesn't stop there; he nuzzles Rose in the kitchen (who has mistaken him for her husband), and does his best to thwart the young man's professorial ambitions.
It's all very grand guignol mixed with a splash of proto-feminism as the two actresses indulge in hallucinatory scenes involving blood, shared bathtubs and poisonous mushrooms topped off with sexy time on a garden swing and a bit of suicide. Shirley is stunningly shot by cinematographer Sturla Brandth Grøvlen, ingeniously edited by David Barker and ambitiously directed by Josephine Decker. It's worth seeing for their craft and the cast's uniformly excellent performances, but if you're after a movie about Shirley Jackson's life, or a filmic taste of her style, or preoccupations as a writer, you'll have to go back to the books.
It's all very grand guignol mixed with a splash of proto feminism
rating
Share this article