She Monkeys |

reviews, news & interviews
She Monkeys
She Monkeys
Swedish director's unsettling debut
'She Monkeys': Emma (left: Mathilda Paradeiser) gets the measure of Cassandra (Linda Molin)
She Monkeys comes with a "note of intent" from its Swedish director Lisa Aschan. "She Monkeys plays with rules that surround human behaviour. I want to explore society's contradictions by allowing young women to perform brutal actions. To show these taboos in contrast to the innocent and what seems to be naïve. The story's focus is a power play between two teenage girls and the world around them. They're in constant competition."
Aschan continues, but that about sums up this dispassionate, spare and disquieting Gothenburg-filmed examination of teenage interaction. The note of intent echoes the more wide-ranging manifestos that Denmark's Lars von Trier is fond of. And there is some Danish in She Monkeys (Apflickorna). Aschan studied at The National Film School of Denmark and was the assistant director for a couple of episodes of the first series of The Killing. During her studies, passion and film combined: she made Fuck the Rapist, a series of fake ads for spiked tampons that would repel rapists. She Monkeys is her first film.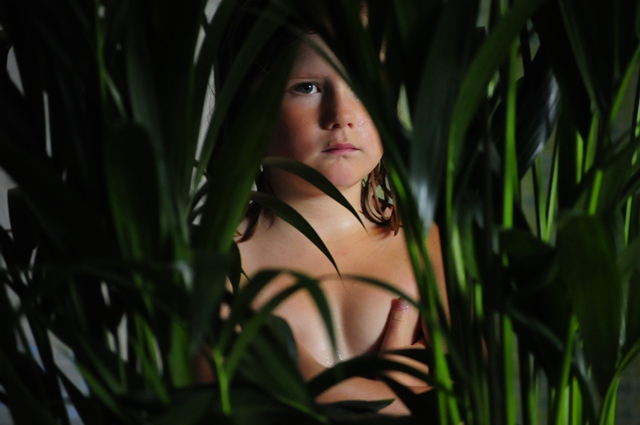 Emma (Mathilda Paradeiser) is 15 and lives with her younger sister Sara (Isabella Lindqvist, pictured right) and father Ivan (Sergej Merkusjev). Her mother is absent, neither seen nor mentioned. The family dog is being trained. At home, Emma sleeps on a sofa. She tries out for, and gets into, an equestrian gymnastic team where she meets Cassandra (Linda Molin). The balance of power between Emma and Cassandra shifts, its limits constantly tested. Sara is also testing her role in life and learning what it will be. Ivan copes as best he can and prepares for a date while Sara sits in the bath messing with his shaving foam and talking matter-of-factly with him.
Although She Monkeys initially seems to be a fellow traveller with Lukas Moodysson's Fucking Åmål (Show me Love), it doesn't focus on small-town life, the tensions and yen to escape coming with that setting. It's closer in tone to Catherine Breillat's A ma Soeur! and Céline Sciamma's Water Lilies (Naissance des Pieuvres). Like Breillat, Aschan is unafraid of taboo and plays with conventions. She also disconcertingly subverts Little Miss Sunshine.
All this makes She Monkeys seem as though it could be desiccated, a conceptual exercise. It isn't. It's assured and inspired, with well-drawn characters and an undertone of creepiness – helped by sympathetic original soundtrack music – that lingers. The spareness of the dialogue also enhances the atmosphere, as do the two leads, each sporting only two sets of clothes.
Paradeiser, Molin and Lindqvist are tremendous. The dynamic between Paradeiser's Emma and Molin's Cassandra is deftly drawn and easily read, but the shifts are hard to see coming and, when they do, often don't unfold as you'd expect. When the inevitable violence comes, it's all the more shocking as it doesn't develop from the ground that's been laid. As Sara, Lindqvist is incredible – her unselfconsciousness is staggering, especially while encountering her older cousin Sebastian.
She Monkeys is a coming-of-age film. It's also a tension-filled psychological drama. But it's set apart by a freshness that comes from its frugality. Aschan's calling card is exceptional. She says that, next, she'd like to make "an absurd comedy that makes you laugh so hard you can't breathe". Can't wait.
She Monkeys is in cinemas from Friday
Watch the trailer for She Monkeys