Scary Stories to Tell in the Dark review - mild-mannered nightmares |

reviews, news & interviews
Scary Stories to Tell in the Dark review - mild-mannered nightmares
Scary Stories to Tell in the Dark review - mild-mannered nightmares
Campfire horror yarns favour character over fright
Straw man: Harold waits to scare more than crows
Guillermo del Toro considered directing this adaptation of Alvin Schwartz's bestselling campfire tales, and his sensibility can still be discerned in its kind sort of fantasy and concern with outsiders. He finally settled for producing, and turning Schwartz's beloved, gory stories into incidents within a wider saga about the sort of American high school kids who read them, rather than an anthology film (a horror format with rotten box-office form).
It's Halloween, 1968, with Vietnam at its height, Nixon about to be elected, and "Season of the Witch" on the radio. The screenplay tries to tie a nation "sending its children to die" overseas to the monsters which soon assault its young heroes. Rather than a 60s period piece, though, Scary Stories confirms both del Toro and director André Øvredal as children of Spielberg and Stephen King, as the golden glow of the former's 80s films and the latter's bittersweet, poison-tipped nostalgia pervade proceedings. A prologue recalling "the very last autumn of our childhood" adopts both men's American reverence for those years.
Our quartet of bookish heroes are led by horror fan Stella (Zoe Colletti) and Ramon (Michael Garza, pictured below with Colletti), a Latino draft-dodger met while dodging bullies. The haunted house where "Strange" Sarah Bellows died 70 years before but still whispers stories through the walls is their last, unwise Halloween port of call. Impulsively pocketing Sarah's book of blood-scrawled stories as they leave, Zoe dooms them all to appear in fresh, fatal yarns.
These include a scarecrow who stuffs victims with straw and leaves them in his place, and a Pale Lady who looks like a child's bad scrawl of a woman, her wobbly smile remaining as she consumes her prey (pictured above). The corpse demanding the missing toe an unfortunate boy has just swallowed in soup meanwhile demonstrates Schwartz's particular brand of shuddery high school gore.
These American horrors are seen through outsiders' eyes. Øvredal, who made his name with the highly Norwegian found-footage horror Troll Hunter, is as transfixed by the lush Americana of dried cornfields through an early morning haze as he is the country's cruel smalltown rituals. Ramon meanwhile represents del Toro's clear Mexican perspective on a brutal, racist northern neighbour. As in The Shape of Water, bullying and powerful humans are the real monsters here.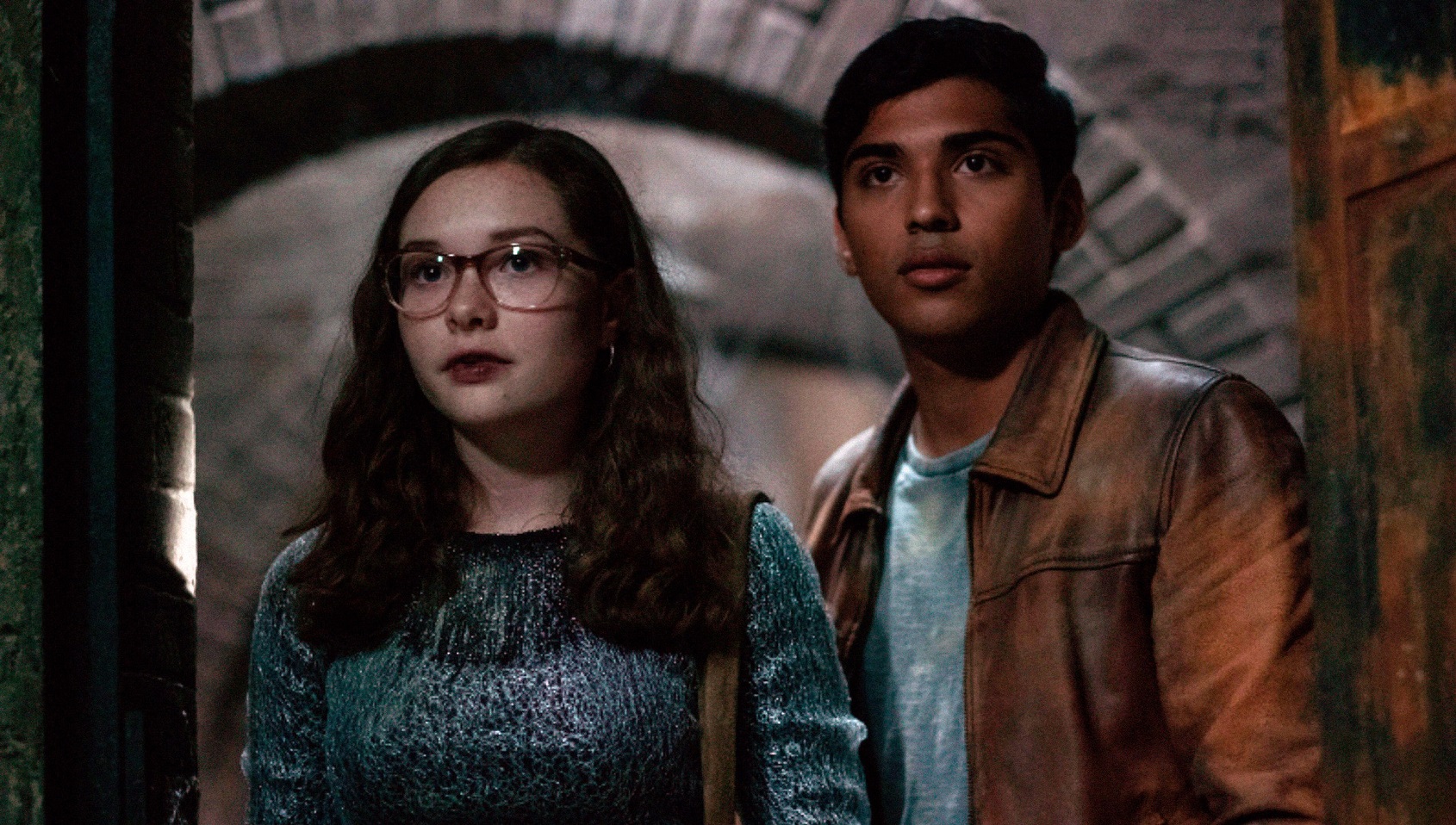 Øvredal's young cast are excellent as an individually odd teenage crew: worried, brave Stella, stolidly rational Augie (Gabriel Rush), Ramon, the mysterious hero whose ethnicity would usually make him an American sidekick, and Chuckie (Austin Zazur), with his shameless, freaky voice and penchant for hurling blazing shit-bags at tormentors. Though there are hints of romance, their fear-honed friendship is a touching angle on adolescence.
But the director enjoys their company too much to maintain more than a desultory pace, while the Schwartz tales which are the supposed point appear sporadically, and fail to scare. An atmospheric world surrounds thoughtful but half-hearted horrors. As The Shape of Water also suggested, del Toro is sometimes too soft-hearted to equal the horror traditions he loves.