Paterson |

reviews, news & interviews
Paterson
Paterson
Jim Jarmusch aims to find the beauty in the everyday with the help of Adam Driver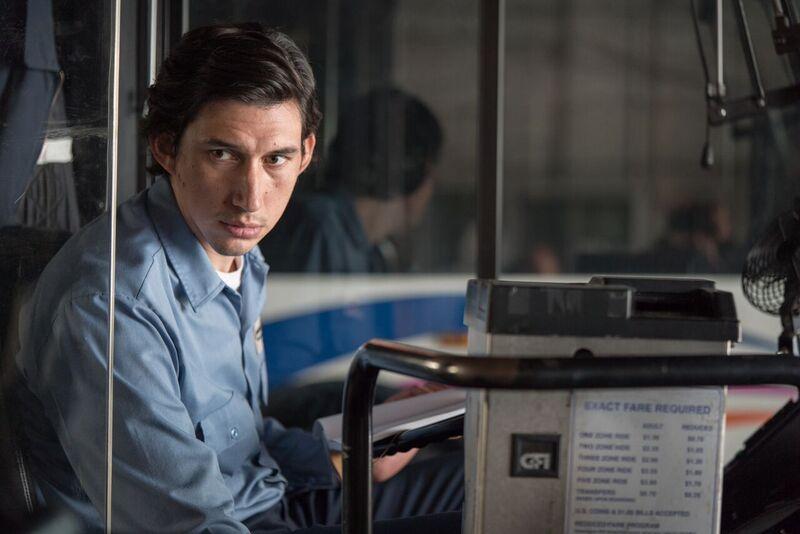 Poet in motion: Adam Driver as the eponymous hero
Back in the 1980s Jim Jarmusch was a breath of fresh air. He made quiet, quirky films about young urban Americans that dispensed with the prevailing neon-bright high school romances, jocks and suburbia. He was about as far removed from the John Hughes/John Landis/Porky hit machines as you could get. Jarmusch was saturated in obscure B-movies, modern poetry and played in a band. His breakout feature, Stranger than Paradise, starred the then unknown John Lurie, who over the course of the film drifted from a cold New York to a frozen Cleveland and emerged blinking in the stale sunshine of Florida.
Jarmusch once worked as a teaching assistant to the great Nicholas Ray and shares his collaborative way of working with his performers. He cast musicians like Iggy Pop, Tom Waits and Joe Strummer and unfamiliar foreign actors like Roberto Benigni and Masatoshi Nagase. Fond of the static frame and low angles of Japanese directors like Ozu, Jarmusch's films were a laconic, sideways contemplation of an America that had slipped out of view. They were sly, funny, lyrical and subtly perceptive portraits of romances between men and women and friendships between men who had got a little bit lost. He grasped the auteur mantle and kept creative control of his films, often shot in monochrome and kept his budgets low. Jarmusch was the quintessential indie director.
Sadly it's a return to format, not form
When he moved into colour with Mystery Train and Night on Earth, he brought something of William Eggleston's unnerving vision to the screen. But then came too much critical acclaim; his films became airless and obviously headed for the art house and festival circuit. A tendency to collaborate with actors who brought their own baggage – Johnny Depp, Bill Murray, Tilda Swinton – and engage in mutual self-indulgence, meant that I haven't liked a Jarmusch film for a long time.
But there were high hopes of Paterson as it was widely heralded as Jarmusch getting back to his roots. Sadly it's a return to format, not form. It does hark back to those early films in its emphasis on the poetry of the everyday, but in a stale, self-conscious way. Adam Driver steps in as a John Lurie look-alike, playing Paterson, a former marine turned bus driver who listens in to his passengers' conversations. Paterson's a poet, and over the course of the week he handwrites his minimalist poems in a notebook between shifts of shuttling his bus around Paterson, a down-at-heel city in New Jersey. He shares the city's name, and sees beauty in its quiet ordinariness – much like William Carlos Williams did when he wrote his epic poem, also called Paterson.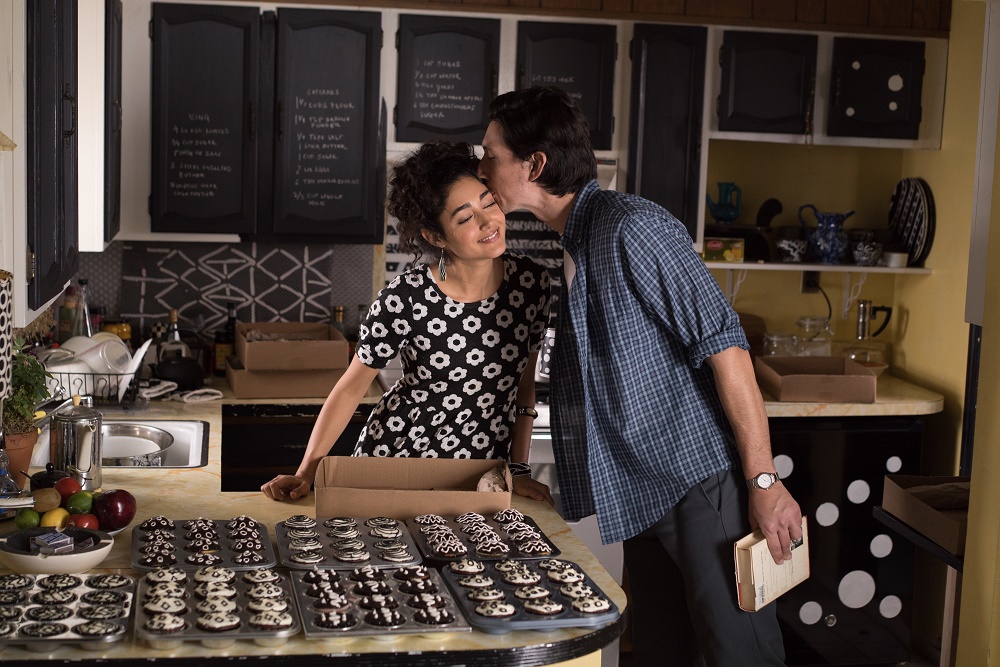 Unfortunately, the echoes, rhymes and coincidences that Jarmusch works into the film grow tiresome and ultimately lead nowhere. Paterson's wife, played by the beautiful Iranian actress/musician Golshifteh Farahani (pictured above with Driver) dreams of having twin babies and her husband starts to see adult twins everywhere. As a movie, Paterson drifts along and never really gets going. There are neighbourly epiphanies and charmed encounters with black people in bars and launderettes. Paterson takes long walks with the couple's baleful English bulldog and finds domestic delight in his wife's monochrome cupcakes and hand painted shower curtain – it's meant to be enchanting but it's simply fey.
What was charmingly loose-limbed in Jarmusch's earlier films now seems mannered and tired. The poems that scroll onto on the screen as Paterson's own work are by poet Ron Padgett and too opaque. In set dressing and dialogue Jarmusch namechecks two great city poets – Frank O'Hara and William Carlos Williams – and this backfires, making the on-screen poems' banality painfully obvious. In the final scene Masatoshi Nagase, who was so good in Sweet Bean, bumps into Paterson sitting on a bench overlooking the city's historic waterfall. Nagase is a middle-aged tourist who in another of the film's artful coincidences is a poetry fan on a pilgrimage to Paterson. Nagase was once the young punk in Mystery Train searching for Elvis's ghost in night-time Memphis; he's now a bespectacled, middle-aged man. Nagase's cameo appearance brought home the distance between Jarmusch young and old. In short, Paterson is a disappointment.
Overleaf: watch the trailer for Paterson
Subscribe to theartsdesk.com
Thank you for continuing to read our work on theartsdesk.com. For unlimited access to every article in its entirety, including our archive of more than 10,000 pieces, we're asking for £3.95 per month or £30 per year. We feel it's a very good deal, and hope you do too.
To take an annual subscription now simply click here.
And if you're looking for that extra gift for a friend or family member, why not treat them to a theartsdesk.com gift subscription?