Pacific Rim |

reviews, news & interviews
Pacific Rim
Pacific Rim
Never mind the plot or the characters, feel the 3D and the CGI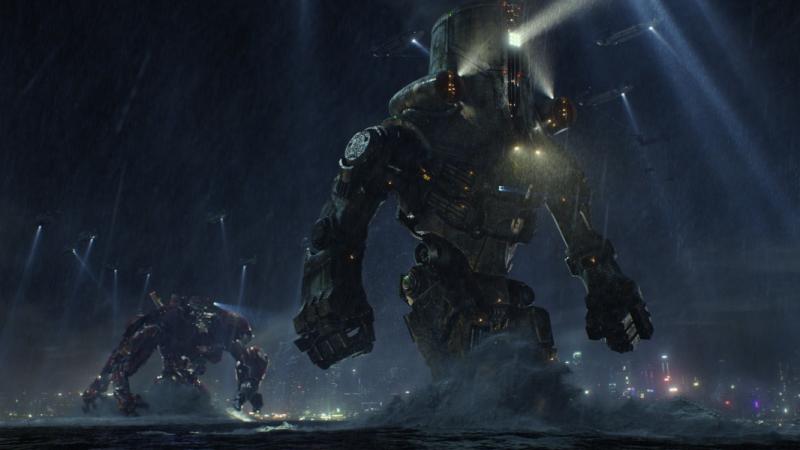 With the planet in peril, the Jaegers charge into battle
As a capsule description of Pacific Rim, "giant monsters versus giant robots" will do nicely. It tells the fantastical story of mankind's battle for survival against a bunch of enormous killer reptiles from outer space, known manga-ishly as "Kaiju", which now live in a "dimensional rift" at the bottom of the Pacific ocean.
These things keep lumbering ashore and laying waste to cities around the eponymous Pacific Rim, and though they're not quite indestructible, conventional tanks and planes can't get the job done. Thus the earthlings fight back by building vast fighting machines the size of tower blocks. They call these "Jaegers", which means "hunters" in German. Why German? No idea (Kaiju on the rampage, pictured below).
Obviously director Guillermo del Toro loves his computer games, comic books and CGI. His target audience is probably 14-year-old boys and their gullible dads, and they, at least, should love Pacific Rim. It's a non-stop maelstrom - I nearly wrote "malestrom", which also fits - of special effects, gargantuan combat sequences and gung-ho warriorhood, and its total lack of any kind of emotional affect is perversely liberating. What you see is exactly what you get, and the 3D implementation is some of the most involving and finely-detailed yet seen.
Otherwise, finding something to empathise with is a bit of a challenge. There's one female character, would-be Jaeger pilot Rinko (Mako Mori), but she might as well be a guy. Del Toro tries to sell us a variety of buddy relationships, with the comic one between a couple of design nerds (Charlie Day, pictured below, and Burn Gorman) raising the odd chuckle.
Another is between Jaeger jock Raleigh Becket (Charlie Hunnam) and his brother. The cunning gimmick with piloting a mega-robot is that the pilots go through a Vulcan-style mind-meld via a "neural bridge". No, really. This puts them into a mental space called "The Drift", so they have almost telepathic control over their Jaeger. Anyway Raleigh and his bro' were great at this and enjoyed ace-fighter-pilot status, but it all went to pot when a rampant Kaiju wrecked their machine and killed Raleigh's sibling.
This leaves him a sadder and wiser man, earning a living by taking construction jobs on the vast Pacific wall being built in the latest attempt to keep the Kaiju at bay. But the military supremo of the Jaegers, Stacker Pentecost (Idris Elba, heroically struggling not to laugh), is battling to keep his big machines in action, despite a political decision to scrap them in favour of the wall (which is obviously useless). He tracks down Raleigh and hauls him back into the Jaeger cockpit, where he insists Rinko should join him (Rinko, Stacker and Raleigh, pictured below).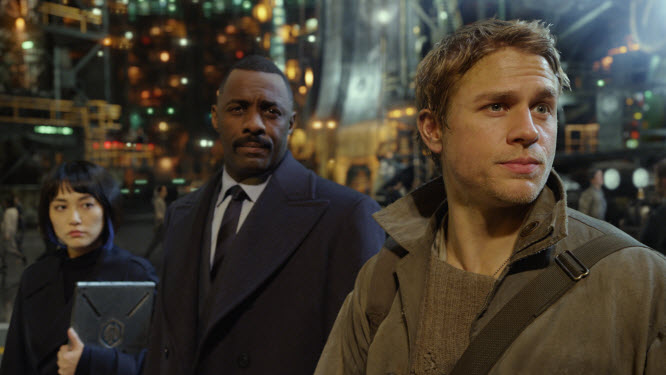 And so the stage is set for the big showdown, 50,000 leagues under the sea. But why worry about the story? The most fun is the sheer lunatic scale of the action set-pieces. The Jaegers are hoisted into action at sea by fleets of helicopters, while every time the Kaiju appear they've grown extra heads, tentacles, claws or whatever. There's a particularly fine battle in downtown Hong Kong, where the combatants inadvertently destroy flyovers and entire city blocks as they slug it out. The Jaeger picks up an oil tanker out of the harbour and uses it to swat the rampaging monster. It's exhausting, but at least no real animals were hurt during the making of this movie.
Experience the interactive Pacific Rim app