Our Children |

reviews, news & interviews
Our Children
Our Children
Distressing, yet ultimately unsatisfying, Belgian family drama inspired by shocking real-life events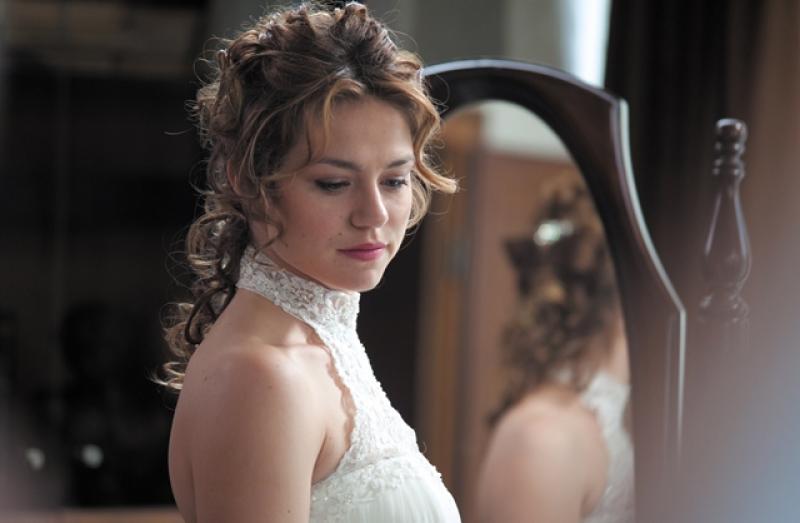 Émilie Dequenne as Murielle in 'Our Childen': about to embark on a marriage that will lead to her deterioration
It's likely that how Our Children culminates is no secret. Director Joachim Lafosse is well aware of that, and the film's opening moments take place in the aftermath of the shocking conclusion of what's about to unfold. Nonetheless, Our Children is composed so carefully that its climax still whacks you in the stomach.
Our Children (Á perde la raison) reunites Tahar Rahim and Niels Arestrup, last seen together in Jacques Audiard's A Prophet. Together with Émilie Dequenne, the trio comprise a family unit as unusual as it's toxic. The film is based on real-life events that occurred in Belgium, Lafosse's home country, in 2007. The director has said that for him they evoked Greek tragedy, and that he wanted to build on them to dig further into themes of excessive love, dysfunctional families and the nature of limits explored in his previous films.
Mounir (Rahim) lives with his stepfather, Doctor André Pinget (Arestrup, pictured right with Tahar Rahim). Although born in Morocco and still having family there, Mounir has somehow come under Pinget's wardship. The balance between the two is shaken when Mounir meets, falls in love with and marries teacher Murielle (Dequenne). When the couple tell Pinget their intentions, he offers to pay for their honeymoon and Murielle invites him along. They then move in with Pinget, and Mounir is employed by the aging doctor. Pinget takes Murielle on as a patient.
This close trio is expanded when a first child is born, then another, a third and finally a fourth. All are girls. Murielle is just 27. Space is needed and Mounir and Murielle's relationship is falling apart. He hits her. Pinget acquires a new house, its ownership subject to a legal document signed by Mounir and Pinget. Murielle is not a signatory. Her mental state is in decline and she's seeing a therapist chosen by Pinget, who's appalled to discover that her client lives in the house of a man who is not only her doctor, but also effectively her father-in-law. It's also revealed that Pinget has a marriage of convenience to Mounir's Morocco-dwelling mother. Pinget is also behind a similar marriage, between Murielle's sister and Mounir's brother. After the birth of their third child, Mounir tells Murielle that "this is still his [Pinget's] home, remember." As if she could forget it.
The slow-burn impact of the pressure-cooker atmosphere on Murielle is depicted deftly, with a fine sense of pace. It's only between the birth of daughters two and three that Lafosse begins filling the picture in. Before then, this seems a happy, if unconventional, household with a generous yet terse father figure on hand. After that, Mounir lashes out at the kids and no comment is made by Pinget. But Pinget has no problem saying what he likes to Murielle. Her deterioration is tough to watch, echoing Catherine Deneuve's in Repulsion. This is Émilie Dequenne's film.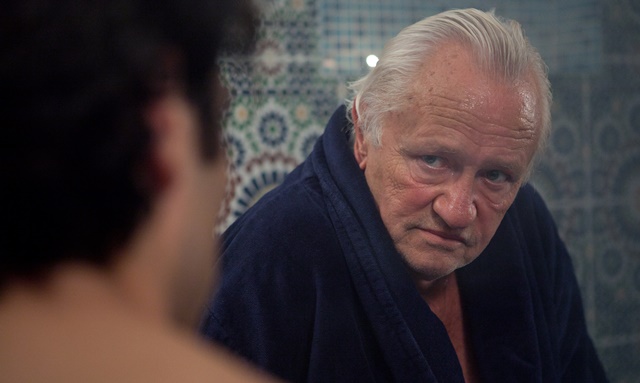 As the manipulative Pinget, Arestrup exudes a creepy and detached air of threat. Rahim though is curiously colourless, his subservience to Pinget painted in broad stokes. Despite the somewhat lumpy revisit to Arestrup and Rahim's figurative father-son relationship from A Prophet, both characterisations are devices enabling Lafosse to perform his principal task, which is to render Murielle's plight in detail.
More problematic is Lafosse's almost-constant stylistic device of having the right or left of the frame masked by an impression of something out-of-focus in the foreground – a door frame, head or curtain – to give a sense that the camera is peeking in unseen on the characters, as if through a window (as seen in picture of Niels Arestrup, above left). Once registered, this distracting contrivance quickly wears out its welcome.
The tension in Our Children is palpable, the use of music outstanding, the climax shocking and Émilie Dequenne stunning as Murielle. But this ultimately unsatisfying film does not gel to become more than the sum of its parts.
Watch the trailer for Our Children
The tension is palpable, the use of music outstanding, the climax shocking and Émilie Dequenne stunning as Murielle
rating
Explore topics
Share this article