The Kid With a Bike |

reviews, news & interviews
The Kid With a Bike
The Kid With a Bike
The latest offering from the Dardenne brothers is cinema at its most unaffected, yet affecting
Freewheeling: Cyril (Thomas Doret) and Samantha (Cécile de France)
There are many directors who profess (or have claimed for them) one sort of naturalistic cinema or another, from Ken Loach in the UK, to Bruno Dumont in France and Lisandro Alonso in Argentina. It's an odd characteristic of the Belgian brothers Luc and Jean-Pierre Dardenne, that one feels almost discourteous to give them any such label.
To do so would suggest at least some degree of artificiality, of self-conscious and discernible design; but when you watch a Dardenne film, there isn't a single moment that doesn't ring true.
The Kid With a Bike is no exception. As with The Promise, Rosetta, The Son and The Child, we are engaged, immediately and unfalteringly, by a reflection of real life, with no affectation on either side of the camera. The overwhelming sense is that what is before you couldn't be presented in any other way.
At turns elf and urchin, Cyril is a boy in perpetual motion
Central to the Dardennes' films is family – more accurately, its absence or failure. Here, the eponymous 12-year-old is Cyril Catoul (newcomer Thomas Doret), who has been abandoned in a children's home by his single father, for a month's stay that has become permanent. The film opens with the sound of children playing, but Cyril is not one of them; the first image is of the boy, phoning a number over and over again, despite its being discontinued. Cyril's desire to be reunited with his dad (Jérémie Renier) is not shared in the slightest.
The film, as ever co-written and directed by the brothers, charts Cyril's quest for acceptance – first by his father, then by another, equally dubious older male. All the while he resists the love that is granted, easily and directly, by Samantha (Cécile de France), a hairdresser who has agreed to foster him – ironically, at the boy's request. Unlike most films, there isn't a clearly signposted destination. As onlookers, we recognise the nature of the characters, we certainly know the boy's best option, but there is no guarantee he will make the same choice, or succeed in achieving it.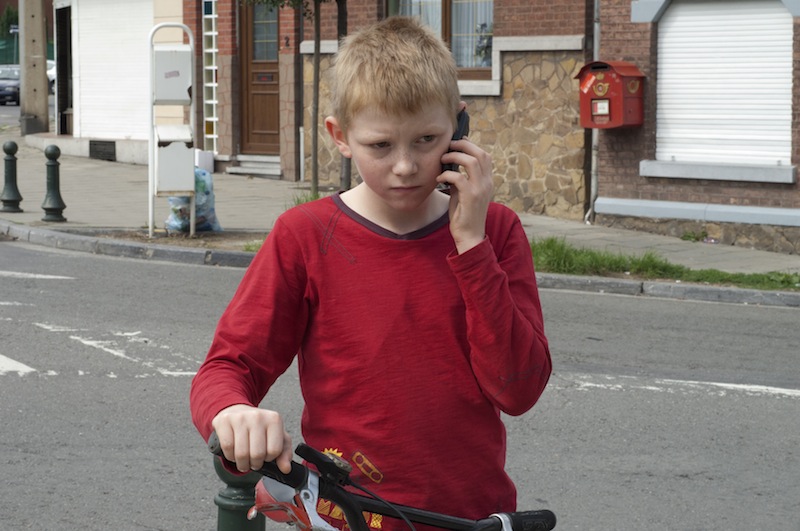 At turns elf and urchin, Cyril is a boy in perpetual motion, whether riding his beloved (and troublesome) bicycle, or running, or struggling free from the grip of an adult. He can really be a pain, rebellious and single-minded, fighting and biting and cajoling to get his way. But the fact that all he wants is acceptance and love, that he never thinks ill of his father, even when the man blatantly rejects him, allows Cyril the benefit of the doubt. Young Doret is a wonder, evoking memories of Jean-Pierre Léaud's Antoine Doinel in The 400 Blows.
Opposing his energy is the stalwart calm of Samantha, beautifully played by de France, an actress with a tomboy gait and appealing guilelessness, whose performance typifies the simplicity and restraint of her directors. In a key moment, Cyril asks Samantha why she agreed to foster him; she doesn't answer. How many films would resist such an opportunity for revelation and tears? But the actress has already done enough, subtly, to convey her character's own loneliness. Similarly, there is no mention of Cyril's absent mother, but in the moment when Renier (a Dardenne regular who made his own debut for them as a boy, in The Promise) gives us a glimpse of the father as something of a helpless child himself, we're offered layers of understanding that no amount of backstory could provide.
The camera is as unfussy and unobtrusive as ever. Music is sparely used, a few moments of Beethoven's Piano Concerto No 5 to imply a moment of calm, or respite for this turbulent boy. The film is often heartbreaking, but the emotion is never forced, or sought. There are other ways of making cinema, which more dynamically use the tools of the medium – image, editing, sound – but this is as sincere and affecting as it gets.
The Kid With a Bike is on UK release from Friday, 23 March