Old Boys review - short but not especially sweet |

reviews, news & interviews
Old Boys review - short but not especially sweet
Old Boys review - short but not especially sweet
Cyrano de Bergerac is only faintly detectable in this protracted and tiresome comic adaptation
Saturday, 23 February 2019
Out of line: Alex Lawther (fourth from right) in 'Old Boys'
How does the ever cherub-cheeked Alex Lawther keep getting served in pubs? That question crossed my mind during the more leisurely portions of Old Boys, an overextended English schoolboy revamp of Cyrano de Bergerac that flags just when it most needs narrative adrenaline.
Age 23 now but playing someone far younger in the
film
, Lawther plays a scholarship student called Amberson, who appears to inhabit various pubs with nary a question asked. Audiences, meanwhile, may have questions of their own about how such a promising idea was allowed to dissipate to this degree.
The setting is a public school during the 1980s at which Amberson is the shy, klutzy, asthmatic dweeb whose failings are evident when it comes to sport. The kid has a brain, though, which proves useful when his buff if less bright classmate Winchester (Jonah Hauer-King, the spitting image of his restaurateur-father, Jeremy), enlists Amberson's romantic aid. The school has a new French teacher who may be a bit of a scold but comes with an alluringly exotic daughter, Agnes (the Belgian actress Pauline Étienne), capable of attracting the eye of Winchester and Amberson alike.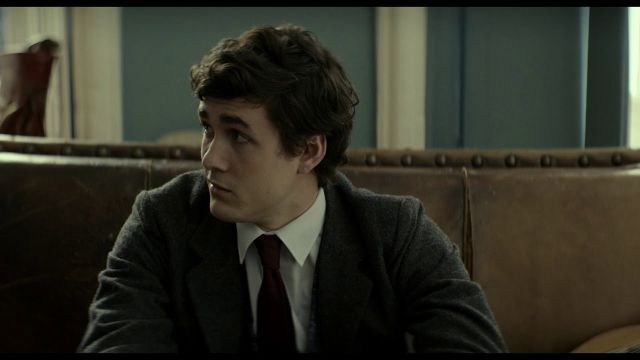 The school motto is "act manfully", and it's amusing for a while to watch the likes of Nicholas Rowe and Joshua McGuire playing various schoolmasters and coaches: McGuire is the sports taskmaster who puts the hapless Amberson most aggressively through his paces while the lofty Rowe corrects the student's father's grammar. (How rude!) A dimple-faced suitor who is this story's equivalent of Christian in the Cyrano match-up, Winchester expresses frustration with "all this word shit" and finds an ally in the indrawn clever clogs, Amberson. (Not that his missives, when they do get penned, would ever be mistaken for Baudelaire.)
As directed by twice Bafta-nominated Toby MacDonald from a script by Freddy Syborn and Luke Ponte, Old Boys occupies time-honoured terrain, from the playing field rituals sure to prompt grim memories amongst less jockish filmgoers through to the collisions of class and of culture that happily, in this iteration at least, allow Winchester to emerge against the odds as a good guy. But Lawther at this point surely deserves a greater use of his talents than yet another bespectacled-nerd routine — he was terrific onstage as the young English activist in The Jungle — and the implicit theme of emancipation has been more heartily served up elsewhere. The offkey choral singing is a hoot, and it's fun to see McGuire cast against type as a stern-faced martinet. But you wince less at the hazing itself than at the familiarity of it all when poor Amberson has his head shoved down a toilet while being told that "these are the best days of your life". Old Boys, I'm afraid, feels like old hat.
The film occupies time-honoured terrain, from the playing field rituals sure to prompt grim memories through to the collisions of class and of culture
rating
Explore topics
Share this article