Nocturnal review - an impossible love |

reviews, news & interviews
Nocturnal review - an impossible love
Nocturnal review - an impossible love
A schoolgirl and a painter-decorator rush headlong into harm
Friday, 18 September 2020
Dreading the dawn: Cosmo Jarvis in 'Nocturnal'.
The most painterly and ominous sequence in Nocturnal naturally occurs at night. Until recently strangers, 33-year-old Pete (Cosmo Jarvis) and 17-year-old Laurie (Lauren Coe) gaze across a body of seawater to a miniature chemistry set – a tract of illuminated industrial buildings and smoke-belching cooling towers.
Initially these bright satanic mills occupy the foot of the frame, the rest of it a vast black void; then they glide disarmingly close to
Pete and Laurie
as he drives among them.
Perhaps the film's director Nathalie Biancheri and its inspired cinematographer Michal Dymek intended nothing overly metaphysical by these charged images. Yet you can't help thinking that should Pete and Laurie continue with their unwise dalliance the void will reach down and swallow them, or that they'll fall into hellfire.
Originally scripted as a partial thriller by Olivia Waring, Nocturnal was moved by Biancheri from a Brighton setting to the Bridlington and Hull area when she boarded the project – her full-length fiction debut – and softened it into a fraught Oedipal (or "negative Oedipal") family drama that recalls Andrea Arnold's more harshly realistic Fish Tank. The coastal Yorkshire setting informs the story. As Pete and Laurie share confidences on the benighted waterfront, he mumbles poignantly about his mum's relatives in Rotterdam. Just a ferry ride away, the unseen Dutch city acquires the aura of a refuge from the psychic damage he can't escape. (Pictured below: Lauren Coe as Laurie.)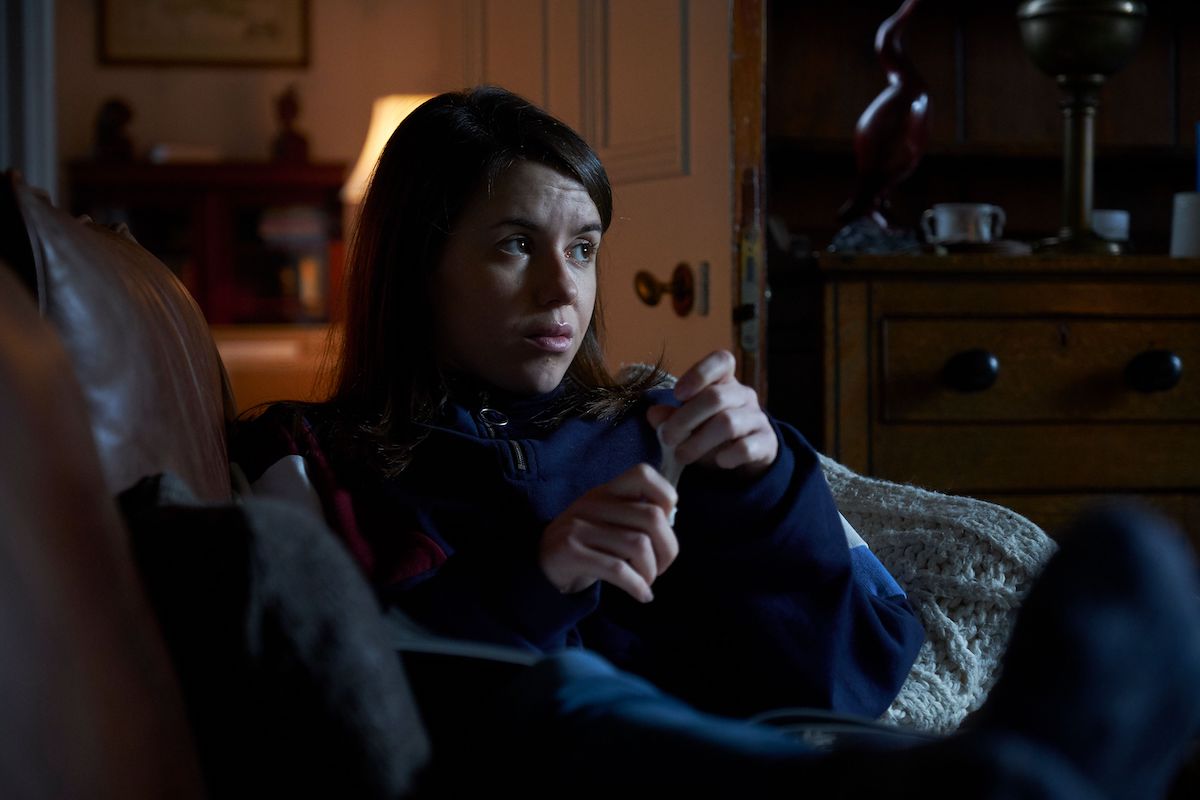 A cousin of Jarvis's hulking Irish drug-family enforcer in Calm With Horses, Pete is a saturnine, intermittently articulate, rough-hewn magnet for women, including his discontented on-off girlfriend Suzie (Amy Griffiths). A painter-decorator, he's first seen painting a straight line on the playing fields where he catches sight of high-school track runner Laurie. He soon starts walking a line he daren't cross by stalking her.
Laurie was raised in Dublin by her single mum, Jean (Sadie Frost in a nothing role), who's recently brought her to live in her hometown, where she conceived her with a younger man. Like another fatherless Dublin sixth former, Marianne in Normal People, Laurie can't or won't fit in with her peers; mutual contempt characterises her involvement, whatever it is, with good-looking schoolmate Danny (Laurie Kynaston).
She scorns Pete for his apparent predatoriness, but amused by the idea of hooking up with an older man – and because there's a massive dad-size hole in her life – she starts encouraging him with calculated bluntness: "You're a creepy fuck, but you've got balls". They joke charmingly about being the serial killers Peter Sutcliffe and Rosemary West, quaff whiskies in an after-hours bar – where Laurie gives Pete what she imagines is a smouldering look – hit a dancefloor and, on a subsequent evening, crash into each other like dodgems while larking in the town's seedy arcade. But as Laurie boldly advances, the increasingly diffident Pete retreats. There's still 50 minutes to go when he decides to repaint that metaphorical line. It's a little too late.
Pete's inability to re-route his and Laurie's relationship stems from an emotional block built on years of denial, repression, anxiety, and shame. It's all there in his eyes and cramped body language. Jarvis makes him an unusually sensitive, sorrowful piece of beef, one miles from the dumb, sacrificial Northumberland stag he played in Lady Macbeth. Coe transformed herself in several ways to portray the half-formed Laurie, whose tough act only goes so far; her performance remains restrained even as the girl buckles and breaks.
For all the heavy psychological baggage Nocturnal drags along, it's a better mood piece than it is a melodrama. The splashes of offhand visual beauty sometimes overwhelm a story that flirts with implausibility. On the other hand, there are moments of emotional downtime, when nothing much is happening, that hum with significance. Watching Pete apply whitewash and scrape off old wallpaper, you realise he's repressing and un-repressing his feelings in the face of a crisis. Watching him paste gold-starred paper on a ceiling to please a client's young daughter, you realise he's at last reaching beyond his grasp without tearing a hole in his heart.