Mood Indigo |

reviews, news & interviews
Mood Indigo
Mood Indigo
There's method in the visual madness of Michel Gondry's tale of tragically blighted love
The magically off-kilter Mood Indigo is based on Boris Vian's posthumously celebrated Surrealist novel L'écume des jours (1947), one translated title of which is "Froth on the Daydream" and another "Foam on the Daze". Literally, it means "The foam of the days" or, more ominously, "The scum of the days". As it transpires, director Michel Gondry gradually skims away the froth from the movie's surface to find a layer of poisonous scum underneath.
What starts out as a pleasurably light boy-meets-girl fairytale gives way to a Gothic tragedy thick with decay and despair. Although its cause is a mysterious illness symbolising cancer, the story is, on one level, a metaphor for ideal love's familiar disillusioning trajectory.
Gondy takes a handmade, artifice-for-artifice's sake approach to his seventh fictional feature, which he co-wrote with Luc Bossi. It's closer in spirit to his Björk music videos ("Human Behaviour" and "Bachelorette," for example) and The Science of Sleep (2006) than, say, The Eternal Sunshine of the Spotless Mind (2004) or The Green Hornet (2011), though it has traces of Eternal Sunshine's fatalism. In the closest thing to a Gondry meta-moment, the protagonist Colin (Romain Duris) steps out of the main story to join the typing pool that is rattling off Vian's novel in an intermittently used framing sequence.
The setting for the rapturous romance of Colin and Chloé (Audrey Tautou) is a timeless post-war Paris equipped with retro labour-saving contraptions and technology that anticipates the Internet and CCTV: in keeping with the novel, virtually everything in the first half of the film is alive, suggesting the influence of Pinocchio-era Walt Disney and the Russian stop-motion animator Ladislas Starewicz. The rubbery legs of characters hoofing the dance "Le Biglemoi" recall the elongated limbs of the jiving 'toons in the more exotic of Disney's 1930s Silly Symphonies.
Chloé coaxes the courtship forward, overcoming Colin's defensive grouchinessColin is a wealthy, idle Duke Ellington-loving bachelor who lives in a suspended train carriage chock full of his trivial inventions, such as a piano that creates cocktails based on the notes played, and a roaming beetle-cum-doorbell (its metamorphosing into a cluster of baby beetle-bells was inspired by a 1920s Charles Bowers cartoon). Nicolas (Omar Sy), Colin's chef and lawyer, is also his worldly adviser; Chick (Gad Elmaleh), Colin's best friend, is a work-shy intellectual obsessed with the philosopher Jean-Sol Partre, portrayed by Philippe Torreton (pictured above right) as a revered but gloomy bore with cartoonishly outsize glasses.
Played with unexpected boyishness by Duris, Colin is seemingly indifferent to women, but he's piqued when he discovers that Nicolas and Chick have girlfriends, the socialite Isis (Charlotte Le Bon) and Nicolas's niece Alise (Aïssa Maïga) respectively. Resolving to be in love, too, he immediately meets Chloé, whose sweetness scarcely stretches Tautou – her smile remains one of cinema's most entrancing. For all its visual clutter and illogical business, the film is not without psychological accuracy: it is the woman who knows, before the man, that they are destined to be together so it is Chloé who coaxes the courtship forward, overcoming Colin's defensive grouchiness and crudeness.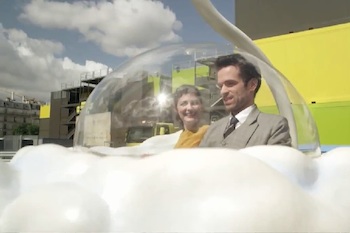 Once they ride in a mechanized cloud over Paris (Tautou and Duris, pictured left), it's inevitable they'll marry. They race in soapbox dodgems into the church, where the priest crash-lands in an art-deco spaceship: one of the silliest of Gondry's Gilliam-esque set-pieces. During their honeymoon, an iris spore floats into one of Chloe's lungs and takes root. An absent-minded doctor played by Gondry diagnoses her case but bungles her treatment. To keep her alive, Colin must surround her with flowers – chemo in all but name. Soon his fortune is depleted and his apartment has started to rot. The humanoid mouse that touchingly does odd jobs around the place is tainted by the spreading grime he tries to scrape from the windows.
An engineer, translator, musician and jazz impresario as well as an author and columnist, Vian was a force among post-war Left Bank bohemians. Although he and his wife Michelle Léglise were close friends of Jean-Paul Sartre and Simone de Beauvoir, Vian (1920-59) was far from an adherent of existentialism. Notwithstanding an undertow of anger and cruelty in his writings, he valued love, music, pleasure, and absurdism in the face of mortality, partially the result, one assumes, of his living with a congenital heart condition. His satirising of Sartre suggests he had foreknowledge of the philosopher's affair with Michelle, which ended the Vians' marriage.
Colin is horrified to learn that the money he gave Chick to start a life with Alise has been squandered on Partre books and memorabilia. The relationship finished, Alise visits Partre intending to take revenge. Partre, unmoved, harshly remarks that Chick had an existential "choice". This lugubrious subplot, a mockery of Sartrean thought and the Sartre cult that's enlivened only by Maïga's fiery Alise, was probably weakened when the originally 130-minute film was trimmed to 125 minutes (the French release version) then to 94 for British and American distribution. But it serves its purpose: Chick's moral failure as a lover emphasises the strength of Colin's devotion to Chloé. Unlike Chick, he is allowed no choice.
Mood Indigo has been criticised for its overwhelming imagery and underwhelming plot, yet in Gondry's hands imagery, character, and plot are symbiotic. The sight gags and animated objects, which gloriously refute Sartre's idea that inanimate things are resistant to human existence and significance, are first the zestful outpourings of Colin's inner life and then of his and Chloé's joy in each other. It's a film that required a stripped-down storyline. (A labyrinthine screenplay like Charlie Kaufman's for Eternal Sunshine would have been flooded by so much froth.) The test of Gondry's imaginarium is how deeply it makes the viewer feel for the lovers. Once Mia Doi Todd's "Spring" kicks in on the soundtrack and their polychromatic world turns into a murk (Duris, pictured above right), one may yearn for the movie's clock to turn backwards.