Mirror Mirror |

reviews, news & interviews
Mirror Mirror
Mirror Mirror
Julia Roberts star vehicle lays an egg but the costumes are fun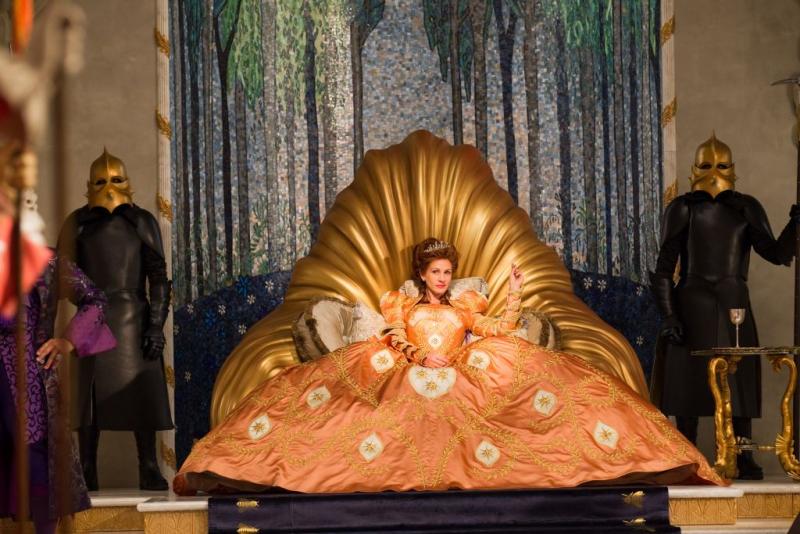 Pretty woman: Julia Roberts embraces her inner bivalve in Tarsem-directed fantasy
Some gorgeous costumes get paraded about to little effect in Mirror Mirror, the latest in a series of Julia Roberts star vehicles to make one wonder whether this A-list thesp's management is actually out to torpedo her career. A terrific actress in material that actually asks something of her, Roberts looks irritated by her latest assignment in a wan Snow White rewrite, and who can blame her?
British viewers may be less forgiving of the way the Oscar-winner possessed of the zillion-watt smile slaloms between accents, as if not entirely sure where her vowels should alight. Others may pass the time making sure all the dwarfs are accounted for and wondering just how many more minutes of the movie they have to endure.
Roberts plays an occasionally English-sounding, always villainous queen who tends to lapse into her own tangy American voice whenever the script lands her a would-be drollery or two ("but I digress" being an early and typically uninspired example). Having had five husbands over time, the emotionally needy narcissist has her royal talons set on the furry-chested Prince Alcott (Armie Hammer, late of J Edgar), except that he, in turn, is destined for Lily Collins's terminally bland Snow White (pictured above right), whom the script persists in calling by the single moniker, Snow, perhaps because said shorthand sounds more media-friendly in an age defined by the likes of Adele.
Snow, as is the way of such tales, has to earn the worshipful devotion of the Prince, who for his part ends up transformed into a dog so that he can have his torso scratched and licked. (No, no, it's not that kind of film.) All the while, the queen preens and schemes and seduces her way to an inevitable comeuppance, snapping occasional aspersions at a manservant played by the Broadway great, Nathan Lane (pictured below left), who winces with varying degrees of affability as you might, too, if you were playing a character called - wait for it - Brighton. (The English reference goes unexplained, which is no more or less odd than the fact that the movie's director, Tarsem, is afforded three separate variations on his name in the final credits.)
In keeping with a girl power motif that is sure to empower the tween audience not busy papering their walls with pictures of a semi-clad Hammer, Snow finds sanctuary in a nearby woodland in the company of the inevitable bevy of little people - OK, dwarfs, any political correctness scuppered by the script of a film that dares to refer to the assemblage at one point as "runts". (So what if the seven lads constitute by some measure the liveliest aspect of the film?) Snow learns how to fight and develop some pluck though not, apparently, what to do with a rather formidable set of eyebrows, the otherwise smooth-faced Collins's signature look.
All the while, the rather overbearing artificiality of the production design exists one step away from a theme park (which may, in fact, be the intention), leaving Eiko Ishioka's costumes to impress with an elegance and dazzle that typify the work of the awards-laden Japanese costumier who died in January, age 73. The finale brings together Sean Bean, Bollywood, and a marriage proposal from Lane to Mare Winningham that gets drowned out in the clamour. Those who sit through the final credits will notice the involvement of something called Yuk Films in making this picture possible. Not for the first time with Hollywood, you couldn't make it up.
Mirror Mirror is on UK release from today
Watch the trailer for Mirror Mirror