Magic in the Moonlight
Magic in the Moonlight
Emma Stone delights in Woody Allen's 1920s romantic comedy
Wednesday, 17 September 2014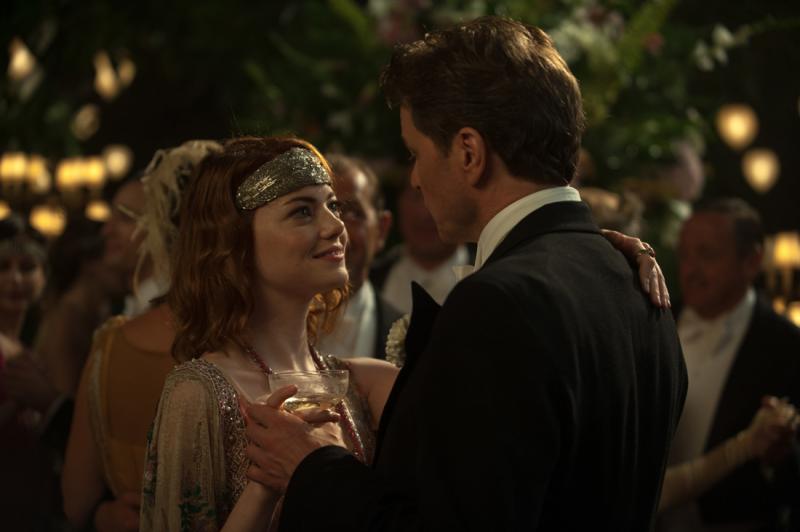 Emma Stone and Colin Firth dancing in the moonlight
An ageing misanthrope is given a new lease of life and a fresh outlook by a pretty, young woman. Woody Allen wheels out this tired old trope for his 44th feature film set in his favourite era on the French Riviera with a light romantic yarn between Colin Firth and Emma Stone playing out as predictably as one might imagine.
Thankfully this old fashioned unravelling mystery proves to be a far more enticing affair than anticipated due to the striking backdrop of glitzy 1920s fashion, sparkling evening soirees and expertly curated jazz accompaniment.
Chinese conjurer Wei Ling Soo is the talk of the town but it's all a guise thought up by Stanley Crawford (Colin Firth) who when unmasksed is in fact British and a staunch rationalist. When he is called upon by life-long friend Howard (Simon McBurney) to debunk American medium Sophie Baker (Emma Stone) he haughtily dives in. Baker has made her way into the home and heart of wealthy widow Grace Catledge (Jacki Weaver) who is desperate to contact her long departed husband. Charming everyone she comes into contact with, Baker has also managed to wangle an offer of marriage from Brice Catledge (Hamish Linklater) who showers her with lavish gifts and constant serenading. On paper this all sounds like a hoot; the starry ensemble cast, cynicism versus spiritualism, the inexplicable nature of love and Allen's knowledge of the time period should leave the viewer smitten. Unfortunately, the frothy script and a badly cast leading man only allows for glimpses of brilliance.
In stark contrast to the acerbic wit of Blue Jasmine, which saw Cate Blanchett take home the Oscar for best actress, Emma Stone's Sophie is a softer, more playful character. Staring off into the distance, hosting candle lit séances and masticating on snacks at every spare moment Stone is perfect at imbuing a cheeky energy. She teases all she can out of the character. Firth's Crawford is a loquacious, smug, know-it-all who lords his literary knowledge over Sophie making it difficult to see why she would fall for him. Add to that Firth's inability at anything that could be described as decent comic timing played directly against Stone's spirited performance makes the blossoming romance all the more unbelievable and awkward.
There's more than meets the eye here though with a keen trickery at play as Crawford attempts to pick apart both this mystic beauty and the meaning of life. His faith in reason is tested which forces him to turn to god in a strangely sincere moment of prayer. Allen not only attempts to pull the rug out from underneath his leading protagonist but the audience too. It is a shame then that he plays his hand too early stripping away the illusion and mysterious aura.
A starlit observatory scene which sees Firth and Stone running for cover from the pouring rain should bring with it sizzle and excitement, unfortunately a lack of sexual chemistry dampens the mood. Still, Allen has an ability to draw the eye round beautifully detailed sets and the hazy afternoon sunshine of scenic views which are exquisitely realised by cinematographer Darius Khondji (who has worked with the likes of Wong Kar-wai and Michael Haneke). His delicate hand casts a seductive spell generating the true magic of this production.
Allen seems more interested in playing with his ideas about how menacing the size of the universe is than in drawing a tantalizing love story. His philosophy being that belief in romance, magic or god is perhaps a necessary part of the human experience. Similar notions he's explored over his vast canon of work and here his conclusions are much the same yet lacking in his usual jagged humour.
Overleaf: watch the trailer for Magic in the Moonlight
Allen seems more interested in playing with his ideas about how menacing the size of the universe is than in drawing a tantalizing love story
rating
Explore topics
Share this article