Maggie's Plan |

reviews, news & interviews
Maggie's Plan
Maggie's Plan
Screwball comedy set among bohemian New Yorkers may grate on your nerves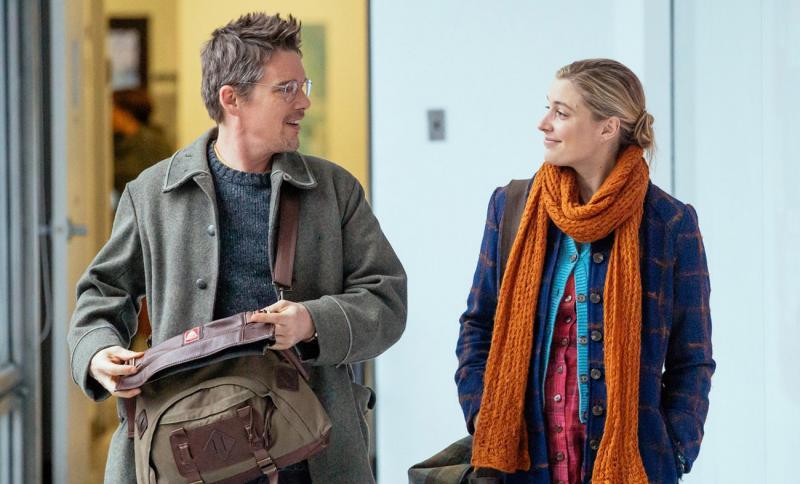 Ethan Hawke and Greta Gerwig, looking for true love's dream
Rebecca Miller's fiction and her previous films' manifestly ambitious visual style and narrative structures led to high expectations from Maggie's Plan. As a movie, it may appeal to audiences craving the kinds of films that Woody Allen, Noah Baumbach and Richard Curtis make – talky comedies revolving around middle-class professionals chewing over their relationship crises with their friends.
But if that's not your cup of decaf, it may just grate on your nerves.
Greta Gerwig plays Maggie, an arts administrator in her early 30s, contemplating single parenthood with the help of donated sperm. She asks Guy, a "pickle entrepreneur" and maverick maths genius (played by Australian supermodel Travis Fimmel in a trapper hat) to help out, no strings attached. But simultaneously she falls for John, a dishevelled "ficto-critical anthropologist" (Ethan Hawke), who is described as a "panty melter" when he turns up at her elite university. John has a novel he's never finished and is looking for an escape from a marriage where he's been eclipsed by his academic superstar wife, Georgette (Julianne Moore, pictured below, complete with the dodgiest Danish accent since Meryl Streep took on Karen Blixen). Cue a jump forward to Maggie chauffeuring three kids from two marriages, wondering if she is really living true love's dream and planning a way out.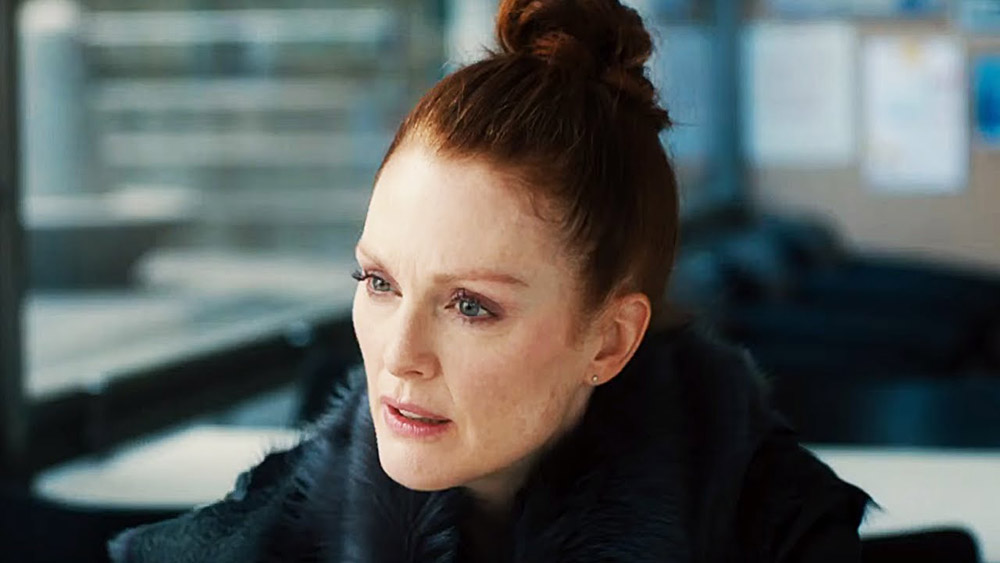 As in Frances Ha, Gerwig rolls out her Queen of Kooky performance; dressed in a riot of plaids, coloured tights and a front-buttoning, floor-length nightie, she's all costume-as-character and chewed bottom lip as acting. Miller's aim is a screwball comedy that gently satirises East Coast intellectuals, but the result is so overly scripted and art-directed that there's no room to breathe. Toddlers not only have reading lights on their strollers, but wear t-shirts with the logo "Imagine There's No Fracking". The opening conversation, which takes place in the Union Square farmers' market between Maggie and her best friend's husband (Bill Hader) is clunky exposition; Maggie declares her search for a sperm donor is not a "last resort but a choice". Meanwhile every cut-away is to a cameo of unbearable cuteness – a homeless man using a reflector for tanning, a girl gabbling away on her mobile while hula-hooping. Street actors try to get Maggie's attention with chunks of A Midsummer Night's Dream, signposting that what we're about to see is another tale of deluded couples falling under love's spell.
It's not that Maggie's Plan is totally charmless. There's some zippy dialogue and enjoyable performances by supporting characters (particularly the underused Maya Rudolph). The audience might find it fun to speculate how much Miller's long marriage to Daniel Day-Lewis informs her script, or indeed the romantic histories of Ethan Hawke and Greta Gerwig themselves. How two creative people in a partnership balance parental chores versus personal ambition is a subject worth tackling. But the presence of Ethan Hawke makes one long for the lighter touch of Richard Linklater, a master of scenes where long-term lovers walk and talk through their discontents while allowing space for the audience to watch and consider, rather than this over-referential indulgence of America's intellectual elite.
Gerwig is all costume-as-character and chewed bottom lip as acting
rating
Explore topics
Share this article