The Lunchbox |

reviews, news & interviews
The Lunchbox
The Lunchbox
This charming Indian rom-com contains a real depth of flavour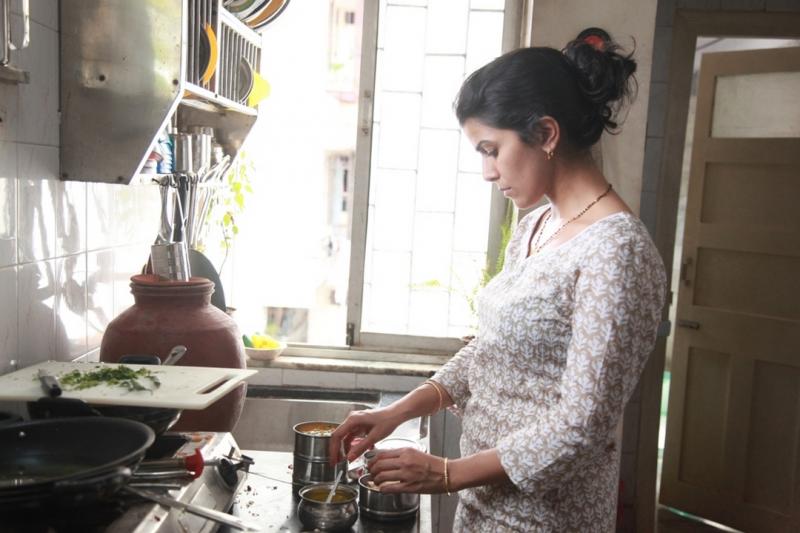 The way to a man's heart? Nimrat Kaur proves herself a master-chef in 'The Lunchbox'
A mouth-watering mixture of romance, drama and comedy is delivered in this fresh and impressive debut from Indian writer-director Ritesh Batra. A poignant and bittersweet relationship between a lonely housewife and a man on the brink of retirement is set in motion via a mistake by the legendary dabbawalla lunchbox delivery service of Mumbai who mix up an order.
Housewife Ila (Nimrat Kaur) is stuck in a desperately unhappy marriage and as a final attempt to make things better she prepares a delicious surprise meal for her husband to grab his attention. Unfortunately it's mistakenly delivered to office worker Saajan (Irrfan Khan, pictured below right) who happily munches down on the exquisite cuisine thinking his usual restaurant has upped their game - this marks the start of a beautiful friendship.
When Ila realises the error, she does not correct it, taking pride in the fact that someone has enjoyed her cooking so much, instead she writes Saajan a note explaining the situation. And so begins a back and forth of handwritten letters between two lost souls sharing in the delights and aromas of life and good cooking. It's a highly romantic and exciting journey of "will they or won't they?", skilfully grounded by a great sense of humour.
Satyajit Ray is an obvious influence here, especially The Big City, though the setting is Mumbai rather than Calcutta, and the film takes inspiration from Ernst Lubitsch's The Shop Around the Corner and even Nora Ephron's updated version You've Got Mail - with the conceit allowing for complicated moral issues to be explored. Yet Batra manages to put his own stamp on this story of a friendship which blossoms purely through the exchange of words by skilfully exploring India's changing culture and shifting values, whilst also cannily playing with the notion of pride in the workplace. This multi-layered drama plays out as a fascinating examination of the current mood of the city and as a thought-provoking delve into the way in which we communicate with one another.
Batra's complex characters go through wild changes, learning to take risks, getting to know their strengths and having to make difficult decisions and the two leads - thanks to heaps of charisma and screen presence - make this an involving and often stirring journey. Reality occasionally peeks its nosy head into their note reading time (which is usually accompanied by the dreamy swell of orchestral music) through the sounds of the hustling, bustling city around them and the interruptions of Saajan's well-meaning co-worker Shaikh (Nawazuddin Siddiqui) who himself gets an interesting side narrative.
The uncertainty of modern life and the ongoing struggle between tradition and progress are engrossingly explored in this genuinely warming, invigorating and rewarding viewing experience. Just like Ila's lovingly prepared delicacies The Lunchbox is a real treat.
Overleaf: watch the trailer for The Lunchbox