Lucky review - fabled character actor stars in his own obituary |

reviews, news & interviews
Lucky review - fabled character actor stars in his own obituary
Lucky review - fabled character actor stars in his own obituary
Harry Dean Stanton's valedictory performance isn't enough to save this movie
Friday, 14 September 2018
Lean, lonely and laconic… Harry Dean Stanton
Harry Dean Stanton died in September last year aged 91, and will forever be remembered as the embodiment of the lean, lonely, laconic stranger, a man of few words but imbued with an enigmatic allure. This film, the directorial debut of character actor John Carroll Lynch, has been conceived as both homage to and starring vehicle for the departed Stanton, but doesn't quite hit the spot on either count.
Harry D is the eponymous Lucky, a solitary 90-something living on the edge of a sleepy, sun-baked town in the Arizona desert and trying to understand what his life has meant. Displaying a heroic lack of personal vanity, Stanton doesn't mind the camera wandering over his scrawny limbs, saggy flesh and thin ratty hair as he puts himself through his morning ritual of yoga, cigarettes and glass of milk. Lucky never married and has no children, and his life has become defined by his morning coffee and crossword at the diner, encounters with various local characters as he walks around town, and evening drinks with the regulars at Elaine's bar. As a depiction of the inevitable process of ageing, it's a little bit brutal.
The plot is Lucky's sometimes desperate search for meaning in a life that's running out of road, despite the unfeasibly good health he's enjoying for a man of his advanced seniority. After Lucky has a fall at his home, he's examined by Dr Kneedler (Ed Begley Jr), who concludes that he's blessed with "genetic good luck" while also being "one tough sonofabitch". On the other hand, he's "old and getting older", and we know how that ends.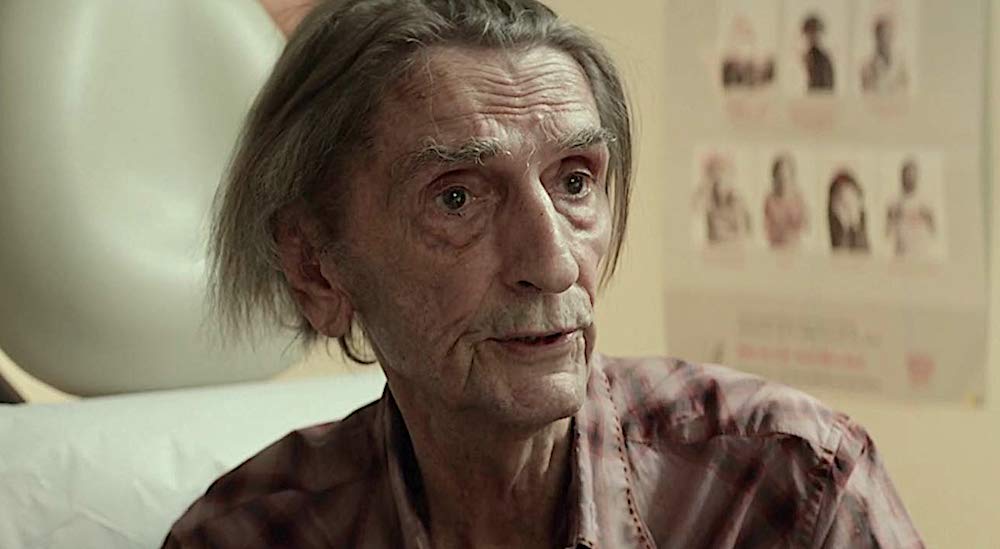 While the locals are kind and sympathetic – the waitress from the diner (Yvonne Huff) calls round to make sure Lucky is ok, and Bibi the Spanish lady from the grocery store (Bertila Damas) invites him to her son's birthday fiesta – the narrative is mostly a bunch of scenes where Lucky gets involved in stagey bouts of existential speculation. There's little sense of character interaction, it's more as if the actors are taking it in turn to read out their set-pieces, with David Lynch (acting instead of directing) particularly teak-like as Howard, who's tediously obsessed with the loss of his 100-year-old tortoise. Elaine (Beth Grant) is a caricature of the rootin'-tootin'-gunslingin' saloon madame of Old West lore and legend, while her paramour Paulie is played by former Fifties teen heartthrob James Darren, now 80-something and a ghastly monument to the plastic surgeon's art.
The most effective scene, apart from Stanton's rather lovely rendition of "Volver, Volver" with a mariachi band at the aforementioned birthday fiesta, is a chance encounter with a US Marines veteran (Tom Skerritt) at the diner. Lucky was a Navy cook in World War Two, and the pair's understated reminiscences of the horrors of the Pacific war deliver an emotional charge and sense of shared understanding mostly absent elsewhere.
All in all, I don't want to remember Harry Dean this way. At least we'll always have Paris (Texas).