A Long Way Down |

reviews, news & interviews
A Long Way Down
A Long Way Down
Nick Hornby novel plummets in transfer to screen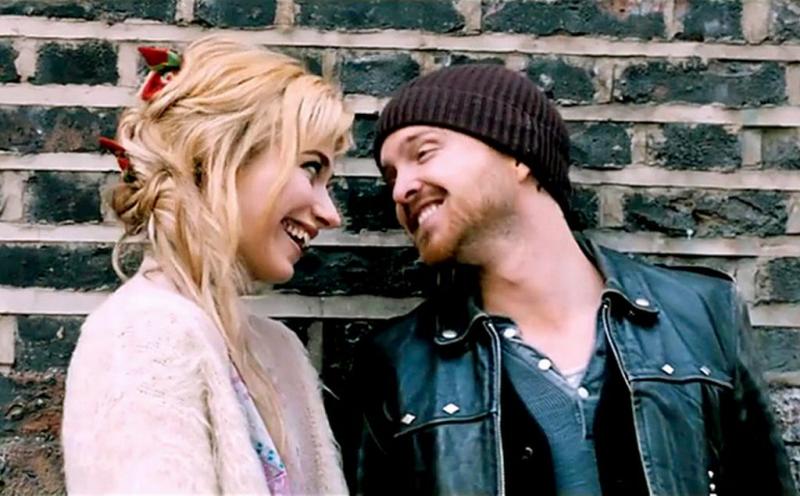 `You wanna die? Coolio! So do I': Imogen Poots and Aaron Paul in `A Long Way Down'
You'd have to go a long way to find a film as truly, mind-bogglingly bad as A Long Way Down, which trumps A New York Winter's Tale as the worst celluloid entry in this still-young film year and may likely set the bar for some while to come. Adapted from the darkly comic 2005 novel from Nick Hornby, the movie about four suicidal malcontents who find solace in one another's company manages to trivialise and cheapen every aspect of human behaviour that it touches. Amidst the pervasive ineptitude, the astonishing Toni Collette wrings a tonal grace note or two out of the dross around her, which is a minor miracle in context, trust me. This review's one star is for her.
That the eclectic (to put it mildly) cast around her are as wince-makingly bad as they are - when is Imogen Poots going to graduate beyond the self-defeating perky/pixie persona that seems to be her lone stock-in-trade? - merely allows Collette's achievement to ring out more resoundingly, even when UK playwright Jack Thorne's script is doing all it can to sink everyone on board the ship. "We belong together; we're a team," a moist-eyed Pierce Brosnan - his contact lens must be irritating him - coos unconvincingly near a treacly climax that's set (you guessed it!) on Valentine's Day, but the fact remains that Collette's inner radiance exists worlds apart from the manufactured emotions of a venture whose French director (Pascal Chaumeil) attests to the fact that European filmmakers can be every bit as egregiously sanctimonious as the worst of Hollywood. (The four actors are pictured below.)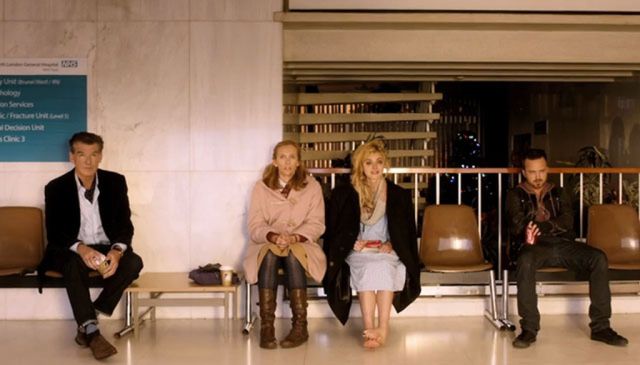 Events kick off as Collette's abject Maureen, mother to a severely disabled son and beyond rueful in her remembrances of love lost, arrives atop a London tower block ready to, well, top herself only to find that Brosnan's Martin Sharp has got there first. A onetime breakfast TV name, Martin has been disgraced following revelations of an affair he had with a 15-year-old, while Poots's problem is that her character, Jess, is a manic depressive who feels pushed to the (literal) edge. That leaves Breaking Bad alumnus Paul to cater to the American market as JJ, a pizza delivery boy who was once frontman in a band - and says he has brain cancer.
So far so fun, until such time as the quartet decide to delay their collective plunge six weeks until V-Day, leaving them free to take a little jolly jaunt to Spain. Why there? Because, Maureen makes clear, in Tenerife "the sun is so fierce and the sea is so sparkly and blue." Oh, okay.
The plot widens out to take in media manipulation, sudden dashes to hospital, and politics, the last in the form of Sam Neill, glowering away per usual as Jess's MP father. Tuppence Middleton pops up as a shifty journalist - is there any other kind? - who beds Paul's distinctly unalluring (and himself duplicitous) JJ. Of the talent involved, it's touch and go as to who actually emerges with least credit from this farrago, but I'm tempted to go with Brosnan (pictured left with Poots), who more and more is coming to resemble Ronald Reagan, both in terms of that half-simpering smile and the quality of his screen output, as well. No prizes for guessing whether or not our fearsome foursome end the film by ending their lives, but let's just say the movie is enough to find anyone stuck at it searching frantically for the nearest bit of rope.
Watch the trailer for A Long Way Down (overleaf)