London Film Festival 2022 - the winners and the losers |

reviews, news & interviews
London Film Festival 2022 - the winners and the losers
London Film Festival 2022 - the winners and the losers
Accolades to 'All That Breathes', '1976', and 'Corsage' - and returns to hospital for Lars von Trier and Alan Bennett
Black kites over Delhi: 'All That Breathes' well deserved win for Best Documentary
My colleague Demetrios Matheou has already written here about the Chilean political thriller,
1976
, which won Best First Feature, and we'll be writing in depth about the Best Film winner, the Austrian historical drama
Corsage,
when it opens at the end of the year.
I was most pleased that All that Breathes was awarded the Grierson Award for Documentary. This moving, subtle, and beautifully made portrait of two brothers in Delhi who dedicate their lives to saving wild animals in the polluted city is a classic and well worth catching on its current cinema release.
Otherwise the festival was a mixed bag. Korean cinema made a strong showing, with much acclaim going to Park Chan-wook's twisty, uber-stylish Decision to Leave (opening later this week). This noir-tinged detective story, which is intertwined with an obsessive Vertigo-like romance, left me cold, but at least its ending made sense. I was intrigued and impressed by the first act of Christine Ko's The Woman in the White Car, in which two sisters battle to save one another from a cruel fiancé, and amused by the Fargo-ish lady cop doggedly trying to solve the case. But after two hours of relentless plot reversals, I was left baffled and exhausted by the multiple endings posited by Ko.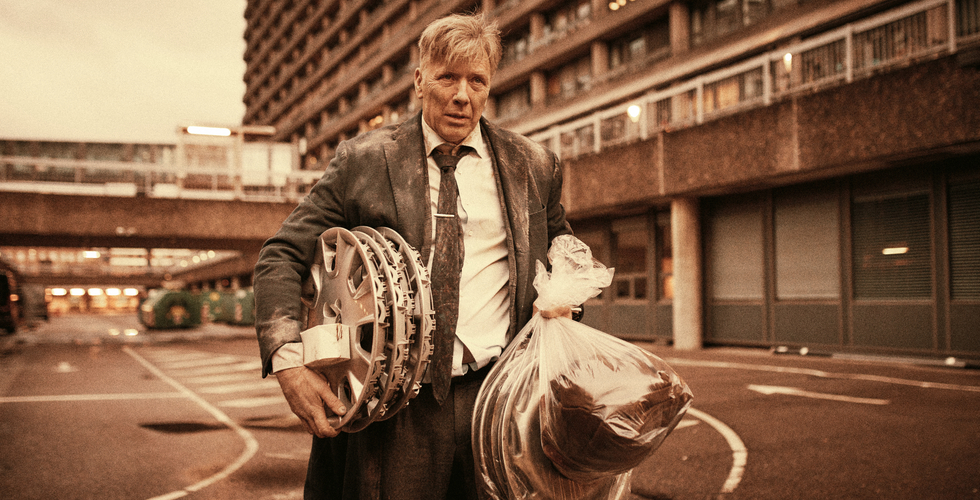 Two hospital dramas, both destined to end up on television, gave not only very different portraits of the British and Danish health system, but also of the ambitions of each nation's film-makers. Arch provocateur Lars von Trier returned to the high-rise medical centre built on top of a festering swamp where he first set his original cult series The Kingdom in 1994. The original aired on Channel 4 and was remarkable for bringing surrealistic neo-Gothic comedy to Scandi noir and for nauseating viewers of a delicate disposition with its hand-held video camerawork.
It's been a long wait for the third series but it's worth it. The Kingdom: Exodus is filled with in-jokes and barrels along at pace. The original Swedish irritant (a pompous doctor brilliantly played by the late Ernst-Hugo Järegård) has been replaced by Mikael Persbrandt (pictured above), who plays the Järegård character's son. Much comedy revolves around the smug consultant clutching his Volvo hubcaps and crooning over his IKEA boxes. He's been appointed to reform the backward Danes, bringing in edifying diversity quotas and anti-sexist language – reforms that all go horribly wrong. These scenes are hugely enjoyable for anyone familiar with Sweden and Denmark's rivalry.
Over twenty years on from the original, we are back with the hospital staff complaining about the damn documentary TV series that caused them so many problems when it first filmed in the wards. At first, the visual style is conventional. But soon the sepia-hued surrealism kicks in, with masterly camerawork by Manuel Alberto Claro. There are mysteries lurking in the hospital and the greatest wisdom about these goings-on comes from the highly unusual kitchen crew lurking in the basement.
Given von Trier's status as an ageing enfant terrible, one laid low in recent years by alcoholism, depression, and Parkinson's Disease, it's wonderful to report that he can still structure superb comedy and pull in some great actors. Willem Dafoe, Lars Mikkelsen, and Alexander Skarsgård (replacing his father Stellan, who was in the original) are all on fine form. I look forward to Udo Kier's terrifying reprise as the mutant baby in later episodes.
I wish I could be as enthusiastic about Richard Eyre's Allelujah!, made with BBC Films funding. It's an adaptation of Alan Bennett's 2018 play, updated to include references to Covid. Set in "the Beth", a much loved but decaying Yorkshire hospital, it offers plenty of Bennett's droll and dry dialogue in the interactions between the elderly patients. One exchange revolves around observing how thinning eyebrows are replaced with hairy ears; the wards are slyly named after Joan Collins, Barbara Cartland, and Shirley Bassey. Playing patients on a geriatric ward, Judi Dench (pictured below), Derek Jacobi, Julia McKenzie, and David Bradley all prove that ageing has not impaired their acting chops.
Alas, the portraits of the professionals lack any subtlety. Jennifer Saunders is oddly cast as a controlling ward sister while Russell Tovey fails to convince as a gay Tory business consultant sent from London to close down the hospital, where his estranged father is in its care.
As in The Kingdom: Exodus, there's a TV crew filming in the wards. Their intent is to cover the heart-warming story of the campaign to save the Beth, but they inadvertently uncover a shocking story. What starts off as a comedy turns into a crime drama before ending as a heartfelt plea for saving the NHS.
Its main advocate in Alleluhah! is the all too saintly Dr Valentine (Bally Gill), a young Indian doctor who adores helping elderly people and doesn't have a cynical bone in his body. The good doctor's earnest voice-over entreaties and a final piece-to-camera made me long for the more complex and realistic portrait of British hospital life seen in the brilliant This is Going to Hurt. The intentions of all involved in making Allelujah! are honourable, but subtlety is not much in evidence – the over-emotive score a case in point.
It's been a long wait for the third series of 'The Kingdom' but it's worth it
Explore topics
Share this article