Litigante review - an unflashy film which rings true |

reviews, news & interviews
Litigante review - an unflashy film which rings true
Litigante review - an unflashy film which rings true
Franco Lolli's second feature is a skilful depiction of painful family relationships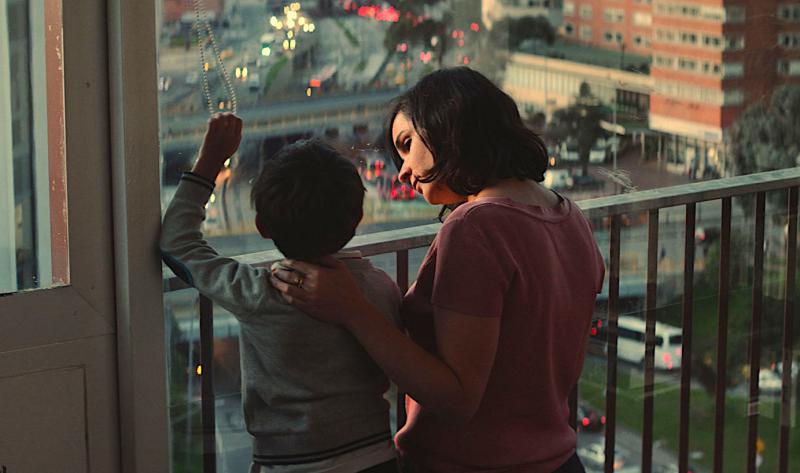 Silvia (Carolina Sani) with young son Antonio (Antonio Martinez)
Colombian director Franco Lolli's debut feature Gente de Bien (2014) was a hit at several international film festivals, and Litigante should burnish his reputation further. It's a carefully-observed family drama centred on the relationship between veteran lawyer Leticia (Leticia Gomez) and her daughter Silvia (Carolina Sani), a lawyer for Bogota's Public Works department. Leticia is dying painfully from lung cancer while Silvia finds herself embroiled in a corruption scandal at work, all serving to pile the pressure on to their already fractious relationship.
Lolli doesn't preach or proselytise, but lets his camera observe while the viewer draws their own conclusions. For instance, Silvia is single mum to her five-year-old son Antonio (Antonio Martinez), but refuses to discuss his father. It's only quite late on that we realise that Benjamin, the grandfatherly gentleman she meets for lunch, is the other parent, and even then we're merely left to speculate on their shared past. It's a shrewd device, prompting you to actively poke and pick at the narrative rather than being a passive bystander.
Again, Lolli is reticent about Silvia's relationship with her sister Majo (Alejandra Sarria), but her quiet attentiveness, in contrast to the hammer-and-tongs clashes that frequently erupt between her mother and her sister, allow us to make our own assumptions about the dynamics between the family trio. The ferocity of Leticia and Silvia's confrontations are cringe-making to watch, with barbed home truths raining down like poisoned arrows. Leticia infuriates Silvia by haranguing her for working in the corrupt public sector, and delivering prim homilies like "whoever has truth and justice on their side wins." Regarding her dead father, Silvia witheringly tells her mother that "he died next to the person who hated him most." Mom retorts that "your problem is you hate the whole word because you hate me."
But unearthing grievances that have smouldered for decades is part of the process for both of them of dealing with Leticia's rapidly approaching fate, and while their bond is bitter and complicated it's also unbreakable. As Leticia's condition worsens and her appearance grows frail and pitiable, the imperishable emotional truths gradually reveal themselves.
Outside this dramatic core, Lolli skilfully depicts the shades of Silvia's life, striking beautifully authentic notes from her relationship with Antonio. He also wryly depicts the absurdity and unpredictability of relationships when Silvia finds her new lover, Abel (Vladimir Duran, pictured above with Sani). She first meets him as the presenter of a political radio show, where he subjects her to an uncompromising grilling about the suspicious contracts which have been granted by her department. At the end of the interview she fixes him with a glare which could melt armour plate. Yet not long after, she bumps into him at a party, and after some frosty opening salvoes they end up snogging on the dancefloor. Turns out he's a pretty good guy, who feels the blast of Silvia's inner conflicts but quietly perseveres.
So, a movie set in Bogota but featuring no murderous drug cartels or CIA agents. You don't miss 'em, though. It's an unflashy film which rings true.