King Arthur: Legend of the Sword review - Guy Ritchie's deadly weapon |

reviews, news & interviews
King Arthur: Legend of the Sword review - Guy Ritchie's deadly weapon
King Arthur: Legend of the Sword review - Guy Ritchie's deadly weapon
Mockney auteur takes a mallet to English myth with misbegotten action comedy
Guy Ritchie is back birthing turkeys. Who can remember/forget that triptych of stiffs Swept Away, Revolver and RocknRolla? Now, having redemptively bashed his CV back into shape with the assistance of Sherlock Holmes, the mockney rebel turns to another of England's heritage icons in King Arthur: Legend of the Sword.
Do, however, dump that fantasy of yours of a triumphant return to the multiplex for medieval chivalry and courtly romance. Messrs Malory, Tennyson and dear old Lancelyn-Green can start rotating in their tombs now because King Arthur is basically Lock, Stock and One Stonking Sword, in which Ritchie filters national myth through the only aesthetic he knows: the stop-start gor-blimey rock video in which everyone channels their inner Winstone.
We begin at max. vol. in Camelot, a bristling castle deep in the digitised heart of soundstageland where Uther Pendragon (Eric Bana) is ousted by his black-hearted sibling Vortigern (Jude Law), but not before sending his infant son off to float in a boat down-river to Londinium, where absolutely no one speaks Latin. Here the boy is adopted by a brothel, studies at the school of knocks and knockers before eventually growing up to assume the guise of Charlie Hunnam.
Who, you may perhaps wonder, the hell is Charlie Hunnam? And where's Elba, McAvoy or, sod it, Hiddleston when you want a screen hero to beg a selfie with at the prem? "Get me Hunnam" were not the words uttered by whoever was in charge at Warner Bros when the casting merry-go-round started six years ago. But on the first day of production he was the last man still in the vertical and to his credit he certainly looks the part. Whenever he takes off his car coat, that torso is a rubbly cluster of chamfered boulders scarcely contained within a plucked Tinseltown dermis. It's only when he opens his mouth to declaim the script's deathless poetry that you think, maybe don't.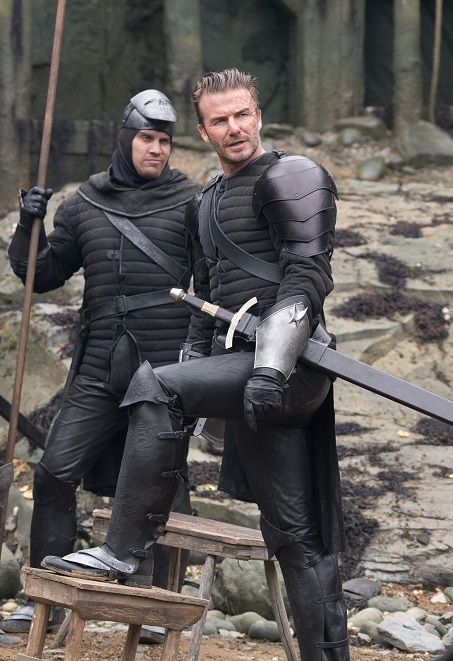 To be fair, that goes for everyone else in King Arthur: Legend of the Sword. Arfur falls in with a lairy cohort on secondment from the Two Smoking Barrels visitor experience. They're lads called Arthurian things like Goosefat Bill, Wet Stick, Mischief John. You can randomly generate these idiot names. Bob Cobblers, Perry Pliars, Def Geoffrey, Burkina Fatso, Sid Skidmark, Kung Fu Trev, "The Jizza", Handjob Hannan, Strong and Stable Nige, David Beckham (yes he's actually in it, pictured: Vinnie Jones can sleep easy).
Meanwhile back at CGIamelot, whither Arfur must journey to draw a sword from a stone and thusly provoke avuncular wrath, Jude Law is holding the fort with just two scowling sidekicks and a thousand-strong army of pixellated stickmen (pictured above). The problem with Jude, whose task is to commit nephewcide so he can assume the powers of Excalibur, is that he's just not dastardly enough, however much he does that wicked thing with his neck or slumps bolshily in his throne or knifes his loved ones, therein depleting the screen of its last but one speaking female. The only woman who gets to say much at all is called The Mage, which feels like a covert misspelling of Madge to whom Ritchie was once espoused. The Mage (Astrid Bergès-Frisbey, pictured below) has lighty-uppy eyes and telekinetic control over various fauna which make sundry plot interventions when the script can't think how else to get Arfur and co out of yet another slap (and tickle: pickle).
Action comedy is the trickiest of hybrids. Ritchie goes at it with a unfit-for-purpose toolkit of mallets, ping-pong bats and one phallusy broadsword. When the script's not being clever-clever or funny-funny it's being stupid-stupid. Enormo-pachyderms, one jumbo basilisk and a three-headed lady octopus all continue cinema's galloping mania for gigantism (see also Kong: Skull Island and Jurassic World). The plot, meanwhile, is a botched origami.
The industry press is full of theories about the film's calamitous opening weekend. One factor no one's mentioned is Brexit. "You are addressing England!" Hunnam intones to a top-knotted delegation of Vikings at the end. Never mind that the best bits are filmed among rocky Celtic outcrops, the rest of the world isn't that impressed by England these days, and maybe wants no truck with its self-vaunting myths, whether rebooted, mashed up or slapped inside sniggersome inverted commas. Ritchie's Arthurian ledge has stripped itself of all context. Even the king's famous furniture is subjected to his belittling gift for bathos. "Wossat?" says one of the rainbow nation of newly ennobled knights in a final reveal. "It's a table," says Arfur. "You sit at it." This will be the only sitting.
Overleaf: it's approximately this bad