Just Mercy review - soul-stirring true story about race and justice in America |

reviews, news & interviews
Just Mercy review - soul-stirring true story about race and justice in America
Just Mercy review - soul-stirring true story about race and justice in America
Biopic retells a powerful narrative about perseverance in the face of injustice
Seeking redemption: Michael B. Jordan as Bryan Stevenson and Jamie Foxx as Walter McMillian
Just Mercy, the latest film from Destin Daniel Cretton (Short Term 12), is based on a New York Times bestseller. It has a star-studded cast. It's emotionally moving as well as intellectually accessible. But it's no easy film to watch.
"They can call it what they want – it's just another way to
lynch a black man
."
Just Mercy
is about
death row
in the
American South
, and it is a bruising and beautiful film. It lights a fire under you.
Just Mercy is based on a memoir by Bryan Stevenson, an American civil rights attorney who has spent his life working with adults and children condemned to die in jail. It begins with Bryan (Michael B. Jordan) moving to Alabama, fresh out of Harvard, to set up a pro-bono legal service with Eva Ansley (Brie Larson). Their work is gravely unpopular: they're hounded by bomb threats and a biased local justice system. But Bryan keeps finding reasons to fight. One reason is Walter McMillian (Jamie Foxx), a black man convicted on paper-thin evidence and sentenced to death for the murder of a white teenage girl.
From there, Just Mercy progresses like a procedural drama. It zeroes in on Walter's case and follows it back through court. But there is a tweak in the formula. Walter's innocence is never in question. Instead, the film's dramatic arc comes from staging continual face-offs between corruption and decency, in the courtroom and within individuals. Meanwhile, Just Mercy asks a different question: can we achieve justice in a biased system? "You know how many people in Alabama been freed from death row?" asks Walter (pictured below), during his first visit from Bryan. "None. You think you gonna change that?"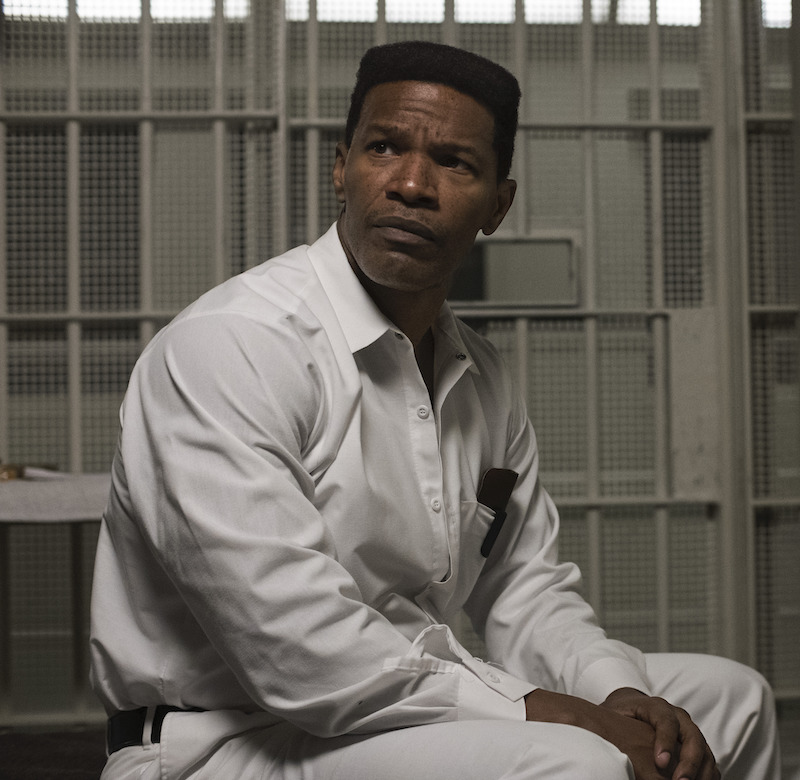 Emotionally, parts of this film are almost torturous. It's filled with tightly-cropped shots of agonised faces, claustrophobic encounters and racist aggressions. Two of Just Mercy's scenes are vehicle stops by police officers: tense moments, but also traumatic symbols of our historical past and our political present. Yet with a name like Just Mercy, you would be right to think that hope is at the core of this film. Relief comes in the form of faith and community strength, represented by Walter's wife, children and community. And it comes in the form of decency and tenacity, modelled by Bryan.
Heavy themes are shouldered by a strong cast. As Walter, Foxx gives a remarkably moving performance. He shows Walter's generosity as well as his sense of betrayal; his numbness as well as his yearning. Rob Morgan is startling as Herb, a fictionalisation of one of Stevenson's other real-life clients. It is through Herb that Just Mercy delivers its most powerful political statement: a full-throated indictment of capital punishment. The hushed moments between him, Walter and Bryan are heart-rending, restrained despite their subject matter.
This film's only misstep is its occasional tendency to labour the point, however well-made. As Bryan, Jordan gives a nuanced performance as a young lawyer curbing his idealism. But the film version of Bryan never outgrows his earnestness – at several points, the dialogue verges on proselytisation. This is clearest in the film's final scenes: a too-claustrophobic argument with the District Attorney (Rafe Spall) and a too-ethereal light that haloes Bryan following his last appearance in court. This is too bad. There's a vital message behind the oratorial gleam.
In some ways, this film is a simplification of a narrative that already found its finest form – in Bryan Stevenson's searing memoir, upon which the film was based. But this is a story that demands telling and retelling. Despite some small overreaches, Just Mercy is a modern parable of perseverance and integrity, well-acted and well-paced. For that reason, it is a total triumph. It deserves to be watched as widely as its star power will carry it, then further still.
This is a story that demands telling and retelling
rating
Explore topics
Share this article