Jack the Giant Slayer |

reviews, news & interviews
Jack the Giant Slayer
Jack the Giant Slayer
A narrative jumble but the giants are good, in Bryan Singer's fairy tale mash-up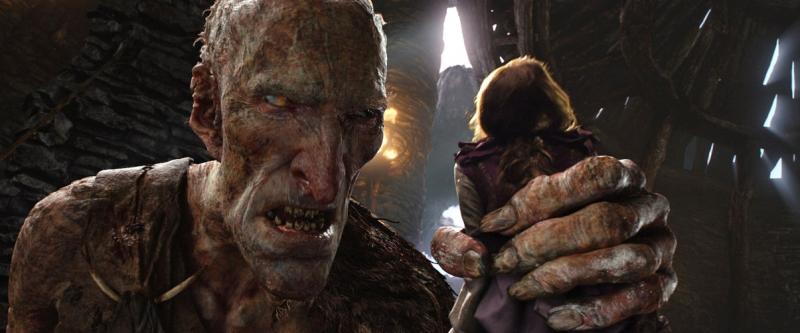 Smelling blood: Isabelle (Eleanor Tomlinson) is on the menu
This is a fairy tale which may send children to sleep before the good bits, then wake them up screaming at the first glimpse of loping, bestial giants.
Splicing
Jack the Giant-Killer
(subject of a 1962 kids' monster movie which gave me nightmares) and the more familiar
Jack and the Beanstalk
, it has farmboy Jack (Nicholas Hoult) spilling the magic beans, and following mildly rebellious princess Isabelle (Eleanor Tomlinson) up the resultant beanstalk to a stone kingdom of giants above the clouds.
Along for the ride are king's men Elmont (Ewan McGregor, unfeasibly youthful and dashing) and turncoat aristo Roderick (Stanley Tucci, unrecognisable). But it's a leaden-paced slog up that beanstalk, and the singularly unpleasant CGI giants aren't sufficient reward (McGregor, Tomlinson and Hoult are pictured below).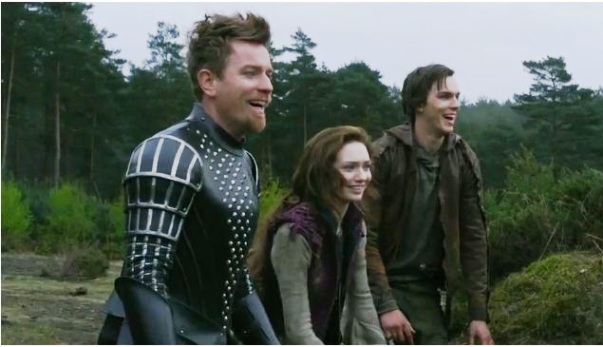 Despite director Bryan Singer using his regular writer since The Usual Suspects, Christopher McQuarrie, to help out, they badly mislay the fairy tale's smooth narrative perfection. Their heroes are adequate: Hoult blandly unconvincing as supposed commoner Jack, Tomlinson gamely signalling a princess of courage and gumption in a part that peters out. Tucci's a bumptiously unthreatening villain and Ian McShane's king keeps an eyebrow archly cocked but, giants aside, it's McGregor's straightforwardly brave professional soldier who, unusually for this journeyman star, steals the show.
Alongside wobbly story-telling, Singer struggles with a difficult tonal balance. He just about restrains himself sufficiently to keep the giants' bone-crunching people-eating and Roderick's penchant for torture off-screen, but throws in a bit of mild swearing rare in family films, amidst a dourly humourless mood. The beanstalk's Amazon tree-thick tendrils and the detailed camp struck at its base suggest a real mediaeval world into which legendary problems sometimes erupt. Fart and bogie-eating jokes kept children at the screening I attended more audibly entertained than anything. But when the giants finally jump down from the clouds and lay siege to Ian McShane's castle (McShane is pictured below), colourful fun and swashbuckling swagger take over, to general relief.
The nearest anyone gets to smelling or tasting the blood of an Englishman (McGregor's nationality here) is when Elmont becomes a pastry-wrapped savoury, readied with two pigs for a giant's oven. The scene has a wit and Hansel and Gretel horror (Brothers Grimm not Gemma Arterton model) which, as with a stray image of leaping giants glimpsed in darkly shimmering water, show Singer's skill. But like Sam Raimi, perhaps too many years making fantasy blockbusters are dulling his once nimble instincts. From Keyser Soze to this?
He uses four writers and three endings, each admittedly better than the last, so that as it nears the two-hour mark this becomes a sprightly entertainment, with a challenging sense of myth and wonder. A clever and exciting movie emerges from a listless, muddled one, fatally late.
Jack the Giant Slayer is in cinemas from Friday
Watch the trailer for Jack the Giant Slayer
It's a leaden-paced slog up that beanstalk, and the singularly unpleasant giants aren't sufficient reward
rating
Explore topics
Share this article