Intimate Exposure: Marilyn Monroe 50 Years On |

reviews, news & interviews
Intimate Exposure: Marilyn Monroe 50 Years On
Intimate Exposure: Marilyn Monroe 50 Years On
She died half a century ago, and still nobody photographs better as a new collection underlines
Marilyn: 'She would photograph 10 pounds lighter, which is against every rule in the book'
It's 50 years since Marilyn Monroe died alone on the night of August 4, 1962, from swallowing too many sleeping pills. The sad story soon became the stuff of legend. When they found her, she was still slumped over the telephone receiver; she had been ringing around, desperately trying to get help. Rumours soon spread about her relationship with Senator Robert Kennedy and possible access to state secrets, which gave rise to far-fetched conspiracy theories implicating the CIA in her death.
The intrigue may have helped keep her memory alive, but it goes nowhere near to explaining why, half a century on, her image is still as vibrant and inspiring as ever. Since her death, she has become an enduring icon, as glamorous and charismatic as when she was posing for the camera and performing for her adoring audience.
Despite wanting to be taken seriously as an actor, stills were her favourite medium
In her book Marilyn: Intimate Exposures Susan Bernard reminds us of how her father, Bruno Bernard of Hollywood, discovered Marilyn on a July day in 1946. Coming out of the dentist and walking along Sunset Boulevard, he spotted Norma Jean Dougherty strolling by, gave her his card and invited her to the studio for a photo shoot. The pictures he took show a charming, all-American girl with a round face and wavy, light brown hair. Next he photographed her in a two-piece, which at the time was considered rather risqué; but because she looks so wholesome and chubby, the results are more cute than sexy.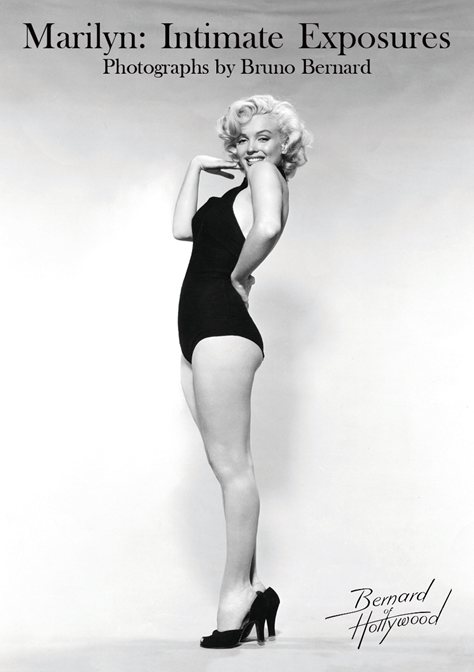 In those early pictures the smile often looks false – the result of saying "cheese" rather than expressing an emotion. You can tell she is being art-directed. Later when the impetus for the pose more often came from her, she was able to inhabit the moment. And it shows in every detail of her body, including the smile; seeming to radiate happiness and desire, it became one of her most captivating features. Johnny Hyde, vice president of the William Morris talent agency, soon took Norma Jean under his wing and paid for a nose job that refined her features by removing the chubbiness and emphasising her cheek bones. Her hair was bleached a dramatic silver blonde, and Marilyn Monroe was born.
Continuing to photograph her throughout her career, Bruno Bernard took some of the most enduring and iconic shots of Marilyn (see gallery overleaf) including the famous scene taken in 1954 on the New York set of The Seven Year Itch, when an updraught of air from through the subway grill blows a breeze up under the skirts of her white, halter-neck dress. The book contains a colour print of the delicious image for you to tear and frame.
Bernard's photographs chart the transformation of Norma Jean into Marilyn Monroe, but they don't explain the chemistry that made her sizzle before the lens. "It takes me five hours to become Marilyn," she famously remarked. When she arrived for a photo shoot she would come not just coiffured, manicured and made up, but covered from head to toe in body paint shaded to enhance the contours of her famous form. Despite wanting to be taken seriously as an actor, stills were her favourite medium partly because her voice was problematic. The breathy purr she developed was a device adopted to help cover a stammer. And once in front of the camera, she was able to switch on "Marilyn" in a performance of blazingly seductive intensity.
Fixing her hair in the ladies, she reveals beefy arms and her 'little, fat, chubby legs'
Over a period of 10 years, Magnum photographer Eve Arnold captured both the "real woman" and the invented persona. What fascinated her was the process through which the actress transformed herself from a plump blonde into a radiantly seductive beauty. "All her life she rehearsed her act; it was very conscious, very deliberate and veray studied," Arnold told me, when her book Marilyn Monroe: an Appreciation came out in 1987. In front of the camera, Marilyn seemed to change physically. "When she sensed a camera," Arnold recalls in a BBC TV interview four years later, "the breasts would heave up, the buttocks would jut out and there she was – a movie star. She would photograph 10 pounds lighter, which is against every rule in the book. She had the capacity to think tall because she was small; she would sort of stretch so you had a sense of length, which wasn't there. You could see the transformation before your eyes while you were filming, and that was kind of marvellous."
In 1955, Arnold accompanied Monroe on a trip to Bement, Illinois to open an art exhibition. She photographed her in the public eye being "Marilyn", but also caught her off-duty, as it were. Taking a break in the local police station, she looks tired, plump and unremarkable. Fixing her hair in the ladies, she reveals beefy arms and, with her skirt hitched up round her thighs, shows what Arnold describes as her "little, fat, chubby legs". But when she emerges to meet her fans, she looks gracious, charming and gorgeous.
"She was always golden-looking," recalls Arnold, "because she had a down, just very fine golden hairs, on her face. It trapped the light, it acted as a nimbus so that she looked almost angelic. And she managed somehow or other to draw you; she was like a magnet leading you on." After all these years, her magnetism is still leading us on – encouraging us to swoon at her radiant beauty and allowing us to believe, perhaps, that we, too, could transform ourselves into sirens – if only we wanted it enough.
After all these years, her magnetism is still leading us on
Share this article