Interview: American Pie Cast Reunion |

reviews, news & interviews
Interview: American Pie Cast Reunion
Interview: American Pie Cast Reunion
Making a franchise fresh: gross-out stars on getting together for (yet) another sequel
The boys are back in town: American Pie does the high-school reunion
Who knew back in 1999 that a comedy about a bunch of teenage boys desperate to lose their virginity before they graduated from high school would be so popular? Adam Herz's script for American Pie, filmed by debutant directors Chris and Paul Weitz, was a huge box-office hit, and spawned two sequels; American Pie 2 (2001), American Wedding (2003), and now a third - American Pie: Reunion. There were also four spin-off straight-to-DVD films.
Perhaps most notably, it presaged the perils of sex and the internet and brought the term "milf" to worldwide attention.
The title famously refers to a scene in the first movie when Jim (Jason Biggs, pictured below with Eugene Levy) masturbates into an apple pie his mom has just made because his dad (Levy) told him making love feels like "warm apple pie". Gross-out humour is, by its nature, a matter of individual taste, and I remember laughing uproariously at that scene. Then again I loved Bridesmaids, which left some critics cold (although not film-goers; it has so far, er, grossed $287 million worldwide).
The first film concerned four pals; Jim, lacrosse jock Oz (Chris Klein), the confident Kevin (Thomas Ian Nicholas) and the would-be sophisticate Finch (Eddie Kaye Thomas) who hook up or break up with various girls in the course of the story; Jim with the seemingly innocent Michelle (Alyson Hannigan), a band geek, Oz with nice-girl Heather (Mena Suvari), Kevin with Vicky (Tara Reid) and Finch with Stifler's Mom (Jennifer Coolidge), whose annoying son, Stifler (Seann William Scott), a lacrosse player and party animal, hangs around with them.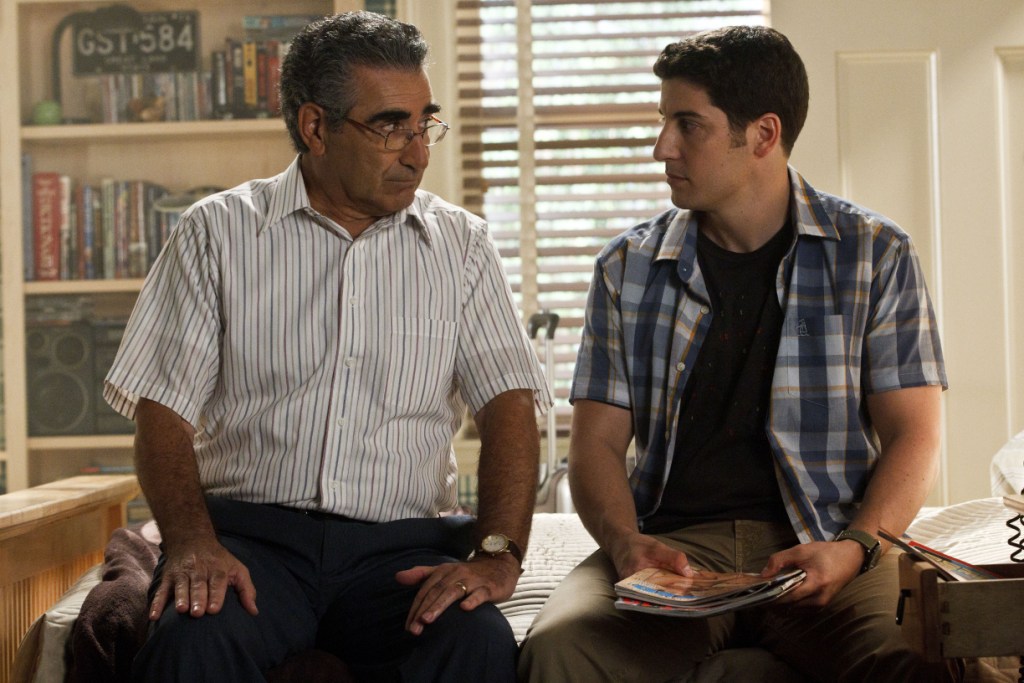 The writers and stars of American Pie: Reunion were recently in the UK for what is known in the biz as a junket. Now when I tell my non-journalist friends I'm on a junket, they have visions of a private jet wafting me to Cannes on a stream of champagne and canapés, where I am whisked to a suite in a five-star hotel to have deep and meaningful conversations with the rich and famous about their latest role.
Sadly, the reality is rather more prosaic – generally it's a bunch of hacks gathered round a table for 10 minutes (15 if you're lucky) trying to get their question in first before the ennui that doing this repeatedly in 10 countries in as many days sets in for the stars, or some twerp asks a question along the lines of "What's your favourite colour?"
The American Pie junket was in a ritzy hotel in central London and, true to form, the journalists were herded into a series of rooms with a large round table in each, and, conveyor-belt-like, the talent brought in two at a time for some "face time" with us, in this instance the film's writer/directors and six of its ensemble cast. We were warned that Tara Reid "would not answer personal questions", which was good because I had none, not having read the US tabs this week.
The new film was written by Jon Hurwitz and Hayden Schlossberg (of Harold & Kumar stoner comedies fame), while Herz co-produced and all the original cast were persuaded to come back. Apparently, none needed much persuasion. "We sort of grew up in the industry together," says Chris Klein. "When they asked me, I thought I couldn't miss out on this party," while both Eddie Kay Thomas and Thomas Ian Nicholas describe the cast as friends. "It's not like we hang out together all the time," says Thomas, "because in this industry you don't necessarily get a lot of time to hang out, but we keep in touch."
You don't want it to be a movie where you have to have seen the first movie to understand it
While Nicholas deadpans that he had "sleepless nights for years" wondering where his character Kevin was going to end up, he says it was crucial when the cast reassembled that they believed the storylines Hurwitz and Schlossberg gave them. "It was important to maintain the integrity of a project that we really love, and they achieved that."
Hurwitz and Schlossberg describe their appointment as a dream come true. "We heard that a new film was being made and were excited just as fans to see it, and then we got a call asking us to write it," says Hurwitz. "It was surreal to work on something that we were part of the fanbase for," adds Schlossberg. "Because normally by the time you're old enough to direct something in the series, it's faded away."
Did they feel they had to go down a particular comedic route? "As fans we know there are things the fans want to see and they'll be upset if there are things they don't see," says Schlossberg. "But at the same time if you give them everything they're expecting, it'll be boring and not surprising. You have to find that balance."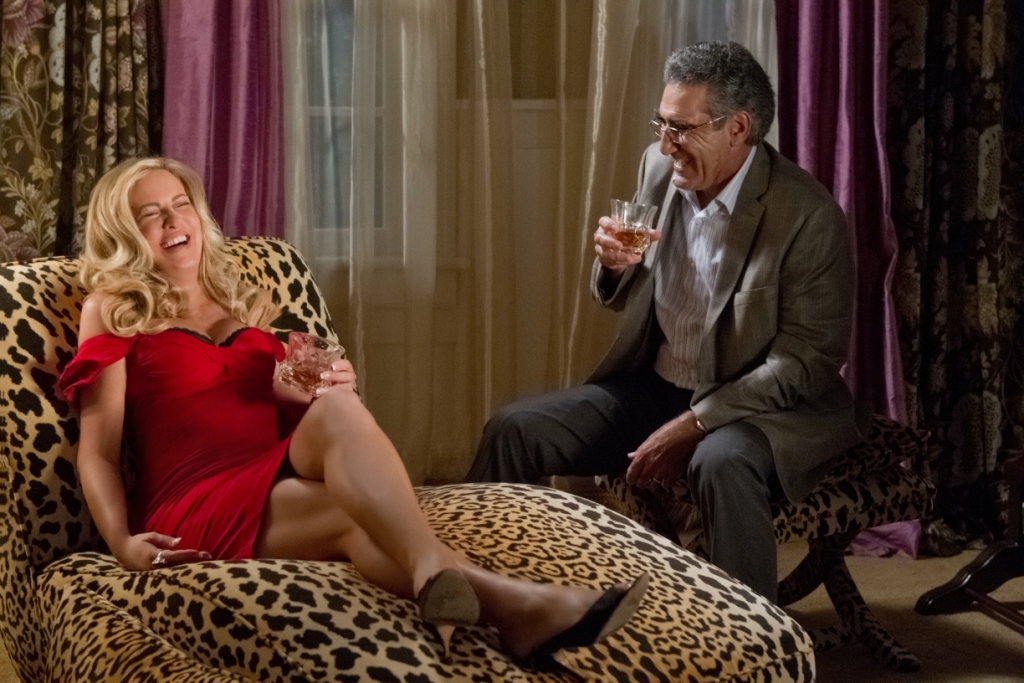 And what about the gross-out stuff? "We enjoy comedies that make people roar with laughter and shout in disgust or shock," says Schlossberg. "But if that's all you have, it's an empty movie. It's fair to say, though, that in an American Pie movie there will be scenes involving either faecal matter or ejaculate, plus sexual humiliation. Our goal was to find a new source of those things."
I tell the writers that I was just waiting for the point where Michelle's character says: "One time, at band camp...." and hooted when she did because her inflection of the line still makes me laugh more than a decade after I saw the first film. Did they have a checklist of references to earlier American Pie films? "You know there's a fanbase that has an understanding of a character but at the same you don't want it to be a movie where you have to have seen the first movie to understand it," says Schlossberg. "Our goal was that American Pie fans would get the little references but the movie isn't dependent on those nods."
Hurwitz says coming new to the franchise fresh gave them certain freedoms. "With Stifler, we knew we wanted him to be having a hard time. At high school he was always the guy throwing parties but now he's in a crappy job and still living with his mom, and you find yourself rooting for him. Who would have imagined that from the first movie? And we had fun with new pairings in this movie. Jim's Dad and Stifler's Mom (Levy and Coolidge, pictured above), two great improv actors, had been in these movies but had never had any screen time together, so it was fun pairing them up."
In the flesh, Levy and Coolidge (who is shortly to appear in 2 Broke Girls on E4) are indeed a great double act, riffing off each other. "I was thrilled that after eight movies [they are also part of director Christopher Guest's ensemble] we finally got a scene together," says Coolidge. "I thought [the writers] might resolve the Finch thing, but they've given it a nice twist with me and Jim's dad." Without giving too much away they meet at a party and get stoned together, and there is a scene in the closing credits that mustn't be missed.
The interest outside America is quite phenomenal to us
Levy concurs. "I got excited when they laid the story out," he says. "They had some really funny, interesting things that moved the whole thing forward. It wasn't just more of the same." Both stars say they had no idea that the 1999 film would be so successful. "Well, when you're in the middle of it you never knows these things," says Levy. "But my goodness we've been so taken aback travelling around the world on this junket just how big it is. The interest outside America is quite phenomenal to us."
"I can honestly say they are one of the nicest casts I've ever worked with," says Coolidge, "and I think that comes across. And the kids in the cast were so appealing – I think the casting was the secret of its success." Stifler's Mom was the original milf. How does Coolidge see her developing over the next decade if they decided to make another film in the series? "Well, I think maybe her years of empty sex may have ended, but you never know. Maybe we can all get involved and the next one should be 'American Orgy'."
Now that would be a sequel.
Watch the trailer to American Pie: Reunion
American Pie: Reunion is released on 2 May
In an American Pie movie there will be scenes involving either faecal matter or ejaculate, plus sexual humiliation
Share this article