Interview: 10 Questions for Julie Delpy |

reviews, news & interviews
Interview: 10 Questions for Julie Delpy
Interview: 10 Questions for Julie Delpy
The French actress-screenwriter-director again looks askance at the Franco-American cultural divide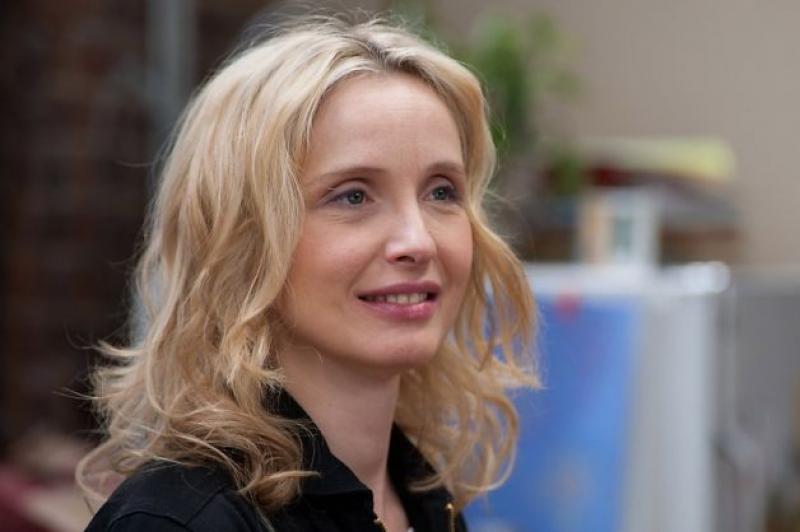 Life and nothing but: Julie Delpy as Marion in '2 Days in New York'
Julie Delpy's 2 Days in New York, released on DVD and Blu-ray today, is the fifth feature written (or co-written) and directed by the French actress-filmmaker and her sequel to 2007's 2 Days in Paris. It is, therefore, another hyper, chaotic comedy of Franco-American cultural discord.
Since we last saw her, Delpy's neurotic art photographer Marion has split up with truculent boyfriend Jack (Adam Goldberg) and moved into a Manhattan apartment with Village Voice writer and radio talk-show host Mingus (Chris Rock), forming a new family with her son and his daughter. Their stability is ruptured when they are visited by her unhygienic bon vivant dad, played by Albert Delpy, Julie's theater-director father (pictured below with Rock), her exhibitionistic sister, and the latter's drug-quaffing boyfriend, who boasts of having given Marion her first orgasm years before. (Delpy's mother Marie Pillet, who appeared alongside her husband and daughter in 2 Days in Paris, died in 2009 and is the movie's structuring absence.) They drive Mingus round the twist.
2 Days in New York is funny, raucous and rude. It riffs unselfconsciously on selfconsciousness, the main avatar of which is the solipsistic Marion, who literally sells her soul as an artwork in her SoHo gallery opening. It's bought by Vincent Gallo, the artist-actor and indie provocateur, playing himself.
Delpy, who talked to theartsdesk from her adopted hometown of Los Angeles, pleasingly gives the impression of being a writer-director who doesn't know all the answers but one who is trying to figure out life and art as she goes along. Though The Countess (2009), her biopic of the 16th-century Hungarian mass-murderer Elizabeth Báthory, showed she can be solemn and precise, her ability to light on unvarnished emotional truths in her messy comedies suggests the more fruitful way ahead.
GRAHAM FULLER: You lost your mother shortly after giving birth to your son Leo. Were those two events the starting point for 2 Days in New York?
JULIE DELPY: No. I started thinking about the concept for a sequel in 2008. When my son was born and my mom passed away it made sense to me as a natural progression and I couldn't not include it in the film – losing a parent and having a child at the same time has happened to more than one of my friends so I didn't feel I was pushing my personal issues onto people. It didn't make sense the family would come to New York without my mom, who was in the first film. Originally I was going to include her in the sequel. It was actually very hard to write it for that reason, which is why I had friends help me write it.
Your character, Marion, is grieving for her mother and we learn gradually that she wants another child, so is it fair to say it's autobiographical?
I think France is the most anti-puritanical country and the US the most puritanical
Marion losing her mother is the only thing that's autobiographical. She's very different from me, even though people assume she's like me, which is a little scary. I only have one child and I'm not planning on having another. I'm with my child's father [German film score composer Marc Streitenfeld], which Marion isn't. I live in Los Angeles and I'm a writer-director. My life has been very different from Marion's. Yes, she's French like me and lives in the United States, which was set up in the first film, but the sequel is inspired more by other people.
The whole idea of a reconstructed family is not autobiographical at all. I also don't know what it's like to be in a relationship and dealing with an ex-boyfriend, but it's something I've observed in a lot of my friends and I think it's a very interesting modern topic. People break up and divorce – how do you handle that and how do your kids? How do you stay in a relationship, be happy, make the other person happy? How do you stay sane in a relationship? If you are a creative woman who has a child, that's a real issue. If you have a job from nine to five, which is great and something I respect, it doesn't take over your brain creatively, as it does when you get ideas in the middle of the night. It's very complicated. And even though I don't think I'm creating amazing work – I'm just doing comedies, little things – you still have to handle a creative mind differently than when you're in a job where at five o'clock you don't give a shit about it anymore, though it's less and less like that for most people nowadays.
Marion, who is struggling with her own issues about art, gets confused by all this. Maybe she's not such a great artist, which is why she has to sell her soul to get some money for it – and then it ends up in Vince Gallo's underwear and she wants it back! [laughs]

As in 2 Days in Paris, you contrast French and American cultural attitudes. What are your core feelings about the difference between them?
I think France is the most anti-puritanical country and the United States is the most puritanical, outside the crazy countries where they stone women to death. I think puritanism is one of the most extreme ways of thinking in terms of small things that have a huge effect. I've seen this all my life.
At Marion's gallery opening, you parody not only the New York art world but also her self-indulgence as a photographer. I concluded that you look at life more from an earthy perspective than from an arty or spiritual one. Does that sound right?
I am earthy – and very realistic. I'm not very materialistic because I'm not attached to things. I have very little stuff and I'm not a homemaker. You should see my house – it's disgusting. It's embarrassing and unheard of to have a house like mine. Like, I'm not interested in pretty things. And no, I don't have a spiritual approach to life. My main thing is humour. It's how I handle everything in my life, even the most difficult times. It's much more my approach to life than anything intellectual. It's a philosophy to me.

What prompted the idea of Chris Rock's character confiding in the life-size cardboard cutout of President Obama (Rock and Delby pictured below)?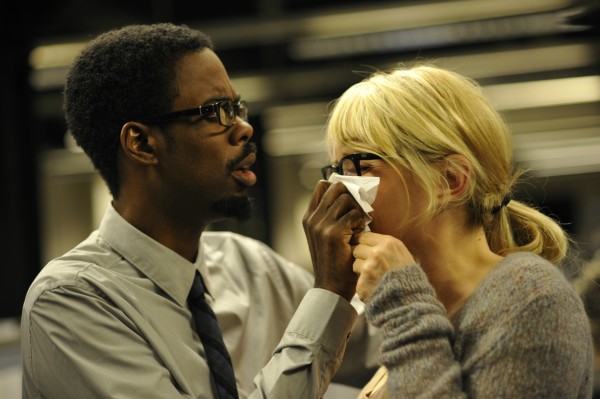 I started to think who would play the guy in Marion's reconstructed family, and when I thought of Chris, Obama immediately came to mind. It was, OK, the guy who seems the straightest of all the characters is totally crazy as well. He has an imaginary friend and it happens to be Obama. I wanted Chris's relationship with Obama to be more personal than political. It seemed kind of funny and absurd that he would unload his personal issues onto the President. Most of the scene was scripted, particularly the stuff about relationships, but Chris ad-libbed a few lines that were very good and actually made the bit work.

How did you get Vincent Gallo to poke fun at himself?
I've known Vinny for a very long time and couldn't think of anyone else for the scene, someone in Manhattan who would actually buy a piece of an artist's soul. At first he said, "I can't play myself." But he read it – and he doesn't always read scripts – and said, "Oh, that's great – you wrote it for me." And I said, "Yeah, and that's why I'm freaking out that you don't want to do it." But he finally did and totally made fun of himelf: "Hi, I'm Vincent Gallo, motorcycle racer, model, actor, director, writer, and photographer." I wrote more of that stuff but had to cut it out.
My humour can be a little trashy sometimes and I'm fine with that
Do you think you're getting better at composition and framing, all that?
I don't know. It's always two steps forward and one step back. I definitely think more of the editing process when I'm shooting so that's an important gain. On 2 Days in Paris, there were so many jump cuts because we had very limited time and money. I knew we were missing shots, but I had no choice. I know now what to do to save a scene or something doesn't work. I know when we need a reverse shot. I also know that each time you direct a different actor, you have to do something different because they all have different approaches. But that's not something you can learn, I feel.

Are you going to continue to act for other directors?
I just did it again this summer for Richard Linklater on Before Midnight – we do one every nine years [with Ethan Hawke] so it's the third one in 18 years. Acting is not what I'm planning to do mainly, though I like acting in my own films, believe it or not, because it's very entertaining to me. The challenge is crazy, though, and makes you high on some kind of natural brain chemical. But I'm getting more acting offers than I've ever had before – it's weird – so I'll probably do one acting job every two years and focus on writing and directing.

Going back to whether the films you write and direct are autobiographical, I take it that isn't the case with The Countess?
Actually, my dad says it's my most autobiographical, because of my obsession with death and also the idea of madness linked to love. He's probably right about that [laughs]. Of course, it's not really autobiographical. I don't bathe in virgins' blood – I'm not there yet – and I'm not obsessed with youth. Death and decay is interesting, but I'm getting over it because I've lost a lot of people around me.

You worked with Jean-Luc Godard [Détective, 1985] and Krzysztof Kieślowski [White, 1994; cameos in Blue, 1993, and Red, 1994]. Did they influence your approach to directing?
It's funny you should mention those particular two because they were both very supportive of me directing, but in their own different ways. I remember Krzysztof tutoring me on writing. What they both taught me – and I think it's the best thing you can teach someone – is to be myself as a filmmaker. I can't make films of Kieślowski's depth and I can't make abstract, philosophical poems like Godard does. I just make my own little movies with humor. In a way, they are a reflection of who I am – I'm just not philosophical, though I can have a darker or more profound side. Some people will like my stuff and some will hate it. My humor can be a little trashy sometimes and I'm fine with that, too. As long as I'm not pretentious, that's all that matters.
Watch the trailer for 2 Days in New York
I don't have a spiritual approach to life. My main thing is humour
Explore topics
Share this article