Interview: 10 Questions for Clotilde Hesme |

reviews, news & interviews
Interview: 10 Questions for Clotilde Hesme
Interview: 10 Questions for Clotilde Hesme
One of France's unsung actresses is finally getting the attention she deserves, for new film Angel & Tony
Clotilde Hesme: untouched by vanity or affectation
Earlier this year Clotilde Hesme won the César, France's equivalent to the Oscars, for "most promising actress" in the excellent, atypical love story Angel & Tony. One wonders if the voters have some kind of collective myopia, or simply don't see enough good movies, because Hesme stopped being "promising" a long time ago.
That's not to take away from a much-deserved award, for one of France's unsung actresses. Ever since she came seemingly out of nowhere in 2005 to match (and even out-pout) the smouldering Louis Garrel, in his dad Philippe's epic love story Regular Lovers, Hesme has been a beguiling, always interesting feature in the French independent scene.
She and Garrel re-teamed, as two parts of a strange ménage à trois, in Christophe Honoré's Love Songs; she was a buoyant, comedic presence (and perhaps her most conventional romantic lead) in The Grocer's Son; and mined darker material to equally good effect in the crime drama Rivals. Most spectacularly, she was the Machiavellian countess of the late Raul Ruiz's final masterwork, Mysteries of Lisbon.
We need this kind of actor in France. French actors are all the same
Now 33, she's been a regular on the French stage since graduating from France's national drama academy, whose former students include the likes of Juliette Binoche and Isabelle Huppert. When we spoke, in Paris, she had just completed a national tour in Brecht's Baal, in which she played the eponymous, male lead.
Tall, with angular features and a thoughtful, tentative delivery (on and off screen), Hesme exudes a natural sensitivity that informs all of her performances. Recently, she's been lending this sensitivity an edge, not least as Ruiz's Elisa de Montfort, and as Angèle, the ex-con and errant mother who has decided, seemingly at random, that the Normandy fisherman Tony is her ticket to stability. The problem is that he doesn't quite see it that way. Hesme and co-star Grégory Gadebois (who won the most promising actor César) portray the sort of love story – untouched by vanity or affectation – that we see too rarely on the screen.
DEMETRIOS MATHEOU: How would you describe Angel & Tony?
CLOTILDE HESME: When I read the script I felt it was an incredibly unusual love story, which I hadn't really seen before. There is nothing formulaic about it. Today we expect that this kind of woman would not be with this kind of guy. It's a question of letting go, for both of them. They are saving each other. I also think the film is a little like Tournéé, by Mathieu Amalric. It changes our preconceptions of what is beauty, what is love.
This is the first feature by Alix Delaporte. How did you get involved?
I had made a short movie with Alix, which won a prize in Venice, and I wanted to work again with her. At first she said "Angèle is not very you". She wanted to meet other actresses. She tried! Finally she came back and said OK. It's true that when I read the script I did not see myself in the role. The parts I'd had before were sunny, very bright. Angèle is like a wounded animal. I'm more well-balanced, I hope, I'm well-educated. So it was a new challenge.
Tell me about your co-star Grégory Gadebois.
Grégory and I were together in the Conservatoire. We've acted together in the theatre and have been friends for 10 years. So it was cool to be able to play with somebody you know that much. But we could not show our friendship on camera, our complicity, because these two characters don't know each other. Grégory is amazing. He's Lino Ventura and Brando at the same time. We need this kind of actor in France, this body, this charisma. French actors are all the same.
I was really struck by Angèle's physical presence. She's so gawky. She cycles everywhere, but always looks as though she's about to fall off.
Grégory and I come from theatre, so we thought a lot about the physical aspects of the characters. We decided that Tony was a rock, really solid. Angèle was nervous and with all this movement.
Do you normally approach roles like this, from the outside?
Yeah. My approach is really instinctive and physical, rather than intellectual, which gives me a headache. I don't want to think a lot. I enjoy being in action.
Was it improvised?
No. The script, the lines were really precise. We rehearsed a lot before the shooting, we worked very hard at the rhythm. But during the shooting, in those scenes where we were not saying anything, it was a kind of improvisation. We just let our bodies speak. And it worked. It's mysterious this thing, acting.
I haven't had the opportunity yet to make a big mainstream thing. It would be funny, maybe
You work in cinema, theatre and television. Is that a conscious approach?
I really started in cinema thanks to Philippe Garrel. He came to the Conservatoire, and saw me on stage, and chose me for Les amants réguliers. So cinema happened through the theatre, for me. But I need theatre, for my equilibrium, because in theatre the actors don't care so much about image, about celebrity, you are more independent. There is not the narcissism, maybe, that you find in cinema. Also, even if the play is great, every day in theatre you have to question everything, because the audience is new every day. I love that.
And what of the different approaches to acting, of stage and screen?
I try to bring what I know about theatre into cinema, and a cinematographic way of acting to theatre. I don't believe that just because you're on stage you have to make the acting bigger; you should let people into your intimacy, just as in cinema. I'm not whispering on stage, but almost.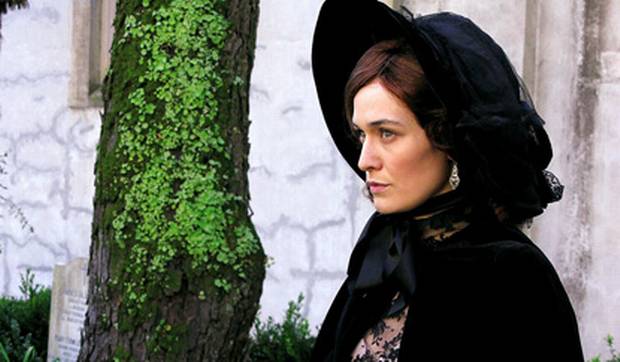 And in cinema, it's possible sometimes, with directors like Raul Ruiz, to do something different. Mysteries of Lisbon (pictured right) was really like a theatre play because it was plan-séquence, six-minute takes, and he wanted me to act big. He told me, we have a French phrase, which means literally "do not go with the back of a spoon", so don't hold back, don't be afraid of going over the top. Acting in cinema does not have to be mute. We can dare.
How was working with Ruiz?
He was the most fabulous director. Because he was intelligent, a fantasist. I didn't have the impression that I was making his 80th movie. It was like the first, with all of that energy and enthusiasm. But of course he knew his work more than Alix knows hers. He was like a magician.
The directors you've worked with are highly individual, auteurs even. We haven't seen you in any mainstream films.
I don't have a career plan. I'm not strategic enough. It's a question of being asked. And I haven't had the opportunity yet to make a big mainstream thing. It would be funny, maybe. But you know, when you do theatre, and little films, you're not famous, you don't have these propositions. It's normal, it's a question of money most of the time, they need somebody who brings money to the project. And I don't bring money... Not yet.
Watch the trailer for Angel & Tony
The parts I'd had before were sunny, very bright. Angèle is like a wounded animal. I'm more well-balanced, I hope
Explore topics
Share this article