The Ides of March |

reviews, news & interviews
The Ides of March
The Ides of March
George Clooney's star-packed morality tale superbly anatomises political chicanery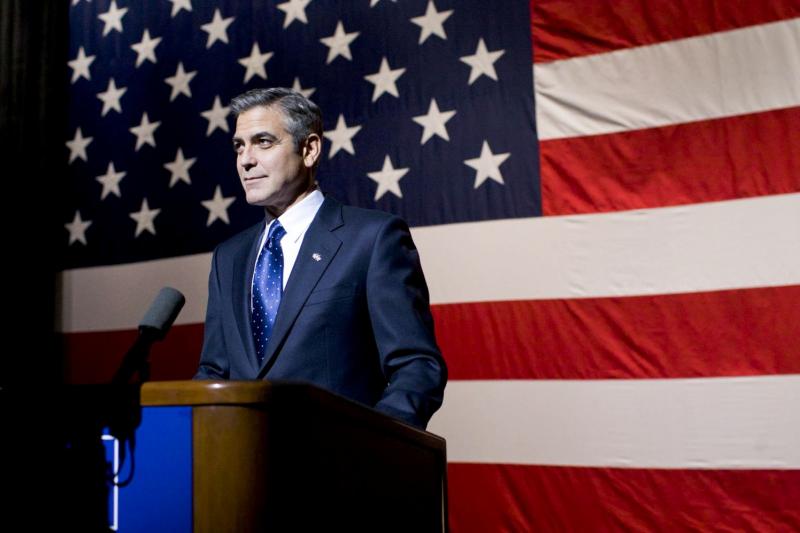 It's the libido, stupid: George Clooney as a Clintonesque presidential candidate in 'The Ides of March'
If you were to play a game as to who should play former US President Bill Clinton in a fictionalised account of his life, then George Clooney – liberal, politically active and drop-dead gorgeous – would surely be your number-one choice. So he must have been a shoo-in for the role of Democratic presidential hopeful Governor Mike Morris - who is charming, decent, ironic and very attractive - in The Ides of March.
The film, which has shades of All the President's Men, Nixon and Primary Colors (and indeed Julius Caesar), is adapted from Beau Willimon's play Farragut North, said to be based on Howard Dean's 2004 presidential campaign, on which the young writer worked. Farragut North, by the way, is an area of Washington DC where many politicos live.
Clooney was clearly very taken with the story; he helped adapt the play (along with Willimon and Grant Heslov), co-produced (with, among others, Leonardo DiCaprio) and directed the film as well. The Ides of March is a superb entertainment from opening titles to its last frame. Quality - in script, acting, sets and direction - oozes from the screen, and as a political thriller it has a goodly number of twists and turns. Indeed, halfway through the film changes tack in a direction that's not in the slightest bit signposted.
The film is played out in the last few days of the all-important Ohio Democratic primary, when the charismatic pro-choice and non-believer Morris is pitted against the older, duller and more centrist candidate Senator Pullman (Michael Mantell). The central character is not Morris, but his press secretary, Stephen Meyers, who is young and idealistic and destined for great things. He is played by Ryan Gosling (pictured right) - of whom we have seen much of late, in Drive, Crazy Stupid Love and Blue Valentine - and he works under the tutelage of Morris's experienced and loyal campaign manager, Paul Zara (Philip Seymour Hoffman).
Meyers may be idealistic, but he spins for a living, and the scenes with him and Zara sparring, seemingly affectionately but pointedly, with a political reporter (played by Marisa Tomei) are telling. He is also not above sexual flattery, and when the young and well-connected campaign worker Molly Stearns (Evan Rachel Wood) comes on to him, he doesn't take much persuasion to start a relationship with her, inappropriate though it is.
His opportunism is also political. When Pullman's cynical campaign manager (Paul Giamatti) makes overtures to bring him onto his boss's campaign, Meyers is tempted because at this point Pullman looks set to win. The meeting starts a downward spiral of events in which Meyers is fired from the campaign and he seeks revenge on Morris, using a piece of information that would destroy both him and another, more innocent character.
The lead players' weaknesses – hubris, hypocrisy, vaulting ambition, blind loyalty, Catholic guilt – are entirely predictable, but the story's complex storylines are not. Morality, both personal and political, is shown as the amorphous beast it is, and the thrilling but sordid reality of politics is deftly drawn with a witty script.
Clooney oozes both sex appeal and believability as the perfect candidate who has an Achilles heel (don't they all?), while Gosling is simply superb as Meyers, a decent and moral man led astray by libido and ambition. But then just about everyone in this movie turns in a great performance. It's a treat from beginning to end.
RYAN GOSLING'S FILMOGRAPHY
Blue Valentine (2010). A controversial break-up melodrama sees things from the male point of view
Drive (2011). Ryan Gosling's brilliant, bruising ride into LA darkness (pictured)
Crazy, Stupid, Love (2011). Ryan Gosling teaches Steve Carell how to score in a film that doesn't
The Ides of March (2011). George Clooney's star-packed morality tale superbly anatomises political chicanery
The Place Beyond the Pines (2013). Derek Cianfrance and Ryan Gosling follow Blue Valentine with an epic tale of cops and robbers
Gangster Squad (2013). Ruben Fleischer swaps zombies for gangsters with mixed results
Only God Forgives (2013). Nicolas Winding Refn and Ryan Gosling follow Drive with a simmering tale of vengeance
The Big Short (2015). Director Adam McKay successfully makes a drama out of a crisis
The Nice Guys (2016). Russell Crowe and Ryan Gosling buddy up to crack jokes, bones and crime in 70s LA
La La Land (2017). Ryan Gosling and Emma Stone (pictured above) will have you floating out of the cinema on a cloud