The Iceman |

reviews, news & interviews
The Iceman
The Iceman
Michael Shannon plays a mob killer to perfection in Ariel Vromen's taut thriller
The killer inside me: Michael Shannon is 'The Iceman'
Ariel Vromen's third film, and his first to command a major cast, is the story of mob contract killer Richard Kuklinski who, from his incarceration in 1986 (charged with just a fraction of the murders he supposedly committed) until his death in 2006, was the subject of media fascination based on the proflicacy of his criminal career and his willingness to tell his story. The Iceman features an eclectic ensemble fronted by Michael Shannon at his most formidable, and is worth watching for his performance alone.
Just ahead of his turn as General Zod in Man of Steel, Shannon plays Kuklinski - he's incarcerated at the outset and the film flashes back to his life of crime. It begins in 1964 and his first date with the woman who would eventually become his wife, Deborah Pellicotti (Winona Ryder, pictured below right). Kuklinski has a grim reaper tattooed ominously on his hand but possesses a certain kind of taciturn, gravel-voiced gentlemanliness. Pellicotti on the other hand seems preposterously naive, credulously accepting his strange claim that he dubs Disney movies for a living. While Pellicotti remains in the dark throughout the picture, it's not long before any illusion we might have about Kuklinski is disabused: with the speed, nonchalance and precision of an experienced killer, he cuts the throat of a man who privately insults her.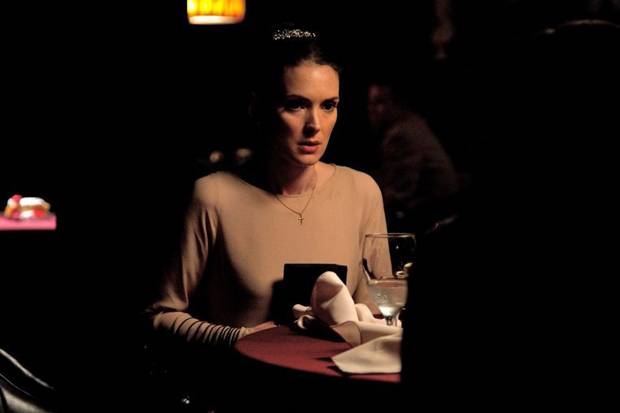 It transpires that Kuklinski's day job is actually working in a porn lab, one of the business interests of mob boss Roy Demeo (Ray Liotta). When the operation is shut down Demeo "offers" him another kind of job, working as a heavy: watching his back, collecting debts, sending messages. A montage leaves us in no doubt that the job involves a lot of killing.
The Iceman (the name given to Kuklinski by the media) leans heavily on the rock-solid talents of Shannon, who delivers a potent mix of menace and turmoil. He's an actor of formidable projection who's matched and even exceeded on occasion by the reliably psychotic Liotta (pictured below left), the default choice for this kind of role. Cast interestingly, though not entirely successfully, against type as fellow criminals are David Schwimmer and Chris Evans - the former is of course the bumbling academic from Friends; the latter is Captain America himself. James Franco and Stephen Dorff pop up in cameos, with Dorff particularly effective as Richard's brother Joey.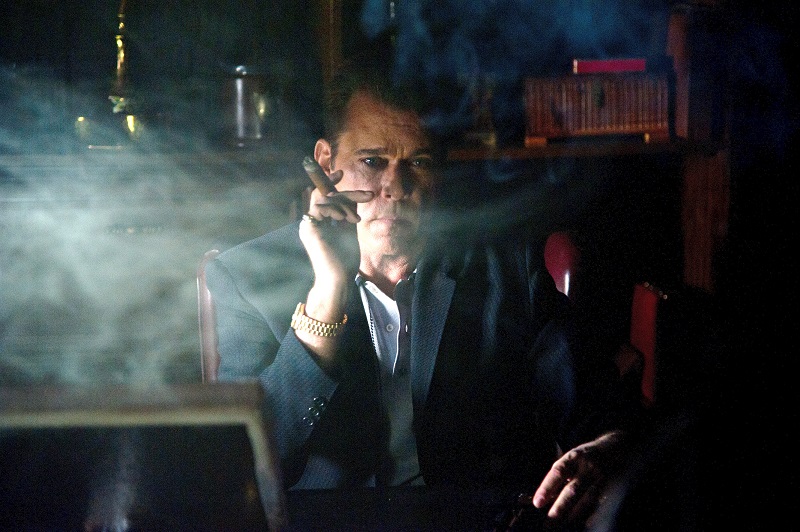 Unlike The Sopranos, Goodfellas et al, The Iceman isn't strictly about the conflict between domestic and criminal families, as Kuklinski exists on the periphery of the mob, employed by them yet not embraced into the fold. Perhaps because of this, and because of his troubled background (his father is shown as monstrous, his brother is serving time for the murder of a 12-year-old girl), he shields his own family from the unpleasant truth about his profession. Vromen seems fascinated by the contrast between his protagonist's worlds but never digs deep into the feasibility of maintaining a respectable facade. Ryder too struggles to make sympathetic or believable a woman with her eyes screwed tightly shut. It's a problem compounded by the fact that the real wife of Kuklinski, Barbara Pedrici, has stated that she was repeatedly beaten and even stabbed by him, yet it somehow suits the film to show otherwise.
Such flaws aside, Vromen has made a film that's agonisingly tense from start to finish. Kuklinski's is an alarming existence where guns are constantly drawn and crimes are committed with disarming spontaneity. The Iceman makes for suitably uncomfortable viewing; it's a credible portrayal of a life lived in perpetual threat and shows us what it means to murder.
Watch the trailer for The Iceman
Vromen seems fascinated by the contrast between his protagonist's worlds but never digs deep into the feasibility of maintaining a respectable facade
rating
Share this article