Holy Motors |

reviews, news & interviews
Holy Motors
Holy Motors
The whole world really is a stage in Leos Carax's comedic curio
Wednesday, 26 September 2012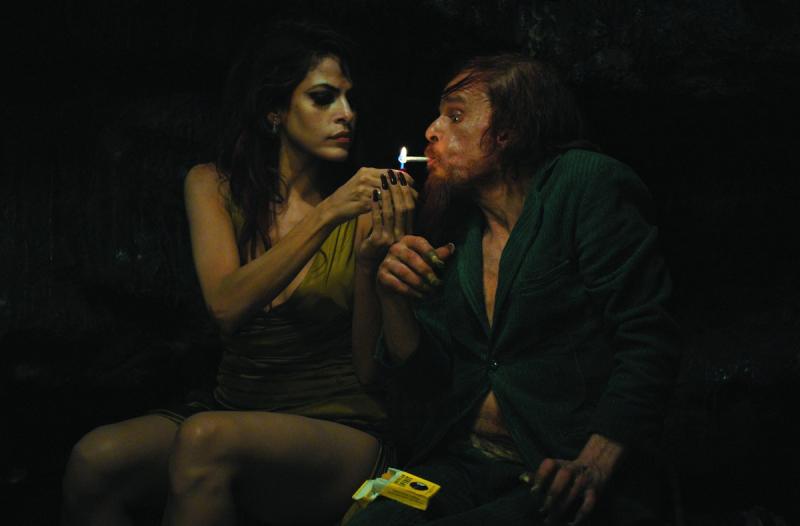 'La Belle et La Bête': Eva Mendes and Denis Lavant in 'Holy Motors'
Stop me if you know this one. What do you get if you combine Gallic absurdity with a pristine, pouting Eva Mendes and Kylie as a suicidal chanteuse? The answer, it turns out, is gloriously unpredictable entertainment – by turns satirical, melancholy and effervescently eccentric.
Following on from David Cronenberg's
Cosmopolis
, which chose to set its verbose and violent social critique in a white stretch limo,
Holy Motors
uses a similar vehicle both to transport and transform its protagonist.
The short prologue sees the film's French director, Leos Carax, fumbling blindly about a hotel room, eventually finding a hidden door amongst a tree-lined wall. The door contains the lock for a key which is (of course) his finger. Still pyjama-clad, he enters to find himself in a cinema, looking out over the audience. Film, Carax seems to be saying, is a dream, conjured by the mind of the dreamer - and here is my dream.
Holy Motors gives us a day in the life of a singular performer Monsieur Oscar (regular Carax collaborator Denis Lavant). He's an actor, commissioned to take on a series of diverse and bizarre assignments, nine in total, for a mysterious organisation known only as The Agency (represented here by a brief appearance from Michel Piccoli). The limo's driver Céline (Edith Scob) provides company and assistance. Its interior acts as a dressing room. Oscar starts the day posing as a tramp and will end it returning to an extraordinary domestic arrangement. Along the way, he'll perform a hit, act the father to a teenage daughter and flex his motion capture muscle for a video game lovemaking sequence (pictured above right).
Oscar's third assignment sees him return to the exuberantly antisocial Monsieur Merde, whom some may remember (indeed if you've seen him you won't forget him) as the "creature from the sewers" from Carax's segment in 2008's superior portmanteau pic Tokyo! There he was terrorising the Japanese (disappearing from a noose at the segment's close) and here he's desecrating a graveyard in gay Paris before snatching a supermodel, played by a gamely po-faced, virtually mute Eva Mendes. Theirs is a beauty-and-the-beast style liaison, though it's not a romance as such, with Mendes taking a model's vacant professionalism to hilarious lengths. And once again we see Merde's fondness for gobbling cash and flowers.
Although it's wildly confounding, it's not quite fair to say that Holy Motors is unlike anything you've ever seen. Along with the Cosmopolis and the deliberately duplicated section of Tokyo!, there's a touch of Wings of Desire (1987) and a tad of Night on Earth (1991). Delightfully, Carax also references horror classic Eyes Without a Face (1960) with Edith Scob donning a face mask (pictured above left) that's eerily reminiscent of the iconic one she wore 50 years previously, suggesting that Céline is an actor too and showing her returning to a previous role.
Holy Motors is a film which provides less a coherent narrative, more of a surfeit of ideas; there are myriad interpretations for what we see and it often takes matters to their absurd conclusion. At its most broad, the film explores the nature of performance: who an actor really is behind his or her many roles, both highlighting the inherent weirdness of performers (there's a killer punchline when we meet the real Oscar) and also the alienation and loss of oneself. A late-in-the-game appearance from Ms Minogue (pictured below right) shows us the sombre side of the songstress, in perhaps her most convincing big-screen outing to date (and yes, she does sing).
Additionally, there's a sci-fi-esque feel throughout: it might look like the Paris of the present but this is a world of talking limousines, where actors have taken to the streets, and cameras have become so small as to be undiscernible (if they even exist at all any more); it's like an avant-garde, highbrow Candid Camera. And finally there's the religious angle, referenced in the title, with the actors acting almost like angels, superior beings sent out into the mortal world, overseeing and participating in God's plan.
Despite all of the possible readings, I'm not sure it matters what Carax's precise intentions are as this is cinema as an overload of imagination, and it's a rare joy. The nine assignments might each strike a remarkably different tone but they are held together like glue by a uniquely versatile performance from an astonishing Lavant. It's as daft and various as life and an absolute must-see.
Holy Motors is in cinemas from Friday
Watch the trailer for Holy Motors
At its most broad, the film explores the nature of performance: who an actor really is behind his or her many roles
rating
Share this article