Gravity |

reviews, news & interviews
Gravity
Gravity
A mission to repair Hubble becomes the cinematic experience of 2013
Wednesday, 06 November 2013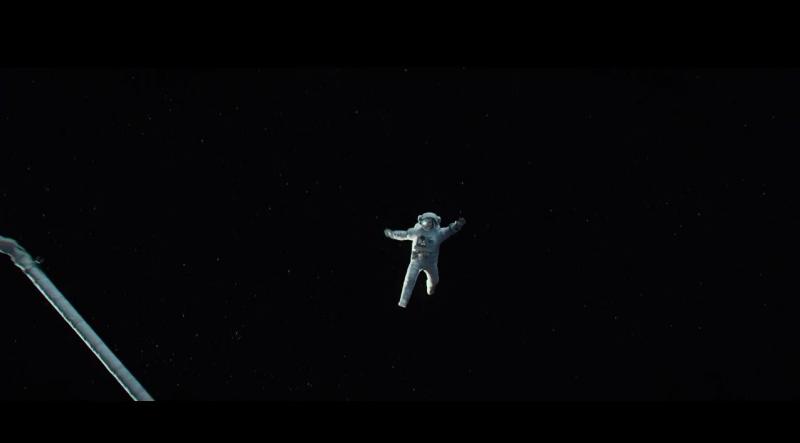 Bullock drifts away from the ISS in Gravity
As a director, Alfonso Cuarón is a stickler. In his renowned Children of Men, he sought to dismantle cinema, to break down the glass wall between audience and content by making the film more like a live event. To a great extent, he succeeded, opening with a 17 minute continuous take and, later, using the expertise of Oscar-winning cinematographer Emmanuel Lubezski (known as Chivo), he would fashion takes of stunning length and complexity.
No wonder that his next film,
Gravity
, took over four years to make: he needed to top his last one.
So he has. Gravity, starring Sandra Bullock and George Clooney – she as Dr Ryan Stone, a medical technician in space, and he as Matt Kowalsky, a space cowboy who's seen everything – is a starry, exciting, breathless adventure resting on two reliable actors. Bullock's natural empathy comes to the fore, bringing a much-needed emotional core (much as she did with Speed) to a nervy, edge-of-your-seat cinematic experience made for the biggest screens that is definitely not for those with vertigo. You can, of course, see it in 2D if you like (and on your iPhone eventually), but Gravity's story can't be told effectively without 3D – make that 3D IMAX.
Like Kubrick's 2001: A Space Odyssey, Gravity could only be made with new, purpose-built technology. Like 2001, it required special cameras and new techniques. Like 2001, it took a long time to make – but then the former film became the forerunner to Star Wars, Star Trek and virtually all science fiction films afterwards. Whether Gravity will have the kind of impact 2001 had is doubtful, but not because the film is lacking vision: rather, the industry has no business model for a film that takes over four years to make, genius director or not.
The story takes a few swipes at our expectations – who will die? – wrong-footing us with its own trajectory. That a published early version of the script was as tight, heart-pounding and satisfying as the finished film is a testament to the script co-written by Cuarón and son Jonás. Although it is not a documentary – the science in Gravity is not completely accurate, this is the film event of 2013. (Fans of British film should note that Gravity was filmed digitally at Pinewood Studios and Shepperton Studios, with CG done in London's Framestore and co-produced by Harry Potter's David Heyman.)
Overleaf: watch the trailer for Gravity
Watch the official trailer for Gravity: