GBF |

reviews, news & interviews
GBF
GBF
Pleasing message in candy-coloured high-school movie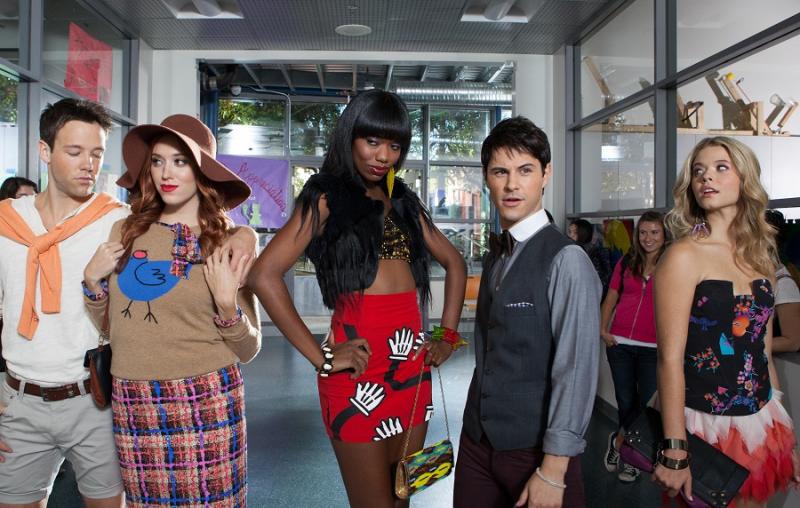 Hilaire: the cast of GBF
Anyone who secretly liked High School Musical or is a fan of Mean Girls or Glee will find something to like in Darren Stein's candy-coloured high-school satire, which detonates some teenage culture bombs (albeit some of them years behind the curve) while giving some hearty laughs.
When quiet and unassuming Tanner (Michael J Willett) is outed, suddenly he becomes hot property for the school's clique queens – Mormon princess 'Shley (Andrea Bowen), sassy drama diva Caprice (Xosha Roquemore) and bitchy blonde Fawcett (Sasha Piertse). If they all sound like stereotypes, you're absolutely right - but it means we cut to the chase. These aren't girls we're meant to like.
The three girls are in competition for who will be prom queen and all want to claim Tanner as their GBF (gay best friend), the ultimate teenage-girl accessory, it seems, and one likely to garner them extra votes. So they pounce and subject him to a makeover as they expect him to conform more closely to their own crass stereotype, because, as one of them squeals, he's "our very own gay" - but he "doesn't sound like the ones on Bravo". They turn the nerdy student into a primped and preened fashion queen.
At first Tanner has fun and his head is turned by all the attention but then, as prom night approaches, he has to choose between popularity and leaving his old friends behind, including his bezzie, the closeted Brent Van Camp (Paul Iacono). By the way, does the word "camp" have the same connotations in the US, I wonder, or is this a gag that the writer, George Northy, has thrown in for our pleasure?
There are lots of laughs to be had, not least from the scene-stealing Megan Mullally (pictured above right with Michael J Willett) whom Will & Grace fans will remember with huge affection. She plays Brent's mom, who is, like, totally cool with the gay thing, but even then manages to embarrass him to hilarious effect; she gives a running commentary when she forces him to watch Brokeback Mountain with her. Brent's character, incidentally, decides not to follow Tanner out of the closet and says: "It would be pathetic, like I'm copying you." Oh, the tiny gradations of teenage trend-following, how I don't miss them...
The script strains to be really hip, sometimes going for a smart quip rather than a more believable line and much of the teen language is already horribly dated – much dropping of final syllables (as in "hilaire"), or adding "balls" to the end of a word, as in "amazeballs". But the moral message of tolerance is sadly not dated, and still needs to be pushed.
The film is cliché-heavy, yes, but GBF has some LOL moments and real heart, and gets its point across without too much Hollywood sentiment. And, while the script may not deserve the quality of some of the lead performances, they are pleasingly knowing and carry the movie.
Overleaf: watch the trailer to GBF
There are lots of laughs to be had, not least from the scene-stealing Megan Mullally
rating
Share this article