Four Lions |

reviews, news & interviews
Four Lions
Four Lions
Chris Morris's film debut, about terrorism - funny though it is - pulls its punches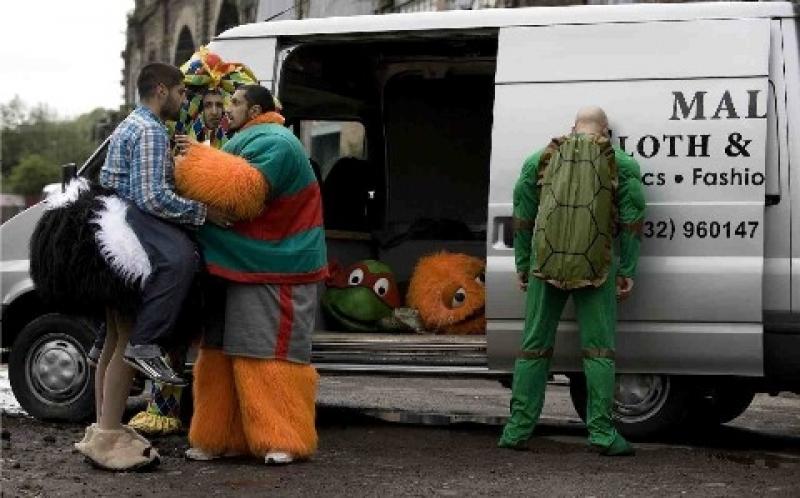 Run for your life: the jihadis in 'Four Lions' use marathon fancy dress to hide their explosives
It's an accepted truth that Chris Morris is a comedy genius. Now the word "genius" is so overused in some quarters as to be rendered meaningless, but in Morris's case it's a richly deserved description; he created or co-created some of the funniest, cleverest and most original comedy on British television, including The Day Today, Brass Eye and Jam. Not a bad CV, even if it also contains the rather less amusing Nathan Barley.
So what of his feature-film debut,
Four Lions
, which he directed and co-wrote with Sam Bain and Jesse Armstrong (of
Peep Show
fame)?
Well it has the Morris trademark of a subject ripe for satire but beyond the intellect and daring of run-of-the-mill writers - terrorism, Islamic terrorism at that - so he runs the risk of putting himself in the firing line, literally. As I write, no fatwa has been issued, and that's because, far from being the coruscating attack on the religion's extremes or its nuttier followers, Four Lions takes a rather gentler (although rarely subtle) view of religious extremism, and approaches it through a deeply human route - terrorists as bumbling idiots.
We are in a northern British city where Omar (Riz Ahmed), non-devout but politicised, is angry about how Muslims are being treated around the world. He and his wife, Sophia (Preeya Kalidas), openly discuss his plans to blow up the infidel in front of their young son. She's westernised and a nurse at the local hospital, but seems strangely unconcerned that Omar is about to keep his date with 72 virgins in paradise any day now - one of several irritatingly unbelievable details in the story.
Omar is part of a jihadi cell nominally led by Muslim convert Barry (Nigel Lindsay), a man given to flowery speeches about injustice but whose real zeal is for violence. Actually he's a nasty little racist who could easily be in the BNP; when his old banger finally gives up the ghost he blames it on "the Jews" who, he says, made the parts. They are joined by other misfits Fessal (Adeel Akhbar), who has to break off from planning their suicide bombing to take care of his elderly dad, Waj (Kayvan Novak), a hugely likeable dimwit who'll do anything for Omar, and wideboy Hassan (Arsher Ali), who is recruited because he can steal a van from his businessman dad. As the title makes a nod to, as they discuss their plans they could easily be lads on their way to a football match, but destroying the opposition has an altogether more sinister meaning here.
The "suicide video" that opens the film - directed by Barry in his front room because it's his camcorder - neatly shows the tensions between him and Omar. As the power play between them escalates, Omar pretends that he is in contact with "the man" in Pakistan, and off he and Waj go to train in the mountains, but they are hysterically, catastrophically inept - taking out a local village when they play with a missile launcher - and are sent home in disgrace. To save face, Omar pretends he has been given a suicide mission for the cell, to take place during the London Marathon.

The jihadis' explosives are hidden inside their fancy-dress costumes and predictably their plot goes horribly wrong. It's played for broad comedy as police marksmen debate at length whether they are targeting the Honey Monster or Fuzzy Bear, and the would-be suicide bombers run around almost literally like headless chickens. But intercut with these scenes are ones about a conscience being examined and blind faith being tested.
Morris did three years of research for Four Lions and he says that much depicted in it is based on true events, but, as much as I was guffawing throughout, I wanted something more cutting and politically astute than the laugh-fest he creates. There's a neat and sobering coda where Morris connects the motivations of his foolish young jihadis with the injustices of Guantánamo Bay but, for me at least, it's an achingly liberal contortion too far in a film that ultimately feels like a cop-out. Yes, rendition, false imprisonment and prejudice are scourges on western society, but we also live in an age where our tolerant world - as corrupt and shallow as much of it is, granted - is under immediate threat from those who would replace it with something infinitely less humane. And there is nothing funny about that.
Four Lions is on UK general release from Friday